France: Kippot Under Baseball Caps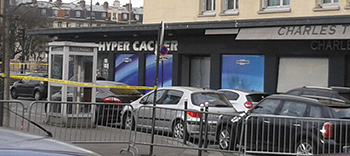 It is Friday lunchtime on the rue des Rosiers in the Marais, the heart of the Jewish quarter of Paris. Normally the pedestrian street would be bustling, filled with people shopping in the chic boutiques that line the sidewalk or purchasing last minute food for Shabbat in one of several butchers or delicatessens, or just enjoying a falafel, the area's premium street food, good enough to rival Tel Aviv's best.
But, since January's terror attack a few miles away at a Hypercacher kosher supermarket, the rue des Rosiers has been quiet. Armed soldiers patrol the street, which contains several synagogues—as they now do in the vicinity of every synagogue and Jewish school in France.
American-born Rabbi Tom Cohen, who heads a small French-American synagogue and is married to Rabbi Pauline Bebe (France's first woman rabbi), lives in the neighborhood. He acknowledgd that the guards are both necessary and reassuring in the climate of heightened tension.
France has the largest Jewish and Muslim populations living side by side outside Israel. Over the past six decades, tensions between the two have increased, with spikes in anti-Jewish violence closely correlating to periods of violence in the Middle East. Last summer, during Operation Protective Edge, there were several attacks on Jewish businesses and synagogues. An in-depth study by political scientist Dominique Reynié, published just before the Charlie Hebdo and Hypercacher attacks, found that 50 percent of racist attacks in France had Jews as their target, although Jews number less than 1 percent of the French population.
Many religious Jewish men and boys now choose to wear baseball caps over their kippot in public to avoid attracting the verbal or physical violence that is so common nowadays that it barely merits a mention in local newspapers. For nonreligious Jews, too, anti-Semitism is often a fact of life. I am horrified when the two teenage daughters of my friend shrug off being called "dirty Jewesses" by fellow students as they walk through the corridors of their Parisian public high school: "Whatever," they said. "It's just school." 
Anecdotal reports have for years suggested that in certain banlieues (suburbs, often populated by immigrant communities), teachers face difficulties while teaching the Holocaust. Last December, Jacques Fredj, director of the Memorial of the Shoah in Paris, told the news website www.20minutes.fr that, "Teaching the Shoah can be a delicate exercise…. Some students can be verbally aggressive, others contest the fact that it is being taught or don't come to school on days when it is taught."
Repeated government pronouncements committing to protecting the Jewish community, most frequently and passionately made by Prime Minister Manuel Valls, do not change the reality for French Jews, who live in the shadow of both casual day-to-day anti-Semitism and the unlikely but nonetheless real threat of murderous violence; France is the only country in Europe whose own citizens have killed Jews because they are Jewish.
"For the most part," said Cohen, "the French don't really care about what happens with the Jews. It's only when it starts to affect the rest of the population that they start to worry." For example, when three Jewish children and a rabbi were shot at a Jewish school in Toulouse in 2012, a few days after the same killer gunned down three soldiers of North African origin in the city, only a few thousand people went out on the streets. Compare that with the 3.5 million who marched in solidarity after the Charlie Hebdo killings.
As a society, France has much work to do to bring about the unity for which those 3.5 million people marched two months ago.
Natasha Lehrer writes for the Guardian and the Jewish Chronicle and is also an editor and translator.