Germany: Is There a Cycle of Solidarity?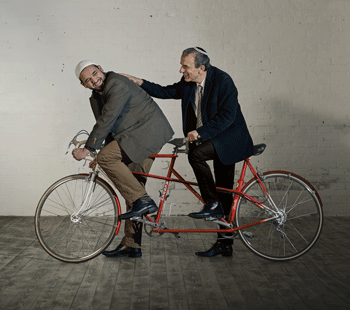 With the recent terrorist attacks against Jews in Paris and Copenhagen, Jews in Germany, too, are jittery. They reflexively ask themselves—as during every crisis—whether it is time to pack their bags.
So far, most are staying, despite urgings from Israeli Prime Minister Benjamin Netanyahu and Israel's ambassador to Germany, Yakov Hadas-Handelsman, to emigrate.
In fact, Josef Schuster, head of the Central Council of Jews in Germany, said there is no special reason for Jews to leave now. Threats against Jews and their institutions are a "worldwide phenomenon," he remarked. Why would it be better in Israel?
For most Jews here, life proceeds normally. The more than 100,000 members of Jewish communities nationwide—and at least another 100,000 unaffiliated—accept the increased security at Jewish schools and synagogues, and believe it is the government's job to protect them.
But many are nervous: This year has seen an increase in both high- and low-profile anti-Semitism, from cries of "death to Zionists and Israel" at demonstrations, to an arson attack on a synagogue, to anti-Semitic name-calling in schoolyards. Recently, the city of Bremen went on alert after reports of a planned attack by Islamic extremists.
Across Europe, Jewish social activists have been filming themselves walking through various cities wearing kippot. When Israeli-German actor Amit Jacobi tried it in Berlin, no one noticed him, even in so-called problem zones. But "that doesn't mean that there is no anti-Semitism in Germany," he noted.
"I don't think such tests reveal too much," agreed Rabbi Daniel Alter, an official of the Berlin Jewish Commu–nity. Alter himself was beaten outside his home in 2012 by assailants who also verbally threatened his daughter.
Germany's commission on anti-Semitism reports that the level of latent anti-Semitism is stable at 20 percent. Anti-Semitic crimes dropped from 1,809 in 2006 to 1,275 in 2013 (the last year for which figures are available at this writing). There is a sense that incidents increased in 2014 because of Israel's intervention in Gaza.
There's a concern among Jews that the government doesn't fully comprehend the threat of anti-Semitism. Chancellor Angela Merkel has reiterated her commitment to protecting the Jewish community, which has grown dramatically since the fall of the Berlin Wall. Yet, earlier this year the government wiggled out of defining anti-Zionism as anti-Semitism, even though the Bundestag passed a working definition in 2008 of anti-Semitism that included the delegitimization of Israel.
"In general, there is a more public face emerging regarding anti-Semitism, noticeable on the streets, in schoolyards and on sports fields," said Deidre Berger, head of the American Jewish Committee office in Berlin. "There is also an explosion of anti-Semitic expression on the Internet and social media…."
Berger has joined with two Jewish activists—Anetta Kahane, head of the Berlin-based Amadeu Antonio Foundation, and Julius Schoeps, founding director of the Moses Mendelssohn Center for European Jewish Studies in Potsdam—to form a new commission on anti-Semitism in response to the Interior Ministry's failure to appoint a single Jew to its panel on anti-Semitism.
"It is difficult to convince politicians to create action plans and government responses to anti-Semitism if they are not cognizant of the dimensions of the problem," Berger said.
But there are some who get it. This winter, Judge Gauri Sastry in Essen told a defendant of Turkish descent that he had crossed the line from protester to anti-Semite when he called for death and hate to Zionists. "In the common parlance of anti-Semites, Zionist is a code word for Jew," Sastry said.
Anti-Semitism has to be stopped in the classroom, before it gets to the courtroom, said Bernhard Heider, director of Leadership Berlin, a program he launched after hearing reports about anti-Semitism in schools. Heider brings local Muslim and Jewish religious leaders into sixth-grade religion classes in schools with large Muslim populations. "We are trying to strengthen moderate Muslims and give them a chance to set an example," Heider said.
In Berlin today, one can see a poster featuring Alter sharing a tandem bicycle with Berlin Imam Ferid Heider. As part of the campaign against anti-Semitism and Islamophobia, the two led a bike tour, Cycling Unites, in March.
The issue is not security, Alter said. "We are safe in Berlin, we have some of the best security of any Jewish institutions in the world," he observed. "But these other aspects—the exclusion, the discrimination, the use of 'Jew' as a derogatory term—you don't have that in Israel."
Journalist Toby Axelrod lives in Berlin and is academic director of the Leo Baeck Summer University in Jewish Studies of Humboldt Universität at Berlin.