Nitsana Darshan-Leitner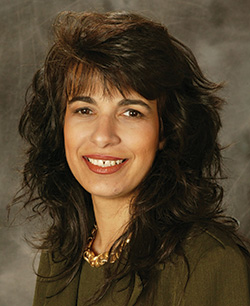 Forty-year-old Israeli lawyer Nitsana Darshan-Leitner is spearheading legal battles against terrorist organizations in Israel, the United States or in any country where they derive funding. She and her group, Shurat HaDin–Israel Law Center, have become international experts on litigating terror, particularly going after the money, "the oxygen of terrorists." The mother of six is married to American-born university lecturer and lawyer Ariel Leitner.
Q. You lead a nonprofit organization in Israel called Shurat HaDin–Israel Law Center. What are its aims?
A. The aim is to protect the State of Israel and to fight against Israel's enemies in the legal arena. So we represent a lot of terror victims in lawsuits against terror organizations, state forms of terrorism or banks that provide financial services to terrorism. We also fight BDS [Boycott, Divestment and Sanctions Movement], we fight those who demonize and isolate the State of Israel, anti-Semitism and those who want to indict Israel for war crimes. All these threats and challenges against the Israeli state we help them to defend in the legal arena.
Q. You recently won a high-profile decision in United States Federal Court, Sokolow v. Palestine Liberation Organization. Can you give a capsule description of the case?
A. It involved 10 families whose loved ones were lost or injured in six different terror attacks [during the second intifada, 2000 to 2005], including the one in the Hebrew University cafeteria. The claim was that the Palestinian Authority and the Palestinian Liberation Organization are responsible for the attacks because the perpetrators, or the ones who took part in the attacks, or the ones who aided and abetted the attacks, were employees of the P.A. They got salaries before the attacks that continued after the attacks, they were promoted in rank, they were treated as heroes after the attacks. Therefore the P.A. and the P.L.O. had to pay compensation.
Q. How did you feel after the verdict?
A. It was amazing and overwhelming. The struggle of these 11 years actually paid off. Now everybody knows that you cannot kill Jews. There is a price for Jewish blood, and this victory is a landmark, an historic decision. It will lead to other victories against those who want to devastate our life and then walk free.
Q. What is the decision's long-term significance?
A. The P.A. was not only involved with terrorism during the intifada. They continue to support terrorism and help terrorists themselves and their families, paying them money. So when the P.A. claims that Israel is involved with war crimes, Israel's answer should be: "Not only were you involved with war crimes during the intifada, you are involved with war crimes even today."
Q. The damages were set at $655.5 million. Do you expect difficulties in collecting them?
A. I expect difficulties as I expect difficulties in every case, but this case won't be different than other previous cases against the Palestinian Authority that were all paid. We will attach their assets and their bank accounts in the United States and Israel.
Q. You studied law in Israel and are a member of the Israeli bar. Are you licensed to practice law outside Israel?
A. No, that's why we use outside counsel.
Q. What was your role in the Sokolow case? The attorneys of record were the New York firm Arnold & Porter.
A. I filed the case in 2004. I am the only attorney that stuck with it until the end, until we got the judgment. All the work, by the way, all the work was done here in Israel. The American lawyer represents the case in court because he is the only one licensed to litigate in the United States.
I work on everything—evidence, translations, experts, working with victims. Everything is done from here in Israel and shipped to them.
Q. How do you fight international boycotts against Israeli products and academics?
A. By utilizing lawyers at the places where we identify such phenomenon. If there is a pension fund in New York looking not to work with Israel we use a New York firm to defeat it.
Q. Because boycotts are illegal?
A. There are antidiscrimination laws that prohibit acts based on racist discrimination. Acting against academic Israelis just because they are Israelis is not allowed according to the law. We point out to the university that they may be violating local laws or they may be aiding and abetting an organization that is violating the law.
Q. Do you only concentrate on terror against Israel or Jews?
A. No, terror is global. Because of our expertise a lot of people approach us. Cases are litigated in the United States, like Kim v. North Korea, a Chinese person kidnapped and tortured to death in North Korea, and Wyatt v. Syrian Arab Republic involving kidnapped Christian archeologists.
Q. What legal tools can be used against groups like ISIS?
A. Go after the money, go after those who transfer the money. Money is the oxygen of terrorists. You don't have money, you don't carry out terror attacks.
Q. What do you consider your greatest contribution?
A. Blocking the flotilla, the second Gaza flotilla after the Marmara that attempted to come to Israel. They had 15 boats with 1,500 anarchists trying to reach the blockade Israel had over Gaza. We blocked them without using any Israeli Navy SEALs or boarding any boats, but by contacting the boats' insurers. We told them: If you insure the boats you are risking civil and criminal liability for violating the Anti-Terrorism Act of the United States. And then we approached the satellite communications services and warned them not to provide services to the boats, and they also cancelled their services. And then we approached the port authorities in Greece and asked them to make sure that the boats waiting to set sail have insurance, have satellite communications and to check their forms, because we knew all the boats would lie on their forms. The port authorities impounded the boats.
Q. Has there been any disappointment?
A. Yes. The case against the Bank of China, initiated by the Israeli government, which asked us to go after bank accounts in China used to transfer money to Hamas from Syria into Gaza. But when we came to the point where we needed Israel to provide us with the evidence, Israel backed off [in the name of national security]. The case is still going on in New York. Of course it was a political move. Netanyahu wanted to visit China so he decided to bury the terror victims. Ironically, in that case I am litigating against the State of Israel because I demand the evidence.
Q. What is most challenging about juggling children and your career? Do you have a support system?
A. I have a nanny—and Israeli parents. The Israeli grandmother, there is no substitute!
But the absence of time is challenging. [I am involved in all aspects of my children's lives] but it doesn't compensate for the fact that you are working long hours, fundraising for the organization, meeting people all over the world—lawyers, clients—attending court trials. For the Sokolow case I was away from my family for a month and a half.
Q. Do you and your family live outside the Green Line? 
A. My community is on the edge. But I didn't choose it for ideological reasons.
Q. What kind of Israel do you hope to see in 10 years?
A. An Israel without a military. [When] our kids will not have to sacrifice their lives any more for this country. It can be achieved by peace. It can be achieved by making Israel secure. Right now I don't see either of them happening, but this is a dream.
Helen Schary Motro is an American attorney and writer living in Israel.