Sunlight Unto the Nations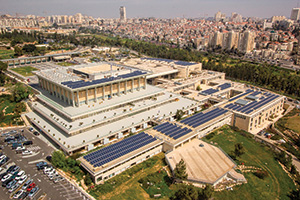 Israel's Knesset recently finished installing the world's largest parliament-topping array of solar panels—some 1,500 covering about 1.2 acres, generating 10 percent of the Knesset's electricity.
The solar array is the largest element of the first phase of the Green Knesset project, promoted by Knesset Speaker Yuli Edelstein. Other plans include the installation of LED lights, a new environmentally friendly way to heat the building's water, automatic shutdown of computers at the end of the day and desalination of air-conditioning condensation for use in irrigation. In committee meetings, water is now served in glass pitchers instead of plastic bottles. Queries, reports and bills are no longer printed, saving up to 50,000 sheets of paper a year.
The project's first phase is expected to lower the Knesset's energy consumption by one-third and save $375,000 annually.
Israel is a pioneer in solar energy; for example, more than 90 percent of homeowners heat water with solar panels.