Sweden: The Mainstream Takes Notice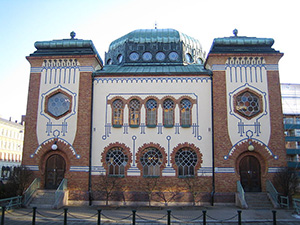 There is a growing anxiety in the Swedish Jewish community following the recent terrorist attacks in Paris and Copenhagen, and security has been ramped up at Jewish buildings around the country, including  synagogues and schools.
Swedish Jews are not alone, of course, in feeling nervous about the threat of attacks by homegrown terrorists, but after the fatal shooting of a Jewish security guard outside Copenhagen's synagogue, many ask: Will Sweden be next? After all, the Swedish city of Malmö in the south is just a 20-minute train ride from central Copenhagen, and Malmö has acquired a global reputation for hostility to Jews.
In December 2009, the Simon Wiesenthal Center issued a travel advisory warning Jews to avoid Malmö. The move came after an Israel solidarity demonstration ended in violence as participants were pelted with eggs, bottles and firecrackers. Then Malmö Mayor Ilmar Reepalu suggested Jews could avoid anti-Semitism by condemning Israeli policy.
Many local Jews were irritated by the Wiesenthal center's move, arguing that it sent a skewed and exaggerated signal to the world. But three years later, the community welcomed Hannah Rosenthal, President Obama's special envoy to monitor and combat anti-Semitism. She traveled to Malmö to talk to representatives of the Jewish community and to have a closed-door meeting with Reepalu, who by then had made a series of controversial statements about Jews. Rosenthal's successor, Ira Forman, visited in late March to assess how Sweden handles threats against and harassment of Jewish citizens today.
Just as in other European countries, anti-Semitic hate crimes and hostile discussions on social media tend to increase as the Israeli-Palestinian conflict intensifies. While the Swedish community leaders speak of a continued threat from fringe groups on the left and right, today, most anti-Semitic attacks and sentiments are believed to come from Muslims or citizens with roots in the Middle East.
In Malmö, Sweden's third-largest city, Muslims make up a fifth of the population of 300,000. Just around 800 of Sweden's roughly 20,000 Jews live in Malmö. A Swedish television documentary that aired in January showed a reporter getting pelted with eggs and subjected to verbal abuse while wearing a kippa and a Star of David in the city. According to the documentary, there were 87 reported cases of anti-Semitic hate crimes in Malmö in 2013 and 2014. Not a single case has led to a prosecution. Incidents reported as hate crimes have ranged from verbal abuse and desecration of a synagogue and cemetery to an attack on a Jewish community building with explosives and bricks.
At the same time, mainstream society has begun to take note of anti-Semitism after the Copenhagen attack and, even before then, non-Jewish residents in Malmöand elsewhere organized and participated in kippa walks in solidarity with the country's Jews.
While old prejudices about Jews persist, the motivations and forms of threats to Jewish communities in Sweden, as elsewhere in Europe, have changed.
Nathalie Rothschild is a journalist based in Stockholm.