Sympathy on the Border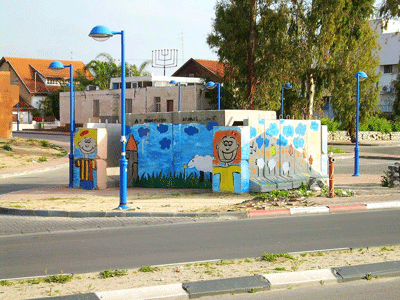 At the entrance to Kibbutz Nahal Oz, along Israel's border with Gaza, there is a white plaster-cast sculpture of three men and two women. They represent the founders of the kibbutz. Rachel Levi, a petite, lively 79-year-old widow, is one of the founders. "We came in 1953," she says. "It was after the War of Independence and we wanted to protect the border. We wanted to do that which was most Zionist. We began cultivating the land. We always felt the border."
Otef Aza, the Gaza envelope—the term for some 50 villages, kibbutzim and moshavim on or near the border with Gaza—has long been on the frontlines of Israel's conflicts with its southern neighbors. During 2014's Operation Protective Edge, rockets and mortars rained down on the area from Gaza, often too close for Iron Dome to protect residents, and a Hamas tunnel network was discovered beneath many communities.
Last summer's conflict was just the latest of 14 years of on-again, off-again hostility with Hamas in Gaza (which Israelis call Aza). While residents of the Gaza envelope share the effects of the conflict, their responses are varied, some even surprising. In 2014, several dozen families left the area; others have stayed, focusing on developing the local economy, which is mainly agricultural. And another group has reached out to Palestinians in an attempt to create connections despite the conflict.
Otef Aza is largely composed of smaller communities that have roots in the kibbutz and moshav movements; many were settled in the early 1950s by left-wing Zionist youth and retain much of their progressive ideals. The area received a population influx from settlements in the Sinai, such as Yamit, which were disbanded in 1978 when then-Prime Minister Menahem Begin signed the Camp David Accords.
Sderot—less than a mile from the border—is the only city in Otef Aza. Its more hawkish population are mostly from Moroccan backgrounds, with an influx of Russians who came in the 1990s.
In the Israeli elections in March, the kibbutzim and moshavim voted overwhelmingly for left-wing and centrist parties. Right-leaning Likud received over half of the votes in Sderot, which is experiencing a building boom.
"It might seem strange," says Ruth Wagner, a social worker at Nahal Oz, "but the residents of this area have a good quality of life; pleasant housing in rural surroundings, high-level social and cultural activities as well as very good schooling for their children."
The government has also provided incentives for people to move into the area, and the opening of a Sderot train line and station in 2013 bring in tourists to support local businesses and festivals, such as the midwinter Anemone Festival.
All this is shattered periodically by code-red sirens warning of rocket and mortar attacks that give residents 15 seconds to run to shelters. Since 2000, over 12,000 rocket and mortar rounds were launched from Gaza toward southern Israel. Last summer, 4-year-old Daniel Tragerman of Nahal Oz was killed by shrapnel as he was rushing his younger sister to a shelter. Ze'ev Etzion and Shahar Melamed of Kibbutz Nirim died in a mortar attack as they were repairing an electrical line; and 36-year-old Narakorn Kittiyangkul, a Thai day laborer, was killed on Moshav Netiv Ha'asara.
Roni Keidar and her husband, Ovadya, heard the warning siren and rushed to the shelter in their home in Netiv Ha'asara, but Kittiyangkul, who worked on their farm, did not make it in time. "We heard a terrible explosion," says Roni Keidar. "And when we came out, we saw destruction all around.
"My husband has still not recovered from the shock of [Kittiyangkul's death] by mortar fire," she laments. "They worked side by side, and he felt very close to him."
Last summer's war has affected the area in many ways. Fear of terrorists emerging from underground tunnels haunt the area's children, and over a thousand are undergoing therapy.
Nahal Oz developed an emergency crew 13 years ago, says Tami Halevi, who is on the kibbutz board. "We thought we were ready for every eventuality," she says, "but we did not take the tunnels into account, that Hamas tanks would come out of the ground to attack us. This was the greatest fear we have ever faced."
"There has never been anything as terrible as last summer's war, with the constant rockets and tzeva adom [code-red] warnings," says Levi, pointing to a large crater on her lawn created by falling rockets. "Older people remained on the kibbutz but we encouraged young families to go north. High white walls were built around the children's houses after Daniel was killed."
Ori Ophir is a member of Kibbutz Zikim. Five Hamas fighters had infiltrated the kibbutz from the sea during Operation Protective Edge but were caught by Israeli soldiers. In a September 2014 article in The Forward newspaper, Ophir said that the suffering of the Palestinians was simply "the price of war." And yet he and a number of other residents of Otef Aza are calling for diplomacy instead of military action.
They have joined The Movement for the Future of the Western Negev. Founded last summer, the organization's mission is to both push for a political settlement with Gaza and focus attention on the needs of border communities.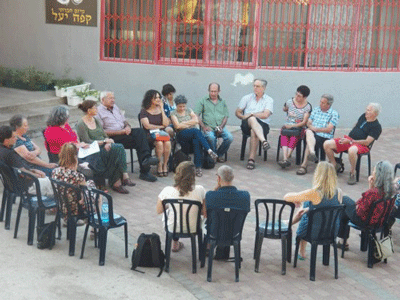 The organization is not the first local group to call for diplomacy. Six years ago, border residents created Other Voice, mainly as a way to promote peace and facilitate communication with Gazans. Other Voice, which has around 200 members, distinguishes between Hamas, the enemy that has threatened the area with deadly rockets and mortars, and the civilians in Gaza, who are seen as victims of their government's totalitarianism.
Ophir understands that it is difficult for many to be sympathetic to the Arabs after having suffered so much from Hamas. And, in fact, the overwhelming majority of Israelis supported the war. He wants The Movement for the Future of the Western Negev to distance itself from Other Voice, whose rhetoric is seen as left wing.
Yet some longtime residents of Otef Aza—many on kibbutzim—have expressed sympathy for the Palestinians. "The most difficult thing [last summer]," says Levi, "was that from morning to night, we heard our planes bombing Gaza in response to Hamas shelling. We were in shelters, many of our towns were protected by the Iron Dome. But I could not help thinking of the Palestinian children in Gaza, exposed and unprotected."
These kibbutz old-timers and committed Zionists have over the years displayed great resilience and idealism while living under the shadow of war since the early 1950s. They can also recall a time when there were better relations with the Palestinians.
In the 1950s, says Levi, "there were constant border skirmishes as long as the Egyptian army was there. After the Six-Day War, the border was opened. We had good relations with the Arabs there. They worked here and we shopped there," she says, pointing to the beautiful woven rugs she bought in Gaza. "Every day, 800 trucks came through the Karmi Crossing, a little south of our kibbutz, bringing merchandise to and from the clothing factories."
Roni Keidar, who once lived in Yamit and moved to the area after the withdrawal from Sinai,  is a member of Other Voice. "I am constantly looking for ways to connect to people from Gaza," she says. "The Israeli government gives permission for some Palestinians from Gaza to get medical care in Israel. They need an Israeli to accompany them, so I have been volunteering every other week. I do not do it out of the goodness of my heart. I believe it is the only way I'll be able to have security. If they don't have a decent life, I won't have a secure life."
Keidar has become friends with Maha Mehanna, a woman from Gaza whose nephew had a bone marrow transplant in Israel. Mehanna has a permit to take her nephew back and forth to Tel Hashomer Hospital every three months for checkups, and Keidar accompanies her. "During the war, we were in contact eight to nine times a day," Keidar says, "checking on each other when we heard about some bombing or rocket explosion. There's something very real about working to create bonds with people on a one-to-one basis. My husband is more distrusting. 'Listen to what their leaders are saying,' he tells me. My five children are proud of me but they think I'm naïve."
As they grapple with the consequences of the war, the people of Otef Aza are still worried that Hamas will return to violence soon. "We feel safer than others," says Levi, "because the army is based on our kibbutz."
Keidar has kept in touch with Mehanna and, in May, the two attended a J Street conference in Washington. The situation in Gaza remains dire, she notes. "There are not many houses being rebuilt and the reconstruction is going slowly," she says. "There is not much we can do, and what we can do is primarily symbolic, to remind the people that we are here."
Keidar believes that the people in Gaza are more resentful of Hamas than Israel as Hamas is holding back money for reconstruction to maintain world attention. Hamas also keeps strict control over the population. "If Israel would stop the blockade and allow free movement, open up Gaza," she says, "the world would see what is happening there, and Hamas would have to relinquish some control."
Whatever their politics, the residents of the Gaza envelope remain committed to their homes and to Israel. "We are building inexpensive housing to attract young couples suffering from the shortage of affordable housing," says Levi.
Seventeen couples with small children left the kibbutz last summer, she says, "to take a year off and see what will happen….
"[But], we have always been optimistic. There are already five couples interested in coming."