Come Walk With Me—Electronically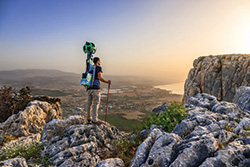 Soon it will be possible for "virtual hikers" to traverse the length of Israel—from Kibbutz Dan in the north to Eilat in the south—while sitting in the comfort of their home.
In early May, two teams of real hikers carrying Google Street View cameras on their backs set out to photograph the Israel National Trail (Shvil Yisrael) for Google Maps. The occasion was the 10th anniversary of Google Israel and the 20th anniversary of the trail, whose path includes the Carmel Mountains, the Mediterranean coastline and the Negev desert's wilderness.
The photographers are volunteers with the Society for the Protection of Nature in Israel, which launched the trail in 1995. The Street View is to be the longest hiking trail (687 miles) and the first that runs the entire length of a country.
SPNI CEO Moshe Pak-man said that the project, expected to take two to three months, would "encourage tourists…to experience with their feet and their senses the various cultures and landscapes of Israel."