Film Reviews: Of Bigotry, Lies and Love
Labyrinth of Lies
A young prosecutor in 1958 Frankfurt is determined to expose the atrocities of Auschwitz committed by former Nazis now living ordinary lives. This German feature explores the courage of the painstaking researchers who discover shocking crimes, leading to the first time Germany tried its own citizens. Labyrinth is an informative look at a postwar coverup. Sony Pictures Classics.  —Sara Trappler Spielman
Red Leaves
Ethiopian Israeli Meseganio Tadela's wife dies, so he moves in with his children. Behaving in the brutally patriarchal manner of the tradition he brought with him 28 years earlier, Tadela goes into a downward spiral. Bazi Gete directs the award-winning film, as much a character study as a look at a disappearing culture. Go2
Films.  —Judith Gelman Myers 
In Eran Riklis's latest, a Jewish woman says she would rather her daughter have cancer than date an Arab. Eyad, an Israeli Arab, attends an exclusive Jerusalem private school, struggling to fit in. His love affair with Naomi, the daughter of that Jewish woman, gives him some sense of belonging. In the end, he takes a radical step to deal with Jewish intolerance. Strand Releasing. —Renata Polt
A chance meeting between a tourist and a shopkeeper in Algeria who, 50 years earlier, had been a musician in a Chaabi orchestra, unleashed a string of memories about life in the country before the revolution, when Jews and Muslims passed their days together drinking, laughing and playing "the people's music." Enthralled, the tourist spent the next nine years reuniting the orchestra, taking them on tour and making this documentary, which subtly conveys the damage that politics wreaks on interfaith relations. —J.G.M.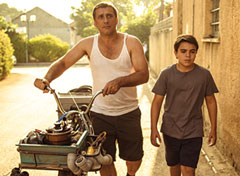 Encirclements
In this beautiful, quietly comic film, a religious faux pas sets off a communal tragedy in a tight-knit, working-class Mizrahi neighborhood in Israel. Despite grievances, the neighbors bond together, and find  strength to triumph over personal grief. Writer-director Lee Gilat treats her female lead with rare insight. Israeli Films.  —J.G.M. 
Filmmaker Lewis Cohen explores the historical—real and imagined—connection between Jews and money, from 12th-century Europe to contemporary America. He highlights the trial of a French Muslim who kidnapped a young French Jew, Ilan Halimi, believing that since Halimi was Jewish he was also wealthy. The 2006 case became notorious for the state's initial refusal to consider Youssef Fofana's crime an official act of hate. —J.G.M.