How Serious Is B.D.S.?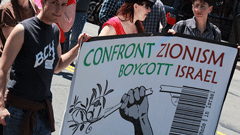 Every day across the globe a new call is announced to boycott, divest and sanction Israel—to isolate the Jewish state. Student organizations in England and the United States have demanded that universities pull out from investments in Israeli companies. Products manufactured beyond the Green Line are marked for opprobrium by the European Union. Performers are pressured to cancel events in Israel.
Last spring and summer saw a spate of new anti-Israel initiatives: European foreign ministers moved ahead with plans to label products made in the West Bank; KLP Kapitalforvaltning, the asset manager for Norway's largest life insurance company, divested from two construction materials firms because of their involvement in West Bank projects; the British students union voted to join the Boycott, Divestment and Sanctions movement; FIFA, soccer's governing body, considered a Palestinian motion to expel Israel from international competition; and Israel's first traditional Irish dance competition was canceled due to pressure from protesters.
Economically, there is room for optimism—Israeli businesses are thriving and trade with China and India is increasing. And an amendment was attached to the recent United States trade bill, instructing negotiators to pressure European partners not to boycott Israeli businesses.
Yet in the academic world, B.D.S. casts a heavy weight on Israel, notes Zvi Ziegler, professor emeritus of mathematics and former dean of students at Haifa's Technion–Israel Institute of Technology. Academics refuse  to cooperate with Israeli scholars and attend conferences in the country.They withhold promotions from Israeli researchers and reject their submissions to academic journals.
"The public call for a boycott of Israeli academic institutions increasing throughout the world is just the tip of the iceberg of much larger phenomena based on anti-Semitism and anti-Israeli sentiment," says Menachem Ben-Sasson, president of the Hebrew University of Jerusalem and former head of the Association of University Presidents of Israel. "Most of [the boycotts] take place behind the scenes in the backrooms of the academic world."
Research and scientific development is based, and depends on, global exchange of information and cooperation between institutions. Boycotts can slow down or stop vital scientific developments. "The most important national resource of the State of Israel is its human resources, its brains and creativity," says Ben-Sasson, "and…this resource is under international attack."
University campuses are at the frontlines of the B.D.S. battle. The movement promoted by the Palestinian Campaign for the Academic & Cultural Boycott of Israel, under the leadership of Omar Barghouti, has become an epidemic among students and faculty. PACBI has set up protests and pressured student governments to vote for B.D.S.
Its activities can also create a hostile environment for Jewish students. At the University of California, Los Angeles, in February, for example, Rachel Beyda, a candidate for student council, was asked if her Jewish affiliations would bias her against other campus groups. She was ultimately voted in, but the question and subsequent debate highlight how easily anti-Israel sentiment can morph into outright bigotry.
In December 2013, the American Studies Association, a 5,000-member national organization, approved a resolution to boycott Israeli universities. The ASA claimed that there is no academic freedom for Palestinian students and scholars under Israeli occupation, and that universities are a party to Israeli government policies that violate human rights.
While the ASA does not have many connections with Israeli scholars, its decision has prompted other academic groups, such as the Modern Language Association, the American Anthropological Association and the Middle Eastern Studies Association of North America, to create their own resolutions.
"There are 10 times more boycotts now than there were a year ago," notes Cary Nelson, professor of English literature at the University of Illinois, "including thousands of professors who have strong influence over students. The real issue is that it is creating a mindset, a social movement. Israelis have a great challenge before them to fight ignorance, communicate and educate against boycott."
Accusations about the lack of Palestinian and Israeli Arab academic freedoms are easy to refute. Before 1967, no universities existed in the West Bank and Gaza. Today, there are 49 institutions of higher education, with 213,000 students enrolled. Over 25 percent of the population between 18 and 24 attend colleges and universities, a higher percentage than other countries in the Middle East.
Twenty percent of the students at the Technion and 34 percent of the students at the University of Haifa are Israeli Arabs. And in 2013, the Council for Higher Education in Israel created a scholarship program for Israeli Arabs pursuing undergraduate degrees.
In response to a 2006 boycott initiative by British scholars, Palestinian Sari Nusseibah, then-president of the Al-Quds University in Jerusalem, observed that it is particularly ironic that universities have been made a target. "It is within the [Israeli] academic community that we've had the most progressive pro-peace views—views that have come out in favor of seeing us as equals," he told the Associated Press.
Jewish organizations on college campuses are also working to combat B.D.S. AMCHA Initiative and the Louis D. Brandeis Center have created watchdog groups to take legal action against discrimination, harassment or intimidation of Jewish students. AMCHA, founded by Tammi Rossman-Benjamin of the University of California, Santa Cruz, includes B.D.S. under its definition of anti-Semitism. StandWithUs, the Israel Campus Coalition and the David Project try to create a positive image of Israel at colleges and universities.
Boycotts are not new to Jews or Israel. On April 1, 1933, a week after Hitler came to power in Germany, he ordered a boycott of Jewish shops, banks, offices and department stores. German students boycotted lectures of Jewish professors.
As Arab nationalism spread, Arabs initiated a boycott against Jews in Palestine. In 1936 Cairo, the Muslim Brotherhood, echoing the anti-Semitic hoax The Protocols of the Elders of Zion, claimed that Jews are a menace to the world and their businesses should be boycotted. In 1945, the Arab League not only boycotted Jews in Palestine but companies that dealt with them. However, this fell apart after peace treaties with Egypt and Jordan were signed in the 1980s.
The modern B.D.S. movement had its starting point in England in 2002 after Operation Desert Shield. In an open letter to The Guardian newspaper, left-leaning scholars called for a moratorium on cultural and research links to Israel in response to the "violent repression" of Palestinians. The letter immediately received 700 signatures. That year, journals at the University of Manchester removed translator Miriam Schlesinger of Bar-Ilan University and Gideon Toury of Tel Aviv University from their editorial staff—because they were Israelis.
"It was the first time that happened in such an explicit manner," says Ziegler. "However, the following year, Oxford University reacted very differently on this issue. Oxford professor in life sciences [Andrew Wilkie] received a letter from an Israeli student who requested to do research toward a Ph.D. in his lab. The professor wrote back that 'No way would he allow someone who had served in the Israeli army to work in his lab.' When this became known, Oxford reacted vigorously. The biology professor was brought before a disciplinary court and found guilty. He was prohibited from taking students for a period of time."
This unequivocal approach put an end to explicit bias of Israeli academics in England. "There are, however, still prejudices at work that are not made explicit," Ziegler adds. "One can never know whether a refusal to come to a conference in Israel or send a letter of recommendation stems from political motives. Young Israeli researchers suffer most from boycotts, when prominent people in the field might refuse to give recommendations for [their] advancement."
American universities have followed in England's footsteps. A 2002 B.D.S. campaign against Israel was initiated in Berkeley, California. Students and faculty petitioned the University of California administration to divest themselves of stocks in companies connected with the Jewish state.
PACBI, one of the most active supporters of B.D.S., was launched in Ramallah in April 2004. Included in  its stated aims are "ending [Israel's] occupation and colonization of all Arab lands" and "protecting and promoting the rights of Palestinian refugees to return to their homes"—goals that essentially call for elimination of the Jewish state.
"The B.D.S. movement is masking its intentions," said Norman Finkelstein, a militant critic of Israel's record on legal and human rights, at a Huffington Post Colloquium at Imperial College London. "At least be honest: What you want…is to abolish Israel. And this is [your] strategy for doing it."
The B.D.S. movement has grown at a dangerous rate, its success being its ability to connect to minority groups in the United States, such as African-Americans and Latinos, who are being convinced that Israel is abusing Palestinian human rights, wrote Israeli journalist Ari Shavit in Ha'aretz in June. "Never mind that genocide is going on in Syria by [Bashar al-] Assad against his own people, and slaughter of the most barbaric type by ISIS."
The great majority of boycotters, however, are engaged in political posturing, points  out David Rosenberg, a Ha'aretz blogger. And, even though there have been calls for scientific boycotts, notes Bob Lapidot, director of the international division of the Israel Academy of Sciences, "the sciences don't really feel the boycott."
"Israel receives 10 times as many grants than its numbers would warrant because of the level of excellence of its researchers," says Alex Lubotzky, a world-renowned Hebrew University mathematician who has received many European grants. "The prestigious European nuclear research consortium CERN made Israel its first non-European full member."
There is a difference between scientific fields and political postures, says Lapidot. "It is understandable that Middle Eastern studies, often supported by Arab countries, boycott Israeli universities. But why do academic associations in English and American literature involve themselves in the boycott?"
Lapidot believes that scholars in the humanities and social sciences view history and modern politics through the basic paradigms of race, gender, class and empire, dividing the world between the oppressed and oppressors. According to this approach, Israel is a colonial power, an oppressor.
"Most scientists are neutral as far as Israel is concerned," says Lubotzky, "but they are against academic boycotts because they care about science, and boycotts undermine science. They create obstacles to the flow of ideas." On this basis, the Israel Academy of Sciences and Humanities has cooperated with academic and university senates in other countries to fight boycotts—not by trying to justify Israel's policies but by emphasizing the danger boycotts entail for the progress of knowledge.
It may seem that B.D.S. is on an stoppable upswing. Yet, behind the scenes a countermovement is growing. And, hopefully, the global need for a free exchange of knowledge and scientific development will undercut this modern hate campaign.