Let There Be Nano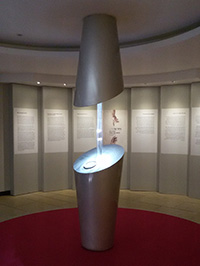 A Hebrew Bible the size of a grain of sugar shows just how far the science of miniaturization has come.
Anyone with a smartphone is aware that vast amounts of information can be stored in a tiny electronic device. To demonstrate to students just how far miniaturization has come, Uri Sivan, Ph.D., and Ohad Zohar, Ph.D., of the Technion in Haifa decided to write the entire Hebrew Bible on a chip the size of a grain of sugar.
To create the 1.2 million letters, a focused ion beam removed individual atoms from a thin gold layer, exposing dark silicon underneath. The words can be read only with the help of an electron microscope.
The Nano Bible is on display for at least another year in the Israel Museum's Shrine of the Book, which is dedicated to the Dead Sea Scrolls.
"We used it as a lever to talk about platforms of the Hebrew Bible throughout history," said Rotem Arieli, who curated the exhibition with Adolfo Roitman, Ph.D. Miniaturizing the Bible is an ancient practice; sacred texts were inscribed on eggshells and grains of rice, Roitman said.