In Vienna, Missing No More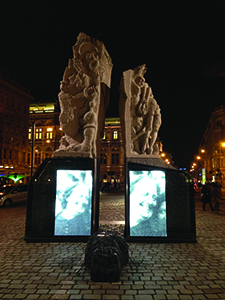 Located in the heart of Vienna across from the Albertina Museum, artist Ruth Beckermann's The Missing Image installation features a looped five-second film clip of 1938 Viennese citizens laughing as Jews were forced to scrub the pavement during the Anschluss. Beckermann's work faces Alfred Hrdlicka's Monument Against War and Fascism, a 1988 memorial that includes the bronze figure of a Jew lying face down cleaning the floor, brush in hand.
Upset that Hrdlicka's monument failed to portray the participation of the Viennese spectators in the humiliation of the Jews, Beckermann conceived of a way to complete the scene after she came across the film clip at the Austrian Film Museum. She ultimately created an art piece that appears as though it is a part of the monument rather than a temporary addition. The installation's impact on Vienna is palpable. Beckermann, now a sort of celebrity, says she is frequently thanked on the streets by passersby for rectifying an incomplete memorial many had resented.
"In a way [Vienna is] almost obsessed with memory now," Beckermann said. "After a long time of forgetting, of trying to forget, now is the moment when everybody wants to remember."