Commitment to Care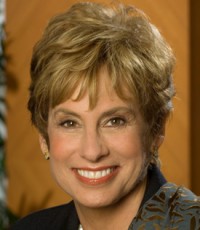 There is something so very special when, during our annual Hadassah business meeting, hundreds of Hadassah leaders, delegates and Associates meet to discuss and deliberate our past, present and future. This year took us to Philadelphia, where we learned about the lives we have saved through the work of the Hadassah Medical Organization as well as our dramatic medical breakthroughs and cutting-edge research. HMO continues to not only build bridges to nations through medicine, but to be growing its reputation as a world-class medical leader.
Just a few short weeks later we were reminded of this in real time when a terrorist attacked a young couple in a car near Jerusalem, leaving the wife with burns severe enough to keep her at Hadassah Hospital for weeks. Our vision to provide the finest, most sophisticated care saved this woman's life. Like most of you, I feel privileged to be part of this great organization and grateful for the opportunity to come together every year to plan for our next 100 years. —Nancy Falchuk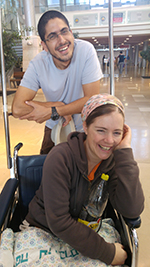 On the Road to Recovery at Hadassah Hospital
"I don't know whom to thank first among the angels at Hadassah," said Inbar Azrak, 27, a patient at Hadassah Hospital at Ein Kerem. She and her husband were driving near Beit Hanina, a Jerusalem suburb, when a Molotov cocktail was thrown at their car.
"I tried to get out, but had trouble undoing my seatbelt. Finally, I rolled in the dirt. I realized I was badly hurt, but I said to myself, 'I'm alive,'" Azrak recalled. Fortunately, the Azraks' three small children weren't in the car.
"From the moment we arrived at Hadassah Ein Kerem, we had the most compassionate and most professional care," said Azrak, a high school teacher.
Azrak is suffering from moderate burns and is hospitalized on the seventh floor of the new hospital tower in the department of plastic surgery. Among her guests have been Prime Minister Benjamin Netanyahu and President Reuven Rivlin. She has also been visited by Jerusalem Deputy Mayor Dov Kalmanovitz, himself a terror survivor who suffered third-degree burns over 75 percent of his body in 1988 after a Molotov cocktail attack. He spent many months in Hadassah Hospital at Ein Kerem, where he recovered and resumed his life as a parent and head of an accounting firm. "I came to encourage Inbar that the long journey is worth it."
Coincidently, both patients have the same plastic surgeon: Dr. Rami Neuman. "You need luck even when you're in a terror attack," said Dr. Neuman. "Although Inbar's car went up in flames and she was on fire and has 25-percent burns, most are second degree. With conservative [treatment], she should be fine. Unfortunately, we have a lot of experience in dealing with burns from terror explosives."
Azrak is making great progress and has been able to make day trips home to see her family.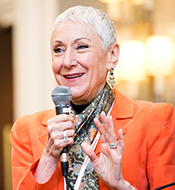 National Business Meeting & Symposium
Philadelphia is the cradle of American independence and also the city where Henrietta Szold became the first paid employee of the Jewish Publication Society in 1893. It was the perfect setting, therefore, for the 2015 Hadassah National Business Meeting & Symposium at the Sheraton Philadelphia Society Hill Hotel—Power Up: Stand Up, Speak Up, Step Up.
On July 14 and 15, Hadassah delegates, members and Associates from around the country gathered to learn and vote, celebrate Hadassah's accomplishments and explore issues of importance to worldwide Jewry and Israel.
Participants were welcomed to Philadelphia by Bobbi Kraft and Lynne Savran, cochairs of the national business meeting, as well as National President Marcie Natan and Executive Director and CEO Janice Weinman. Erez Meltzer, chair of the Hadassah Medical Organization board of directors, shared some highlights of the HMO's cutting-edge research and medical advancements, together with Dr. Ronen Leker, director of Stroke Service and the Peritz and Chantal Scheinberg Cerebrovascular Research Laboratory, Department of Neurology at Hadassah Hospital.
Delegates elected Ellen Hershkin 26th Hadassah national president, to begin her term in January 2016. "During my past 42 years of service to Hadassah, I've witnessed the accomplishments of this outstanding organization and I am humbled to be the new national president," Hershkin said. "I am energized to continue Hadassah's critical work in saving lives through groundbreaking medical research at HMO, and in empowering Jewish women to be leaders by addressing today's most relevant issues." Hershkin worked for 20 years as a travel consultant specializing in Israel travel and has served on the boards of other American Jewish organizations.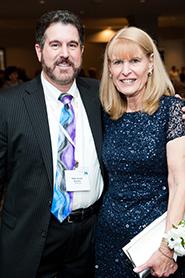 In her farewell address to the national board, Natan thanked the previous Hadassah national presidents as well as the current board. "As appreciative as I am of the leaders who went before me," she said, "I simply could not have functioned…without the constant counsel, assistance and stamina of the people who have stood beside me, as Hadassah's modern council of elders"
Hadassah's national board and delegates approved a new Iran policy statement, recognizing "the efforts of the United States and members of the international community to secure a diplomatic solution to the issue of Iran's nuclear program," while noting with acute concern that the proposed agreement will fail to prevent Iran from obtaining nuclear weapons.
The National Committee of Hadassah Associates elected its 2016 board of directors, including a new president, Fred Safer, of Glendale, Wisconsin. They also heard from attorney Beth Cohen, director of global emerging growth services at Greenberg Traurig, LLP, who spoke about Israeli innovations. A panel of medical experts discussed the politicization of medicine in the United States.
More than 400 people attended the banquet in the Society Hill ballroom, celebrating the 100th anniversary of Hadassah Magazine as well as its executive editor of more than 35 years, Alan M. Tigay, who will retire soon.
"Hadassah Magazine has been a means for me to both practice journalism and work for the welfare of Israel," Tigay said.
Attendees celebrated well into the night to the music of entertainer Yoel Sharabi.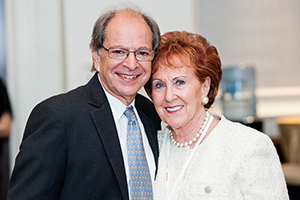 The program on Wednesday began early in the morning with a breakfast celebrating the 18th anniversary of Hadassah's Keepers of the Gate fundraising initiative. In addition to hearing about Youth Aliyah, Young Judaea, Hadassah's Israel missions and advocacy, two sessions tackled important Jewish issues.
In "Anti-Semitism: Beyond the Headlines," speakers Mark Weitzman, the Simon Wiesenthal Center's director of government affairs, and Elliot Mathias, founder and executive director of Hasbara Fellowships, discussed some current trends in worldwide anti-Jewish sentiment.
Participants also had the opportunity to hear Martin Raffel, former Israel and International Affairs Director at the Jewish Council for Public Affairs, and Jasmine Patihi, tristate area high school coordinator for StandWithUs, explore "Zionism in the 21st Century."
The event closed with an invitation for all to attend the 2016 Hadassah National Convention July 25 to 28 in Atlanta. Participants returned to their communities powered to Stand Up for women, Speak Up for Israel and Step Up for Hadassah.