DogTV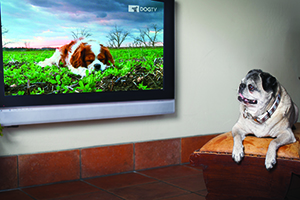 Clouds roll by and drowsy canines nod off in flowering fields to soothing music. Your dog is coaxed into calm, thanks to DogTV, a channel scientifically developed in Israel for the home-alone dog.
The idea for DogTV, strangely enough, came from a cat, Charlie. "I used to leave him home all day," said Ron Levi, the channel's founder and chief content editor. "I felt guilty. He'd give me the saddest eyes." Levi began downloading videos of squirrels and fish to entertain Charlie in his absence. He realized that, while not typical of cats, many dogs suffer from separation anxiety. Years of research, pitches and quizzical looks later, DogTV programs alternate between relaxation, stimulation and behavior-improving segments. Sound and picture are optimized for dogs' vision and hearing. DogTV fans also include cats, humans and even a parrot or two.
"The best thing about DogTV is [the] international appeal," Levi said. "Dogs bark the same in every language." DogTV is available in many countries, including the United States, United Kingdom, France, Germany and Japan. DirecTV and select cable providers offer the channel as an add-on, from $4.99 to $9.99 per month. Online streaming service is available at DogTV.com.