A Diaspora View of Israel: It Is Real—Isn't It?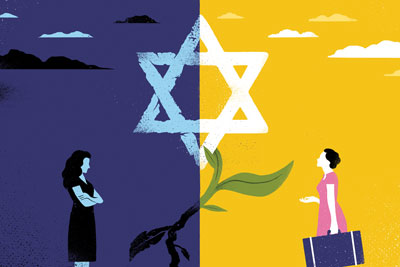 My husband, our two sons—ages 7 and 10—and I are spending a year in Tel Aviv. We went from Brooklyn to Bavli, a neighborhood in North Tel Aviv with Park HaYarkon along its northern border.
In the vaguest sense, we had always aspired to spend a year in Israel, but in a household where a nightly plan for dinner eluded us, the logistics of pulling off such a year seemed improbable. And then, early last summer, several shifts in family life came together to make this the year.
I was executive director of Congregation Beth Elohim in Park Slope, Brooklyn. My community hosts Shinshinim, Jewish Agency-sponsored Israelis on a gap year of national service between high school and the army. It is the community's responsibility to find families to host the Shinshinim, which, as executive director, meant it was largely my responsibility. As so often happens with work in the Jewish community, professional and personal lives merge, and I volunteered to host one of the Israelis.
The experience was formative. As a family we are very connected to Israel, but hosting an Israeli integrated the Jewish state and Hebrew into our daily routines. Learning Hebrew slang, constant talk of the army's intricate draft process into elite combat units, the shakshuka solution to dinner—all of it helped close an essential gap between feeling like American supporters of Israel and, while not Israelis exactly, being American participants in Israel.
The rest fell into place: It was a good time to transition out of my job. My husband's family had made aliya 20-plus years ago and were able to help. And the warmth and encouragement of friends and colleagues in New York and Israel and, very importantly, the enthusiasm of our kids made the transition seem easier. We bought the airplane tickets in early August. School in Israel started September 1.
One of my biggest worries was that it would be difficult to break into Israeli social circles. I suspected we would have no trouble befriending Anglos, but I thought native Israelis—with their entire families in driving distance and tight social networks—would not be particularly interested in getting to know us.
Those fears were unfounded. The Israelis that we have met have been consistently warm and welcoming. They have repeatedly invited us over for meals, taken the initiative to arrange play dates with our kids and triple checked that we were aware of upcoming school meetings.
One Israeli family, with kids in both our sons' grades, has been especially gracious. They invited us for Shabbat dinner the first week we arrived in Tel Aviv. Touched by their invitation, I wanted to bring a thoughtful hostess gift. Being Facebook friends with the wife and having noted all her "likes" of modern home decor, I went to a ceramics cooperative in the trendy and charming Neve Tzedek neighborhood to pick out a small gift.
Once there, I quickly became engrossed in all the amazing art on display. One ceramicist had replicated Tel Aviv's classic Bauhaus buildings as miniature ceramic structures complete with the political graffiti found on buildings all over Israel.
One of her little buildings was plastered with a photo of Theodor Herzl spray-painted with the graffiti message, in Hebrew: If you don't want it, you don't need it—an underachiever's inversion of Herzl's famous quote "If you will it, it is no dream."
On a second Bauhaus building, the ceramicist reproduced an image of a large typeface sign reading Am Yisrael Hai, underneath which a graffiti artist sprayed the phrase be-seret. Le-hiyot be-seret is a popular expression in Israel. Literally translated "to live in a movie," it means to be delusional or to live in an alternate reality.
It is a harsh expression, but in the right context it can quickly sum up everything you want to say about a person whose thinking is way off base. And by adding be-seret to the typeface sign, the graffiti altered the meaning of Am Yisrael Hai from the traditional rallying cry "the nation of Israel lives!" to the highly cynical "the nation of Israel lives…in an alternate reality."
I was holding the Am Yisrael Hai be-seret piece when the shopkeeper asked me what I thought of the artist's work. I said I really appreciated the juxtaposition of Tel Aviv's elegant Bauhaus architecture with the grit of its street art but I was troubled by the slogan.
I tried to explain this to the shopkeeper. I said the sentiment seemed extreme to me. I would expect to see a Netanyahu hai be-seret or Settlers hai be-seret—but Am Yisrael, the entire Jewish people? The Jewish people as a whole are deluded? What did that even mean? Deluded in the belief in a Jewish state? Deluded in the belief in a Jewish nation? In Jewishness itself?
As if to underscore the self-evidence of it, the shopkeeper, suggesting I was naïve, asked how long I had been living in Israel. "Am Yisrael is a right-wing political term," she said. "It's nationalistic.… People who are politically enlightened cringe when they hear the term Am Yisrael."
In a country where the worst fate is to be considered a friar, a sucker, I could not let the accusation of naïveté linger. True, I had not known that Am Yisrael is a term the Israeli right wing clings to. (Of course, as always happens, once pointed out I began to see it over and over, for instance in right-wing politician Naftali Bennett's post-Yom Kippur Facebook post: "Shanah Tovah Am Yisrael"). But as a strongly identified diaspora Jew, someone rooted in day schools, Jewish camps, synagogues and pro-Israel advocacy organizations, I know my Am Yisrael Hai. I know that it has nothing to do with Israeli political factions or one's position on land-for-peace or nuclear deals. Am Yisrael Hai speaks of something older, fundamental and apolitical—the literal survival of the Jewish people across history.
I know Am Yisrael Hai as the anthem of March of the Living and other educational trips to Poland to witness the vestiges of the Holocaust and rejoice in the Jewish people's survival.
I remember singing "Am Yisrael Hai" as a kid at a gathering for ex-Soviet Jews in Chicago where it represented the three words that my Jewish community and the newly arrived Russian immigrants had in common.
More recently, I remember watching a YouTube video of young soldiers singing "Am Yisrael Hai" as they prepared to enter Gaza to defend Israel in the summer of 2014. The State of Israel itself, more than anything else, is an expression of Am Yisrael Hai.
I said some of this to the shopkeeper; she was mostly dismissive. She was focused on conveying how intolerable it is to live here under right-wing rule, why so many Israelis choose to live outside of Israel, why total disillusion with the state is a natural and rational result of living in Israel for too long.
I was still holding the Am Yisrael Hai be-seret Bauhaus replica. She asked me if I wanted to buy it.
I said, "No, thank you." She looked at me like the whole conversation had gone over my head.
While I might normally walk away from such an encounter feeling like I didn't get the local slang, like I was out of sync with "the real Israel," in this case, I did not. Here my being an outsider from the diaspora—from America, where Jewish identity is distinct from national identity—is what I brought to the discussion. I realized that my experience as a minority is the lens through which I appreciate Am Yisrael Hai.
The graffiti on the Bauhaus replica makes no sense. If Am Yisrael Hai is a delusion, we ourselves do not exist. And as I walked out of the shop, I wondered whether I, the foreigner, paradoxically feel more at home in Israel than those who only understand Am Yisrael Hai in the immediate context of a political slogan.
In the diaspora, it is tempting to look to Israel for all the answers to Jewish questions. Sitting in Tel Aviv, it appears that some of those answers may indeed reside in the diaspora. We are lucky to have both.
Shelley J. Klein is an attorney and former executive director at Congregation Beth Elohim in Brooklyn.