Mystery Mikve in Jerusalem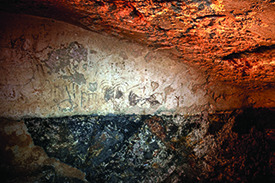 A Jerusalem construction project has led to the discovery of a mikve dating to the first century C.E., inside a cave and flanked by a wine press. The mikve's plaster walls were covered with paintings and inscriptions, some written with mud or soot and some incised. The inscriptions are in Aramaic—the language commonly used in that period—and are written in a Hebrew script often called "Jewish script," said Israel Antiquities Authority archaeologist Alex­­ander Wieg­mann, codirector of the excavation with Royee Green­wald. The paint­ings include various symbols, including a boat, palm trees and plants.
"Such a concentration of graffiti—left by the mikve's users or others who came after—is very rare," Wiegmann said. The problem, he added, is that "none are perfectly preserved."
According to the archaeologists, some of the symbols are typical of depictions in the Second Temple Period, but the one that might be a menora is exceptional, because this sacred object was generally not depicted while it existed in the Temple.