Thanks for the Memories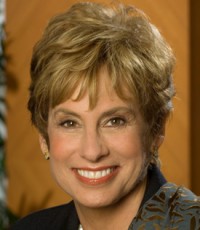 Hadassah Magazine, the finest Jewish publication in America, has—for over a century—consistently reflected the priorities and perspective of Hadassah. Reaching hundreds of thousands of homes and millions of readers, Hadassah Magazine not only focuses on Jewish life in the United States, Israel and around the world, but has been and continues to be the voice and face of Hadassah, the Women's Zionist Organization of America.
As the magazine chair these past four years—a position I am about to leave—and in my many roles in Hadassah over the last 25 years, I have been privileged to work with outstanding Executive Editor Alan M. Tigay, now retiring after more than 35 years of service. Please join me in thanking Alan, a man of vision and integrity, as he begins his new journey of rest and relaxation.
And please join me in welcoming my dear colleague, Marlene Post, 21st national president of Hadassah, as new magazine chair. We could not be leaving this treasured publication in better hands.
To our readers, to our amazing magazine staff, to our writers and to the committed members of our editorial board, and to Marcie Natan, national president, thank you for giving me the honor to serve. A very grateful and heartfelt toda raba!
Teaming up Against Cancer
Hadassah teamed up with famous actress and uterine cancer survivor Fran Drescher and her Cancer Schmancer Movement for a one-day-only Women's Health Summit at the Skirball Cultural Center in Los Angeles on October 13. During the summit, experts spoke about a variety of topics, including detoxing the home, nutrition, positive thinking and empowerment.
Dr. Tamar Peretz, interim director general of the Hadassah Medical Organization and head of its Sharrett Institute of Oncology, participated in an expert panel discussion. Immediately after the summit, she headed home to Israel to stand with her country and colleagues as an influx of terror victims arrived at Hadassah's hospitals—but not before being deluged with fans and well-wishers who heard her on the panel.
Also on the panel were Dr. Kristi Funk, breast cancer surgeon and cofounder of the Pink Lotus Breast Center in Beverly Hills, and Deborah Wright, founder and chair of A Vision of Health, a nonprofit dedicated to providing breast cancer screening and prevention services to women in Southern California.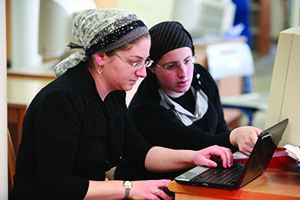 Role Models
A growing number of haredi (ultra-Orthodox) men and women in Israel are seeking higher education, and 54 percent of them are doing so at Hadassah Academic College in Jerusalem. Currently there are about 600 of these students, with plans to admit another 400. In response, the college has initiated the Campus Strauss program, which is sensitive to these students' needs. Lectures occur at the Campus Strauss facility, located in walking distance to the main campus, where laboratory work and clinical studies are conducted.
"The health of Israel's economy and society are dependent upon integrating the country's growing haredi community into the workforce," notes HAC President Bertold Fridlender.
Haredi students can select from six undergraduate tracks: biotechnology, optometry, computer science, management of service organizations, politics and communications, and communication disorders. An offering in economics and accounting is in the works.
Now two years old, the program is a success thanks to the mutual benefits of the haredi and general student and faculty populations. HAC has run faculty workshops to promote understanding, and the proximity to this underserved population of Jerusalem has given students the chance to see haredim as individuals, opening dialogue and changing preconceptions on both sides.
Campus Strauss graduates earn a bachelor's degree, ready to go forth and build bridges between Israel's secular and haredi worlds.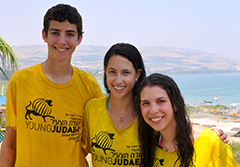 Young Judaea and Hadassah Today
Hadassah began supporting Young Judaea in 1936, taking over sole sponsorship in 1967. Under Hadassah's auspices, Young Judaea—founded in 1909—grew to become the largest pluralistic Zionist youth movement in the United States, a distinction it still holds. During the past year, some 6,000 people took part in Young Judaea summer camps, programs in Israel or activities such as the Young Judaea National Convention, Alternative Winter Break or local activities. Young Judaea alumni can be found in leading positions in the Jewish community and in the business and nonprofit worlds, and more than 5,000 Young Judaeans have made aliya.
Three years ago, Hadassah decided to make Young Judaea an independent organization once again after getting reassurances from a group of Young Judaea alumni who, as experienced business and nonprofit leaders, took things into their own hands with a great deal of competence, drive and energy. Hadassah continued to support Young Judaea throughout the transitional period.
Today, Hadassah and a fully independent Young Judaea continue to be partners. For instance, Hadassah's investment in scholarships has been steadily increasing; during the past year, Hadassah provided $370,000 for camps and Israel programs. The funds were targeted to both need-based scholarships and the merit-based Leaders of Tomorrow. Giving scholarships to connect young people with Israel is a central expression of Hadassah's Zionist mission, and we will continue to help young Jews experience Israel by raising money for Young Judaea.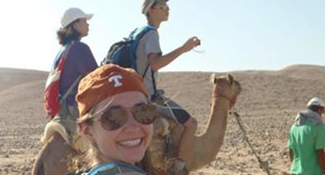 During its first years of independence, Young Judaea achieved a 10-percent increase in participants. Young Judaea is now embarking on a five-year strategic plan that aims to double the number of participants in its programs; establish a new summer camp on the West Coast; develop and sustain ongoing local programming in 10 key communities; launch the Young Judaea College Student Leadership Program to train recent graduates as young leaders, camp counselors and social activists; create opportunities for online learning; and build an alumni network that engages 10,000 alumni and friends as role models for the next generation.
Hadassah at 100-plus-years-old is still the largest Zionist organization in America, and Young Judaea is the leading pluralistic Zionist youth movement. The future looks bright as we continue to work together to raise the next generation of Zionists.