Israeli Salad for the Masses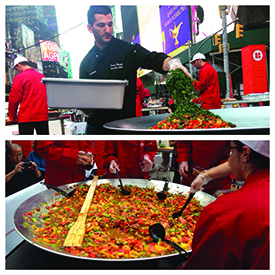 An Israeli wellness company recently served up a 1,000-pound tomato salad to New Yorkers in Times Square to celebrate its 20th anniversary. LycoRed—a leader in carotenoid-based wellness products—hired New York chef Donny Rogoff to chop his way to a Guinness World Record.
Organizers set up the event during National Tomato Month in October to encourage Americans to eat more tomatoes and fresh produce. Tomatoes contain lycopene, an antioxidant believed to help treat cardiovascular disease, cancer, diabetes and osteoporosis.
The salad was comprised of 132 varieties of tomatoes, fresh herbs and vinaigrette. Half the salad was donated to the City Harvest food rescue organization.