Light up a Camel in Neon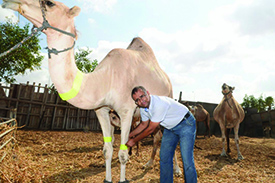 In the heart of Israel's Negev Desert, one veterinarian has made it his mission to curb fatal traffic accidents caused by errant camels colliding with cars by equipping the animals with high-visibility glowing bands.
"The most important thing here is the life of a driver," said Dr. Elsana Sleaman, chief veterinarian for the Neve Midbar Regional Council.
Around 5,000 camels populate the area under the council's domain, while about 10,000 inhabit the entire Negev. Eliminating collisions is critical since the impact of a 1,000-plus-pound camel on a glass windshield usually leads to fatalities, Dr. Sleaman noted. Although no such accidents have occurred in the past two years—due to an increased willingness among camel owners to tie up their animals—six deadly crashes occurred in the several years prior.
Beginning in May, Dr. Sleaman and his team armed some 450 camels in the Bedouin village of Bir Hadaj with the bright yellow bands. After evaluating the project's efficacy in August, he said he found that the visibility of the bands gradually deteriorated, dro-ping from 325 feet to 165 feet.
The regional council will soon be reequipping a similar number of camels with higher quality, weather-resistant bands in a second stage of the program, which Dr. Sleaman hopes will prove to be a life-saving venture.