Sharon Pucker Rivo
When Sharon Pucker Rivo received a box filled with reels of old Yiddish movies 40 years ago, she could not have known that the box contained more than just film.
This small collection would lay the foundation for The National Center for Jewish Film, a motion picture archive and distributor that owns the largest collection of Jewish film content in the world, outside of Israel.
Rivo began by collecting everything from feature films in Yiddish made by American and European directors before World War II to family movies, documentaries and, later, Nazi propaganda films. At the time, she had little competition: After the Holocaust, Yiddish film no longer had an audience in Europe, while in America, the younger Jews did not speak the language and wanted to distance themselves from their immigrant past.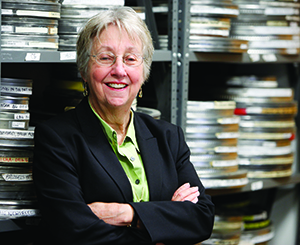 Sitting in a Chinese restaurant in Brookline, Massachusetts, on a Wednesday evening last October, Rivo, 76, talked about her life's mission—preserving and showcasing Jewish film. Her bright eyes behind wire-frame glasses light up when she talks about tracking down Yiddish movies: "It is fun—like it is a treasure hunt."
For the past 18 years, Rivo has organized the NCJF Film Festival every spring. Along with restored films, the festival premieres work by Israeli and American Jewish filmmakers. Some of this year's films were Rosenwald, The Outrageous Sophie Tucker, Félix & Meira and the restored Yiddish title Zayn Vaybs Lubovnik (His Wife's Lover).
The center represents about 100 contemporary filmmakers; about half are Israeli. "We started our own film festival because nobody knew who we were," Rivo explained. "It gave us an opportunity to showcase things we have restored and distribute."
Early on, Rivo saw the value in preserving old films and had always been drawn to Jewish culture. Growing up in Kansas City, Missouri, she shared a room with her Yiddish-speaking maternal grandmother, Lena Tanivetsky Katz. "I had a great love for my grandmother," Rivo said, "and what she represented as a person in my life and also as part of the culture."
But even though Yiddish culture was prominent in the Pucker household, Rivo had never seen a Yiddish film until she began collecting.
"My parents lived in both worlds," said Rivo, whose father, Joseph Pucker, worked as a buyer for a chain of grocery stores. "They lived in their Jewish world, but they also lived in their secular world. There was a clear distinction in those communities."
After graduating from Brandeis University in Waltham in 1961, Rivo studied political science at the University of California, Berkeley. A friend of hers worked as a projectionist at a local art house movie theater, where Rivo would often take in French and Italian films. After receiving her master's degree, Rivo decided that instead of political science she would go into a field related to culture and the media. While visiting her brother, Bernard Pucker, the owner of the Pucker Gallery in Boston, she heard about an opening at WGBH, Boston's public television station. During the interview, Rivo reported that she did not know how to type—a fib necessary to avoid landing a secretary's job in 1963. It worked, and Rivo eventually became a public affairs producer of documentary films and the second-ever female producer at the station.
While at WGBH, Rivo met her husband, Elliott Rivo, an obstetrician and gynecologist; they have been married 50 years. Through her work, she would often get theater tickets: "My husband married me because he liked going to the theater and I had free tickets," Rivo joked. They have lived in Brookline for most of their married life. They are members of Congregation Kehillath Israel, a local Conservative synagogue.
In 1973, Rivo was working for the Institute for Jewish Life, part of the Jewish Federations of North America, teaching federations and institutions to use film in their programming. Through this work, she and her colleague Miriam Krant learned of a collection of films in Yiddish.
Joseph Seiden, a Jewish American filmmaker in New York, began collecting movies after World War II. By the time he died in 1974, he had amassed about 30 Yiddish feature films, which Rivo and Krant bought from Seiden's son using their own money.
Rivo and krant began searching for more Yiddish films and found them in archives and private collections all over the world—from Austria to Brazil. Wherever there were Jewish communities, there was Yiddish film. "It was a very unusual genre of film to have happened in a microcosm of time," Rivo said. These films were mostly made outside of the film establishment, and no one had taken care to preserve them. Eventually, Rivo and Krant left their jobs to devote more time to growing the collection. They officially formed NCJF in 1976 and, later that same year, the center took up residence at Brandeis, where Rivo teaches courses on Jewish film and the Holocaust.
"Sharon and Miriam understood the significance, as most people did not in the 1970s, that film was an unsteady medium and needed to be preserved," said Jonathan D. Sarna, professor of American Jewish history at Brandeis. "When they began their collection, film studies—the idea that one would study film as an art form, as a window into culture—was in its infancy. Had it not been for their work, Jewish film would have been lost."
By 1978, they had restored six Yiddish films—including Green Fields, The Light Ahead and Tevye—which they began showing at film festivals and independent movie theaters. "We wanted to distribute them ourselves," Rivo said, "because after the screening we would ask the audiences, 'Do you have any films in your attics?'"
"When people found out there were these wonderful, somewhat crazy ladies who started this project, all of a sudden it became about collecting anything with Jewish content," said Lisa Rivo, Sharon Rivo's oldest daughter who began codirecting NCJF 10 years ago after Krant's death.
Rivo's two younger children also work in film-related fields, in New York. Her son, Steven Rivo, is a documentary filmmaker; daughter Rebecca Rivo is a television film producer.
When the kids were young, Rivo used to host filmmakers and archivists and bring home 16 mm reels that she would project on her living room wall. Her children often accompanied her on film hunts, like driving to New York to collect old reels from filmmakers. Rivo's husband still gets involved in her work. Most years he collects tickets at the film festival. "It has always been a family enterprise," Lisa Rivo noted.
In life outside of NCJF, Rivo and her husband go to New York to see their grandkids, Steven's two children; frequent the movies and the theater; and travel. They just returned from Israel, where they attended the Haifa International Film Festival.
After several years of collecting, Rivo and Krant broadened their interests beyond Jewish film per se. While exhibiting The Light Ahead at the Berlin International Film Festival in 1983, they met with German officials and requested copies of Nazi propaganda films. The request was granted, and Rivo and Krant returned to Boston with the Nazi-made footage, which they placed in storage. Film is susceptible to decay and must be kept in climate-controlled  storage.
Restoration is NCJF's number two goal. "We really want the films to be a working history that we save and then introduce back into the world," Lisa Rivo said. Forty years after its founding, the center has restored 100 films, which is no small feat—it can cost up to $90,000 to restore each one.
Cinephiles and academics made up the center's earliest audiences. "Before the center started collecting the films and restoring them and putting a name on it, there was no sense of Yiddish cinema," noted Lisa Rivo. Eventually, potential Jewish audiences became more educated on the value of Yiddish films—largely due to Rivo and Krant's work—and began showing up to screenings.
Today, in addition to the Rivos, NCJF employs technical director Richard Pontius, who has been with the center almost since the beginning, and four staffers. NCJF does not receive funding from Brandeis or other institutions, relying solely on grants and donations, for instance from the National Endowment for the Arts and the American Film Institute.
NCJF also lends movies and footage to filmmakers. For instance, when Barbra Streisand was making the film Yentl, the production company called the center requesting the film Yiddle With His Fiddle. A Yiddish film made in Poland in 1936, it stars Molly Picon, whose character disguises herself as a man; Streisand wanted to see what a cross-dresser in early 20th-century Poland looked like. Similarly, other actors and filmmakers as well as teachers come to the center looking for footage to watch for a role, to use in a documentary or to show a class.
Rivo still works up to 70 hours a week, her mind filled with the myriad plans she has made for the center, from digitizing its collection to continuing to rescue films. Right now, she is working on transporting 300 reels of home movies donated to NCJF, from Montreal to Boston.
"The materials, especially the ones that came out of Europe, capture a way of life that was decimated before its time," Rivo said, explaining her dedication. "Through film, you at least get a glimpse. Having had the good fortune to play a small role in saving a piece of that, it makes me feel really good."