Albert Einstein: Space, Time, Gravity and Zionism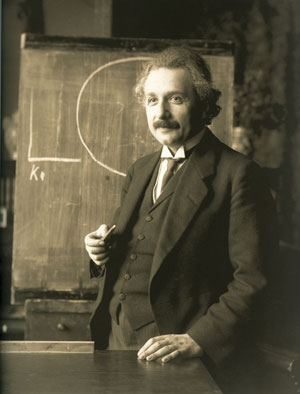 Albert Einstein's eight-year road to discovering the theory of relativity was a bumpy one, full of blind alleys and altered pathways. But when, in 1915, the 36-year-old German Jewish physicist revealed his handwritten manuscript to the scientific world, it revolutionized the course and understanding of physics in a way unheard of since Newton. This year marks the 100th anniversary of that breakthrough.
Professor emeritus of physics Hanoch Gutfreund, head of the Albert Einstein Archives at the Hebrew University of Jerusalem and coauthor of a newly translated annotated edition of Einstein's theory, calls it "the Magna Carta of modern physics."
Sixty years after his death Einstein remains the unrivalled scientific superstar of the last century, his name a household word. Gutfreund describes his quizzical smile and mass of unruly white hair as "the most recognizable face in the world."
Less well known to the contemporary world is Einstein's contribution to the 20th-century chronicle of the Jewish people and Zionism. From an unlikely background Einstein evolved into their enthusiastic champion. He was, in turns, an ally, a spokesperson, a protector, a gadfly, an admonisher, a benefactor and, in some measure, a savior of his people and of Zionism.
"More than any other individual—scientist or nonscientist—[Einstein] expressed his views on every issue that was on the agenda of  mankind at the time of his life," says Gutfreund.
This little-known Einstein is explored in Steven Gimbel's excellent short biography Einstein, part of the Yale University Press series on Jewish lives. The book asserts that "[in] service of his causes, Einstein had one asset from which to derive power—his fame."
Born into an assimilated Jewish family in 1879 in a newly united Germany, Einstein was sent to Catholic school in Munich, where he was the only Jew in his  class. Gimbel quotes Einstein's description of himself as experiencing "a deep religiosity" as a young child, which ended as a teenager when his scientific readings caused him to reject formal religious theory. He never returned to traditional religious practice.
Einstein criticized the anthropomorphic view of God, says Gutfreund, and held with Spinoza that the closest concept to God is harmony with nature: "He believed in it as a cultural heritage. The greatest contribution of Judaism to mankind—he summarized it on many occasions—is the respect for the individual, as the respect for the human being, as the quest for learning and learning for its own sake. He would thank the stars, not God, for making him belong to that tribe."
Einstein awoke to the sufferings of the Jewish people after witnessing the anti-Semitism hurled at East European Jewish refugees after World War I. He began to speak out and continued throughout his life to put a public face on his Judaism.
What Gimbel calls his "skepticism for authorities of all types, including religious," propelled Einstein to take the dramatic step of renouncing his German citizenship in 1896 in protest against the country's militarism.
That same year, Einstein moved to Switzerland, where he lived until 1913 with his first wife, Mileva Maric, and their two sons. Thereafter, advances in his career as well as marital troubles leading to divorce brought him back to Germany.
Immediately after Hitler came to power in 1933, Einstein formally renounced his German citizenship for the second and final time. That year he moved to the United States with his second wife, Elsa, who was also his cousin. He became an American citizen and began his tenure at the Institute for Advanced Study in Princeton, New Jersey, a post he held for the rest of his life.
Einstein's intrinsic Jewish core propelled him to develop another pillar of his personality: Zionism.
In 1938, on the eve of the Holocaust and already living in the United States, he published an article in the national Collier's magazine with the ringing title: "Why Do They Hate the Jews?" In the article he used an unusual comparison to define a Jew: "The Jewish faith is but one characteristic product of the Jewish community. It is, furthermore, known that a snail can shed its shell without ceasing to be a snail. The Jew who abandons his faith (in the formal sense) is in a similar position. He remains a Jew."
Gimbel attributes Einstein's adoption of Zionism to three factors. Firstly, the need for Jews to have a safe place to flee from persecution. Secondly, according to Gimbel, "the establishment of a Jewish center of learning and culture in Palestine would serve the assimilated European Jews who were in danger not of losing their lives, but rather of losing themselves." Thirdly, Einstein felt that there is a special quality to intellectual interaction between Jews.
Gutfreund explains Einstein's belief that "the worst damage of anti-Semitism is that it creates an inferiority complex; he thought the best way to cope with it [in the modern world where Jews had left the cocoon of the ghettos] was to develop a way of identity and belonging that would give self-confidence—and that's what led to his Zionism."
Einstein was a Zionist as far back as the Balfour Declaration in 1917, but his support for a Zionist nation-state came only 30 years later, on the eve of Israel's 1948 War of Independence. As in all things Einstein, he tailored Zionist ideology to fit his own philosophy.
His great vision of Zionism was to promote a "spiritual-cultural home," says Gutfreund, "a place where the humanist and intellectual values of the Jewish people could flower."
At first he feared that "turning Palestine into a Jewish state threatened the heart of Judaism," writes Gimbel. Einstein believed that "[If] Zionism became a movement that was focused on the idolatry of a particular piece of land, then the emergence of all of the evils that have plagued Jews across the globe for thousands of years would find a new source in the Jews themselves."
Yet, Gutfreund maintains, Einstein's support for the establishment of the State of Israel was propelled by his disappointment with the policies of the British Mandate and the failure of Arab representatives to respond to his overtures of understanding.
Gutfreund explains: "Twice in his life he put aside pacifistic ideas and convictions when other values he cherished were endangered. The first time was when the Nazis came to power, and the second time was when the Jewish community in Palestine was fighting for independence."
Einstein never foresaw that the Arab inhabitants would be displaced by the Jewish homeland. Gutfreund quotes one of his letters: "If we will not stand up to the moral obligation with respect to the Arab minority then we have forgotten our responsibility to our 2,000 years of history and everything that will happen to us we deserve."
Gimbel also quotes Einstein's vision of a modus vivendi with the Arab people: "The absence of contact in everyday life is bound to produce an atmosphere of mutual fear and distrust…. We Jews must show above all that our own history of suffering has given us sufficient understanding and psychological insight to know how to cope with this problem of psychology and organization: the more so as no irreconcilable differences stand in the way of peace between Jews and Arabs in Palestine."
The project closest to Einstein's heart was the founding of a university in Palestine. "He believed," said Gutfreund, "that the establishment of a Hebrew University in Jerusalem would be the arena upon which all those values that make Judaism so special, which he identified with, and which made him happy to have been born a Jew would come to have their renaissance. He could not think of a Jewish commonwealth where learning and research would not be the main goal and the main activity."
In 1921, Einstein accompanied Chaim Weizmann, who became Israel's first president, on a fundraising tour around the United States for the projected university. An unintended consequence of the trip, says Gimbel, "was to strengthen Einstein's identity as a Jew: 'It was in America that I first discovered the Jewish people,'" Einstein noted.
In February 1923, on his sole trip to Palestine, Einstein spoke at the site of the future campus. During that trip, he sent a postcard to Zionist leader Arthur Ruppin, stating, "We are having unforgettable days in Palestine…the sun shining."
With characteristic flair he penned in a rotund caricature of himself on the postcard picture of his oceanliner. He was enthusiastic about the new city of Tel Aviv. "'The accomplishments by the Jews in but a few years in this city elicit the highest admiration,'" Gimbel quotes Einstein. "'A modern Hebrew city…shoots up from the bare ground. What an incredibly lively people our Jews are!'"
Einstein was one of the founders of the Hebrew University, which opened its doors in 1925, and served as the equivalent of its first president. Even today, a statue of a smiling Einstein riding a bicycle greets every person as they walk through the main gate of the university's Safra campus.
Einstein's influence on the university reaches beyond the grave. "He is our greatest fundraiser [still] today," asserts Gutfreund, referring to Einstein's stunning bequest of his entire estate to the university on his death in 1955. Einstein's intellectual property (80,000 documents) are stored in climate-controlled conditions "somewhere on the campus." Manuscripts are exhibited from time to time around the world.
Through the joint efforts of California Institute of Technology (Pasadena), Princeton University and the Hebrew University, the online Einstein Papers Project at Caltech already comprises thousands of documents freely available on the Internet.
In 1952, after Weizmann's death,  Prime Minister David Ben-Gurion offered Einstein the Israeli presidency. It was a demonstration, says Gutfreund, "that this infant State of Israel cherishes achievements in science and culture over achievements on battlefields and politics." Einstein declined the offer: "All my life I have dealt with objective matters, hence I lack both the natural aptitude and experience to deal properly with and to exercise official functions." However, in his next breath Einstein added a moving coda: "My relationship to the Jewish people has become my strongest human bond, ever since I became fully aware of our precarious situation among the nations of the world."
Einstein wanted the freedom to be an individual in his own right. He thumbed his nose at convention, as when he famously went to meet President Franklin D. Roosevelt without wearing socks. Gutfreund stresses that Einstein "was a human being with all the virtues and minuses of a human being…. When he was 70 years old somebody organized a birthday party for him, and the photographer asked for a pose that would be appropriate for the occasion. That's the origin of the famous photo of him sticking out his tongue."
Gutfreund continues, "How did this man accomplish so much? My answer is that he had no respect for authority. Authority in science is important but very restricting. He questioned everything and on everything he had his own views and his own way of expression. Hence, 'Don't care what everybody else thinks'—stick out your tongue to the whole world and do your own thing."
Einstein leaves a legacy larger than a Nobel Prize in physics. He was 100 percent for the Jewish people and 100 percent for humanity.
For Einstein, they were not mutually exclusive.
Recent Books on Albert Einstein
 An Einstein Encyclopedia (Princeton University Press) by Alice Calaprice, Daniel Kennefick and Robert Schulmann
Einstein: A Hundred Years of Relativity (Princeton University Press) by Andrew Robinson and Diana Kormos Buchwald
Einstein: His Space and Times (Yale University Press) by Steven Gimbel
The Road to Relativity: The History and Meaning of Einstein's "The Foundation of General Relativity" (Princeton University Press) by
Hanoch Gutfreund and Jurgen Renn 
Relativity: The Special and General Theory, 100th Anniversary Edition (Princeton University Press) by Albert Einstein, with commentary by Hanoch Gutfreund and Jurgen Renn  
The Man Who Stalked Einstein: How Nazi Scientist Philipp Lenard Changed the Course of History (Lyons Press) by Bruce J. Hillman, Birgit Ertl-Wagner and Bernd C. Wagner