Exodus and Exit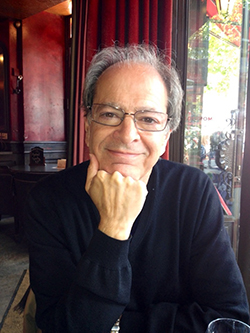 In 1976, while on a press trip to Israel, I visited Mount Sinai. The site was visually stunning, but I had only a few hours between landing and taking off again from a nearby airstrip, and it would be years before I wrote anything about it.
In 1997, I went to Egypt to research an article for Hadassah Magazine's Jewish Traveler column. In addition to the Jewish sights in Cairo, I also went looking for Pithom and Ramses, the cities built by Hebrew slaves and remembered every year in the Haggada. After much zigzagging through the eastern branch of the Nile Delta, I reached the sites: Pithom had the remains of an archaeological dig surrounded by a village; Ramses had no village but included an active dig.
In 1999, I went on a two-day trip from Jerusalem to Petra, in Jordan. On the way, I stopped at Mount Nebo, from which Moses looked at the Promised Land he would never enter. I got there in the afternoon, so looking toward Jerusalem I could see only a blindingly bright sun. On the way back from Petra the following day, I stopped at Mount Nebo again, but the sun was in almost the same position and again I couldn't see Jerusalem. Nevertheless, I had stood on the spot and I had my imagination.
The following spring, when the magazine staff discussed covering  Passover in a way that sounded fresh, I casually said something that I had never before quite verbalized: I had visited the starting point, the high point and the end point of the Exodus. I had completed this trifecta in 23 years, well ahead of the biblical 40. So began my article, "The Exodus in Installments," in our April 2000 edition.
All three of those trips were in the service of practicing journalism. More than just reporting facts in isolation, I think of journalism as a frame for looking at events and phenomena in relation to one another, to see what can be learned. As I have written the Editor's Wrapup column over the years, I have often taken disparate events and articles in one issue of the magazine and tried to find a common thread. Last September, for example, it struck me that the lowering of the Confederate flag at the South Carolina statehouse, a pair of articles on Abraham Lincoln and his protection of Jewish rights and an essay on the benefits of turning off smartphones on Shabbat all embraced the concept that the past is very much a part of our present.
I have also come to appreciate that the journalism-as-frame concept applies not just to one article or one magazine edition, but also to an entire career. I have learned much not only editing, researching and writing single stories but also by accumulating experiences over time.
For 35 years i have served as executive editor of this magazine. This edition is my last. I take with me the experience of the articles I have worked on and the great people I have come to know—Hadassah leaders, my fantastic editorial staff and the many writers whose work has appeared in these pages. There is probably a better word than "retirement" for the phase I am entering, but I haven't come across it yet. Like my career, the next chapter is a work in progress.
People often congratulate me on surviving 35 years in any position, but that's not how I view it. Once again, my extended Exodus experience is instructive. Our forebears spent four decades in the desert. All the time I have been at Hadassah Magazine I have been in the Garden of Jewish Civilization. The journey has been the prize.