Paul Simon: Words and Music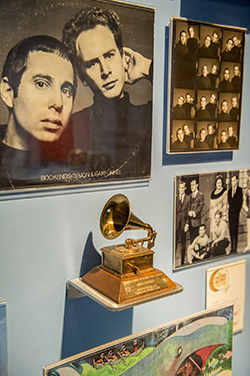 From "Bridge Over Troubled Water" and "Mrs. Robinson" to "The Sound of Silence," the songs of Paul Simon have become classics in the American songbook. The Jewish Museum of Maryland is the first stop on a nationwide tour that celebrates the career and creative process of one of the country's greatest singer/songwriters via 80 artifacts, photographs, recorded songs and videotaped performances.
The exhibit debuted in October in the Rock and Roll Hall of Fame in Cleveland. The Hall of Fame created it to mark the 50th anniversary of Simon's career. Twice inducted into the Hall of Fame, he is a member of the Songwriters Hall of Fame and winner of 12 Grammy Awards (three of which were albums of the year), among other honors. Simon was involved in the exhibit, for which he recorded an original narrative.
Born in 1941 and raised in Queens, New York, Simon was only 15-years old when he met singer Art Garfunkel, also 15 at the time. The two teamed up under the stage name of Tom & Jerry, as a typewritten contract with Big Records Inc., dated 1957 and signed by their parents, attests. In a nearby case is the red blazer, borrowed from a cousin, that Simon wore for the act.
The exhibit progresses from his early days to the 1964 debut album Simon & Garfunkel. The album was a major hit and the folk-rock duo zoomed to popularity, becoming counter-culture icons along the way. They split up in 1970, each following his own career, but have reunited for concerts on several occasions. The exhibit documents Simon's career post-Simon & Garfunkel.
Among the artifacts are yellow legal pads on which Simon wrote lyrics for songs that would later become famous. He kept a list of possible song titles, also hand-written on a yellow legal pad, that might suit the lyrics. Also on view are some of his Grammy Awards, acoustic and electric guitars, stage costumes, photographs, recordings and film clips of performances.
In the lobby outside the Simon exhibit, the Jewish Museum has created a small pop-up display, "An American Tune: Jews and Folk and Folk-Rock," to highlight the Jewish connection to the genre. Besides Simon, famous names include Bob Dylan, Phil Ochs and Leonard Cohen.
The exhibit at the Jewish Museum of Maryland, located in Baltimore, runs through January 18, 2016. It is scheduled to travel to the Skirball Cultural Center in Los Angeles in 2017.