'Years of Life' for Italian Engineer with ALS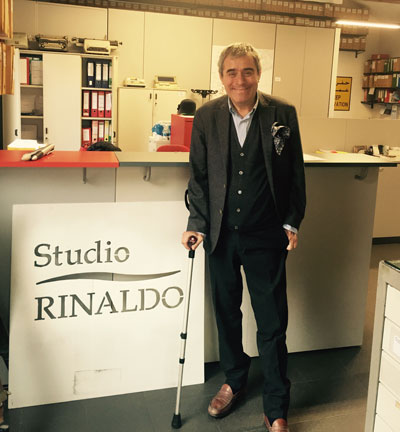 In May 2013, doctors in Padova, Italy, told Daniele Rinaldo's wife that her husband had only a few months to live.
The Venice-based civil engineer, the father of two sons, had been diagnosed in 2012 with ALS—amyotrophic lateral sclerosis—a rare but devastatingly progressive degenerative nerve disease that is regarded as 100 percent fatal.
Rinaldo, however, has beaten the odds—at least for the time being—thanks, he believes, to treatment pioneered by Dr. Dimitrios Karussis of the Department of Neurology at the Hadassah Medical Center in Jerusalem.     
Rinaldo's treatment differs slightlyfrom the NurOwn protocol that was detailed in JAMA Neurology, Journal of the American Medical Association and was tested in clinical trials at Hadassah Hospital and at prominent medical centers in the United States. But his therapy emanates from the same Hadassah facility and team, and it, too, entails using a patient's own stem cells to fight the disease.
"I'm still here," Rinaldo, 54, said in a telephone interview in December 2015. A former rugby player, he will never be the avid skier and sportsman he was before his illness, he said, but "I walk, I work, I travel—I live."
Rinaldo began treatment in December 2012, just a few months after his diagnosis. He was experiencing severe cramps in his arms and legs, and the symptoms progressed rapidly to include respiratory and motor problems that made it difficult to breathe, speak and use his limbs.
Under full anesthesia, stem cells were harvested from his bone marrow. They were enhanced in the Hadassah laboratory, and then, every three or four months, they were reinjected as infusions into the cerebrospinal fluid. As of December 2015, he had received nine such infusions.
The infusions are "painful, but it passes," he said. "When the stem cells are used up, they harvest more."
Rinaldo connected with Dr. Karussis through the Mayo Clinic in Rochester, Minn., where he received his definitive ALS diagnosis in August 2012 and where his brother, Dr. Piero Rinaldo, is the director of the Biochemical Genetics Laboratory. After the diagnosis, a Mayo Clinic neurologist suggested contacting Dr. Karussis because he was known as a top specialist in ALS treatment.
Rinaldo is one of a few patients undergoing such treatment in Athens on a private basis. Dr. Karussis—who has lived in Israel for the past 27 years and is a volunteer consultant at IASO General Hospital in his native Greece—personally supervises Rinaldo's therapy and has carried out many of his stem cells infusions. Rinaldo has made five visits to Hadassah in Jerusalem, both for checkups and, in December 2014, to have more stem cells harvested.
"In the three years I've been undergoing the treatment, there have been both positive and negative results, but as a whole fundamentally positive," he said.
His voice today sounds normal, though a little breathy. He still has problems moving and must use a crutch to walk and sometimes a wheelchair. In November 2014, he fell and broke multiple ribs.
Because of his illness, Rinaldo and his family moved from their home in the heart of Venice, where no motor vehicles are permitted and it is difficult for people with disabilities to navigate the narrow alleys and many bridges over the Venetian canal. They now live in Mestre, on the mainland, where cars are allowed.
Rinaldo has had to install an elevator to his office and has a driver to take him to work, but he remains CEO of his own civil hydraulic and environmental engineering firm, Studio Rinaldo. He continues to travel for both business and pleasure, always with his wife, Maria Teresa. He has traveled to Romania twice in the past month to open a branch office, and they recently vacationed in the Italian mountains. " I can live my life; I am full of hope—I just have to organize my movements," he said.
"This process is not just for me, but for my entire family," Rinaldo said, adding that he could not thank Dr. Karussis and his team enough.
"This treatment is a gift of human intelligence," he said. "It has given me years of life. I hope it can be adopted in Italy, too, because there is no cure for ALS."