Baba Joon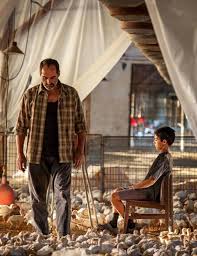 Israel's first movie in Farsi, Baba Joon is  a classic immigrant tale set in a dusty moshav in the northern Negev. Yitzhak, a Persian immigrant, labors to make a go of the family turkey farm and trains his son Moti to follow in his footsteps. But the 13-year-old boy's passion is building junkyard cars out of spare parts; he abhors the idea of spending his life in the company of gobbling turkeys.
This sets the scene for a generational clash between a dominating father and his headstrong son, made more difficult by the introduction of wealthy Uncle Darius who makes and sells jewelry in California. Darius trains Moti to to follow in his footsteps, promising the boy that he could sell the jewelry he makes in Beverly Hills and become a millionaire.
Beneath the glitter, Darius, who has remained a bachelor, hides his own deep unhappiness. "I am all alone," he confesses to his brother, triggering a tug-of-war of the brothers trying to convince each other to settle in their respective countries.
It would be unfair to reveal the emotional ending of the film, marked by striking cinematography and fine acting.
For the key roles of father Yitzhak and son Moti, director-writer Yuval Delshad cast experienced actor Navid Negahban, best known in the United States as terror mastermind Abu Nazir in Homeland.
By contrast, 13-year old Asher Avrahami, who plays Moti, has never been in front of a camera before. He was discovered during an audition in a village not far from the moshav where Delshad grew up. The boy turns in an absolutely convincing performance and he is ably supported by a cast of mostly Jewish actors.
Baba Joon is Delshad's debut feature and a nod to his own youth growing up in the dusty moshav of Zrahia in the northern Negev. The film's title is an affectionate Farsi salutation of a son to his father or grandfather, explains Delshad, 44.
For veracity's sake Delshad only cast actors who grew up in Persian families. Even though he himself was born in Israel and has never been in Iran, Delshad says, "Iranian culture is amazing. It is in my DNA, my roots are there, and my dream is to visit the country some day."
There are some 300,000 Persian Jews living in Israel and although most have integrated well, it's a hard life, Delshad observes. Those looking for greater material opportunities often move to New York or Los Angeles.
Delshad lives in a Tel Aviv suburb with his wife, a son and a daughter, and he is happy to report that there is no "cultural conflict between the generations."
Baba Joon, made on a budget of about $1 million, was financed in part from members of the Iranian Jewish community in Beverly Hills and Los Angeles. The film has been favorable reviewed by American critics.
And Iran's media lost no time in denouncing the film as a "Zionist propaganda film that seeks to disconnect the Jews, who emigrated from Iran, from their heritage and brainwash them."
Kingpedia.net, an Iranian website, went one step farther by urging its followers "to prevent young people and families from watching this Zionist and anti-Iranian film," according to Israel's Ynet news service.
The warning continued: "If you spot this film on any website, you must report it to the legal authorities so that the site will be blocked. That way we will able to hit the mouths of the Zionists and the film's director with a powerful punch."
.