Surfing as Jewish Metaphor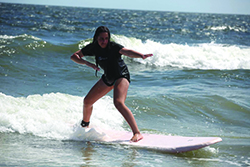 Two summers ago, Jewish educator and surfing enthusiast Danny Mishkin spent three days with his son at a surfing camp on Long Island in New York. As he saw teenagers jumping joyfully into the water, it occurred to him that the exhilaration innate to surfing was missing from many teenage experiences of Judaism.
Then a request for submissions from the Jewish Education Project for out-of-the-box projects to engage Jewish teens sparked an idea—and the Sababa Surf Camp was born. Inaugural sessions at Rockaway Beach, New York, combined surfing instruction with Jewish spirituality, meditation and prayer. Sababa, an Arabic word used in Israel as slang for "no worries," bucks the tide of unrelenting teen pressure and imparts skills for self-growth. A February camp just wrapped up in Puerto Rico, and three sessions are scheduled for summer.
"When you ride a wave you feel small and big at the same time," says Mishkin, who directs the program with Jewish educator Lynn Lancaster. "You go against the current to a place where it is calm. That's the metaphor and the medium we are trying to teach."