Austin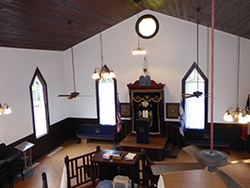 The capital of Texas is a burgeoning high-tech center and the self-proclaimed live music capital of the world. It is also one of the nation's fastest-growing cities, whose Jewish community, after remaining small for much of the 20th century, is keeping pace.
Although Jews comprise just one percent of greater Austin's population, their presence is ubiquitous. The city's mayor, Steve Adler, is Jewish. So are Joe Straus, speaker of the Texas House of Representatives, and Greg Fenves, president of the University of Texas at Austin. 
Northwest Austin has a sprawling 40-acre Jewish campus, a 21st-century phenomenon of communal planning where a 19th-century Orthodox synagogue—the state's oldest—was recently relocated.
History
Phineas De Cordova, who arrived in 1849, is believed to be Austin's earliest Jewish settler. A Sephardic Jew, he sailed from Jamaica to Galveston a year earlier, moving to Austin when the governor sought his help in attracting immigrants. Like other Jewish Texans, De Cordova supported the Confederate cause. After the Civil War, he entered politics.
During postwar reconstruction, only about 15 Jewish families—most German immigrants—lived in Austin. Henry Hirshfeld, one of the most prominent, opened a clothing store, then sold it and invested in real estate. In 1876, Hirshfeld became president of Beth Israel, the city's first congregation. He later helped establish the Austin National Bank and Austin's first Masonic Lodge. The Hirshfeld House and Cottage, in downtown Austin, are on the National Register of Historic Places.
By the turn of the century, there were about two dozen Jewish businesses, dealing in everything from dry goods and groceries to books, liquor, jewelry and junk.
In 1914, Austin's second congregation—Orthodox Agudas Achim—was founded by East Europeans who were uncomfortable with the Reform practice of Beth Israel. But growth was slow; in the late 1930s, Austin still had fewer than 600 Jewish residents.
Polish immigrant Jim Novy, a scrap metal merchant and founding member of Agudas Achim, developed a friendship with then-United States Representative Lyndon B. Johnson. There is some historical evidence that the pair collaborated in rescuing European relatives of Texas Jews from the Nazis, most likely by reaching out to American consuls in Mexico and Cuba to make visa and travel arrangements.
Decades later, when Agudas Achim was set to move into larger quarters, Novy invited Vice President Johnson to dedicate the new building. The ceremony was slated for late November 1963, but President John F. Kennedy's assassination delayed the dedication until the end of December, when Johnson, who by then had become president, could attend.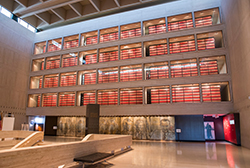 Community
Today, there are some 20,000 Jews in greater Austin, reflecting a community that has more than quadrupled in the past 30 years. The surge was fueled by the vision of Michael Dell, whose company, Dell computers, got its start in the 1980s in his UT Austin dorm room. Dell dropped out of college and became the youngest CEO of a Fortune 500 company.
In 1992, Dell and his wife, Susan Dell, bought a sprawling ranch with the purpose of creating the Dell Jewish Community Campus. It opened in 2000 and is now home to Reform, Conservative and Orthodox synagogues, the Jewish community center and the Austin Jewish Academy. An eruv encircling part of the city was recently completed, with the campus at its center.
Greater Austin has more than a dozen congregations and havurot. Some, like the Firepit Minyan that meets in participants' backyards and describes itself as a "messy… exuberant, all-ages community," defy easy definition.
Beth Israel (512-454-6806), located at 3901 Shoal Creek Boulevard in Northwest Austin since 1957, is a thriving congregation of 650 families. In 2003, Beth Israel dedicated a multimillion-dollar addition.
Austin boasts Jewish groups for virtually every age and interest. Shalom Austin (512-735-8000), an umbrella organization that supports the JCC, federation, Jewish Family Service and Jewish Foundation of Austin & Central Texas, also publishes The Jewish Outlook and The Guide to Jewish Living in Central Texas. The guide lists organizations such as the 800-member Austin chapter of Hadassah; Jewish schools and youth groups; cultural activities like the Austin Jewish Repertory Theater, film festival and book fair; and a group for Jewish gays and lesbians. In February 2015, two women from Austin's Jewish community became the first same-sex Texans to legally marry.
Sights
Start by touring the Dell campus at 7300 Hart Lane, a green oasis shared by deer and other wildlife in the midst of the city. Roads weave through lush grounds, home to communal and religious facilities as well as a large outdoor pool.
When you first pass through the gate, you will encounter Temple Beth Shalom (512-735-8900), a 1,500-member Reform congregation that was founded in 2000 and dedicated its sleek, modern building just two years ago. The sanctuary, intended to resemble a tented tabernacle, features limestone walls, a balcony and an abundance of natural light.
A short distance away is Agudas Achim (512-735-8400), which celebrated its centennial in 2014. The congregation transitioned from Orthodox to Conservative in the 1940s; its membership today includes more than 650 families. The new building, completed in 2001, won an award for synagogue design.
The main sanctuary is two-tiered and filled with natural light, another reminder of the tent-like feel of the wilderness tabernacle. Limestone blocks on the walls pay tribute to Jerusalem's ancient temple. Outdoors, in a courtyard landscaped with Jerusalem stone and plants resembling those found in biblical times, stand a pair of  2,000-pound Ten Commandments tablets that sat atop the front entrance of its original building downtown.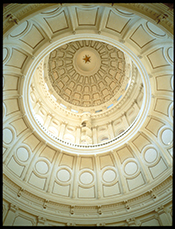 Widely believed to have been demolished when that building was razed in the early 1960s, the three-foot-tall tablets lay forgotten in a warehouse for half a century. Now they stand, restored and engraved in Hebrew on both sides, inviting quiet reflection.
Gan Yaniv ("bountiful garden") is another meditative setting, this one tucked away in a quiet corner of the campus. The gathering space features a shallow pool and cedar pergola and native plants, and is the start of a one-mile trail. Adjacent to the garden stands Shalom Austin's latest acquisition: the small, nondescript building that at first glance looks church-like but is, in fact, the B'nai Abraham Brenham Historic Synagogue.
Built in 1893 by Polish and Lithuanian immigrants, the little shul was shipped from Brenham—90 miles east of Austin—in three pieces, reassembled, restored and dedicated last August. It now serves as home to the Modern Orthodox Tiferet Israel congregation. The white-walled sanctuary features a bima that faces the intricately carved Ark on the main level and a traditional balcony that maintained the separation between men and women. Today, men and women share the space, with rolling partitions to separate them.
Across campus are the Jewish academy and the JCC. Stop into the JCC for a look at its latest art exhibit and announcements of upcoming events.
From here, head south to downtown Austin for a tour of the statehouse. With its large dome topped by the Goddess of Liberty, arm aloft and carrying a gold star, the massive building stands more than 300 feet high. Inside, the terrazzo floor offers a history lesson, featuring the seal of every nation or entity whose flag has flown over Texas—Mexico, France, Spain, the Confederacy and the United States. Then gaze upward into the dome, topped, as on the outside, by a lone star.
Upstairs, visit the House chamber where a flag hanging above the speaker's desk commemorates the 1836 battle of San Jacinto, which gave Texas its independence from Mexico. Above the flag is a sign welcoming visitors with the name of the state's first Jewish speaker, Joe Straus, in red LED letters.
From here, it's a short distance to the UT Austin campus, where the LBJ Presidential Library (2313 Red River Street; 512-721-0200) is a good place to start. A timeline highlights President Johnson's accomplishments, including the passage of the Civil Rights and Voting Rights acts, the start of the War on Poverty, the creation of Medicare and the nomination of the first African-American Supreme Court justice, Thurgood Marshall.
The Harry Ransom Center (300 W. 21st Street; 512-471-8944), the university's library and museum of the arts, houses one of the world's largest photography collections as well as the archives of some 600 writers. The center contains papers from such Jewish notables as Saul Bellow, Philip Roth, Isaac Bashevis Singer and Leon Uris. Here, too, are first editions of Theodor Herzl's diaries and a collection of South African Judaica.
The Briscoe Center for American History (2300 Red River Street, Sid Richardson Hall; 512-495-4532) also has extensive collections, including the works of Jewish philanthropist Bernard Rapoport. Other UT Austin facilities of Jewish interest are the Jack S. Blanton Museum of Art; the Schusterman Center for Jewish Studies; the Rohr Chabad Jewish Student Center; and Texas Hillel at the Topfer Center for Jewish Life.
Next stop: the Bullock Museum of the State of Texas (1800 Congress Avenue; 512-936-4629). A restoration of a 17th-century shipwreck that influenced Texas's early destiny is featured prominently on the first floor. On the second, exhibits focus on expansion, including a reference to Galveston—the port, open to immigrants from 1907 to 1914, through which 10,000 Jews entered the country. The museum hails Rabbi Henry Cohen of Galveston as the immigrants' best friend for his tireless efforts to help new arrivals find housing and jobs.
After you leave the museum, spend some time outdoors. Visit Lady Bird Johnson Wildflower Center or Zilker Botanical Garden. Hike or bike around Lady Bird Lake.
Music
The Austin Chronicle, an alternative weekly paper, lists dozens of live music venues offering everything from country and hip hop to R&B, reggae, jazz, rock, classical and even klezmer. Many clubs are clustered along E. Sixth Street between Congress Avenue and Interstate 35.
Neil Blumofe, rabbi of Agudas Achim as well as a former opera singer and accomplished jazz musician, is the producer and curator (and sometime performer) of the Views and Brews jazz series, which performs on Tuesday evenings as well as several nights a year at the Cactus Café. Also once a month, Agudas Achim celebrates Shabbat in South Austin with the Selah musical ensemble. Congregation Kol Halev has a monthly Rock 'N Soul Shabbat.
You can enjoy live music any night of the week at the Continental Club (1315 South Congress Avenue), a popular spot with a Jewish owner. Steve Wertheimer, who bought the Continental in the late 1980s, recently opened C-Boy's Heart & Soul (2008 South Congress Avenue), another Austin club.
If your timing is right, you can enjoy one of the many music festivals for which the city is known. Chief among them are Austin City Limits, held at Zilker Park on two weekends each fall, and South by Southwest (aka SxSW), an international music, film and multimedia extravaganza held each March that attracts more than 300,000 people.
Personalities
Steve Adler is the city's second Jewish mayor. The first was Jeffrey Friedman, elected in 1975 at the age of 30. Greg Fenves assumed the UT Austin presidency in 2015.
Kinky Friedman is a well-known Austin-based country singer-songwriter, author and humorist. Ray Benson, a Jewish winner of nine Grammy Awards and a board member of Austin City Limits, is best known as the lead in the group Asleep at the Wheel. Texas Monthly founder Mike Levy is Jewish. So is Louis Black, cofounder of both The Austin Chronicle and SxSW.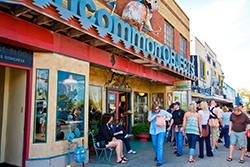 Books, Music
Both Ray Benson and Kinky Friedman have written books about their experiences being Jewish Texans. Benson's, coauthored with David Menconi, is Comin' Right at Ya: How a Jewish Yankee Hippie Went Country (University of Texas Press); Friedman's is Kinky Friedman's Guide to Texas Etiquette (William Morrow).
The Horse Boy: A Father's Miraculous Journey to Heal His Son by Rupert Isaacson (Penguin UK) details the efforts of an Austin-based family with Jewish roots to heal their son's autism. The book was later made into a movie.
Recent album releases by Jewish Austinites include A Little Piece and Having a Party–Live by Benson/Asleep at the Wheel and Loneliest Man I Ever Met by Friedman. Also check out Friedman's They Ain't Makin' Jews Like Jesus Anymore and Moses' Muses and Piety and Desire by Neil Blumofe.
Recommendations
There are no kosher restaurants in the Austin area. But when the Jewish population in the Northwest section of the city started growing, Far West H-E-B—a branch of a large grocery chain—opened The Kosher Store inside their existing supermarket at 7025 Village Center Drive (512-502-8459). Downtown, try Shhmaltz, a vegetarian Jewish-style food truck.
Food trucks are ubiquitous in Austin. Pita2Go, a kosher food truck, sits outside of the JCC on the Dell campus most days. JoeBob's, a kosher food truck that boasts having the first slow-cooked barbecue in central Texas, opens for events on the campus and is available for special orders and catering.
For visitors who wish to stay near the campus, there is the Renaissance Austin Hotel (9721 Arboretum Boulevard; 512-343-2626). Downtown, consider the elegant Driskill Hotel (604 Brazos Street; 512-439-1234).
When you're planning your trip (or have already arrived), consult The Austin Chronicle and The Jewish Outlook as well as Shalom Austin's website to learn about upcoming events. Whether you are interested in Jewish history, exploring the outdoors or music and the arts, you will find activities you won't want to miss.