Headphones for Senior Hearing Loss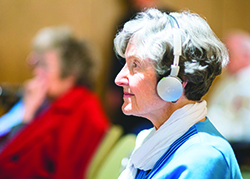 Seniors with hearing loss often avoid cultural events and, as a result, suffer isolation and depression. Jake Reisch, a 26- year-old Jewish entrepreneur, is tackling this problem with wireless headphone technology that alleviates many hearing issues. He is a founder and CEO of Eversound, a system that helps audiences with age-related hearing loss adjust sound to their specific needs.
Eversound grew out of Party Headphones—wireless technology used for silent discos that Reisch and his friends worked on as students at Cornell University. When retirement communities expressed interest in seniors using the headphones for movie screenings and lectures, Reisch shifted focus.
Users plug in an audio source—television, iPhone, etc.—to an Eversound transmitter that then wirelessly broadcasts the audio to all headphones within 300 feet.
"We came up with the idea through our love of music," Reisch said, "and then, after learning about this problem in senior living—where many people don't come out to events because they don't hear well—we were excited to solve that problem."