Telling Jewish Stories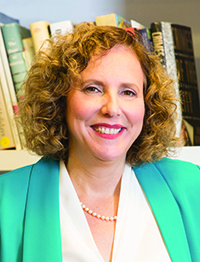 Purim was never one of my favorite holidays—until I became a feminist. I still try to tune out the noisy groggers and the bloody ending to the Megilla reading, but I have long shifted my focus to the heroines of the Purim story: Vashti and Esther.
Now, as the new executive editor of Hadassah Magazine, I am delighted once again to be reexamining the holiday (which begins the evening of March 23) in a whole new light.
Hadassah, as we know, is the Hebrew name of Queen Esther. The organization was born on February 24, 1912, at a study group at Temple Emanu-El in New York, under the leadership of Henrietta Szold. Because the meeting took place around Purim, the women adopted the name Hadassah. The link was apparently incidental, but the name has since become synonymous with strong female activists dedicated to the cause of protecting, nurturing and strengthening the community here and in Israel.
As one who has devoted her entire career to Jewish journalism, I am honored to step into this role—the first female journalist to take the helm of this magazine. I come with 15 years experience as editor in chief of JTA, the global Jewish news agency, and, most recently, as executive editor of the Jewish Exponent in Philadelphia.
Telling Jewish stories—our triumphs as well as our tribulations—has always been my passion. I look forward to continuing that mission at Hadassah Magazine. And just as our Jewish world is changing rapidly, we at the magazine will be developing innovative ways to record the next chapters of the Jewish story. As we begin that process, I welcome your input and look forward to embarking on this new phase together. (Be sure to take our reader survey and be eligible to win a prize.) What better time to begin that journey than now, as we look toward Purim, when we retell one of the most dramatic stories of our tradition, celebrating Jewish perseverance and ingenuity—and, of course—female heroism!