Taste of Jerusalem at New York's Waldorf Astoria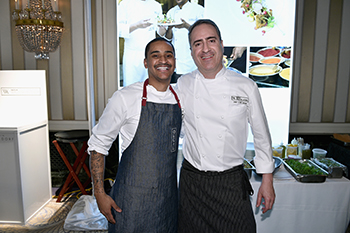 Waldorf Astoria, the famous hotel chain noted for creating the Waldorf Salad, Eggs Benedict and Red Velvet cupcakes, hosted its second-annual Taste of Waldorf—at the flagship property along New York's Park Avenue—on February 23. Five Waldorf hotel chefs from around the world were paired with James Beard Rising Star Semi-Finalists to create an iconic dish. The winning dish will go on the menu of the dozens of Waldorf properties around the world.
"I wanted to represent Israel, which is today one of the leading culinary traditions in the world," said Chef Itzik Mizrachi Barak, who has been with the Jerusalem Waldorf nearly since its opening two years ago. He was paired with rising restaurant star Joseph "JJ" Johnson, executive chef at The Cecil and Minton's, both in Harlem, New York. The cooking team met up in Barak's Jerusalem kitchen in early December last year to brainstorm possible entrées for the competition.
Their dish, "The Seven Species"—Dorade filets with bulgur wheat salad, pomegranate seeds, pears, dates, parsley, mint and tahini—was the most substantial dish of the five, competing against New Orleans (Shrimp Segnette), Amsterdam (Beech Anemone), Orlando (Sable Fish with Florida Truffle) and Beijing (Jing Roll). And Mizrahi, of course, is the only one tasked with making his meals kosher. "It's a challenge," said the Mevasseret Zion native. He uses olive oil instead of butter and coconut oil instead of heavy cream ("it's healthier, anyway.") "Out of lemons, I make lemonade," he explained.
Another lemon? The chef panel of judges (musician Questlove, chef Wylie Dufresne, James Beard Foundation President Susan Ungaro, Saveur Editor-in-Chief Adam Sachs and chef David Posey) chose as the winner Beijing's Jing Roll—Chinese Napa cabbage stuffed with minced Wagyu beef with black mushrooms and Chinese chili peppers with Hoisin Sauce.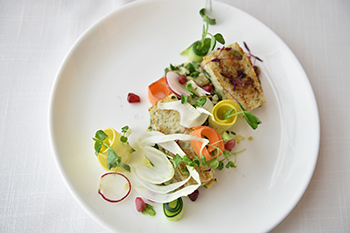 Fish:
4 Dorade filets
2 eggplants
1 sourdough baguette
4 thyme leaves
1 lemon
2 tsps fennel seeds
Pinch of salt
Pinch of pepper
1 cup olive oil
Bulgur salad:
2 1/2 TBs bulgur wheat
1 pomegranate
4 whole dates
1/3 cup cubed pumpkin or other squash, diced
4 pears
Small piece of ginger
1 1/2 TBs fresh parsley, chopped
1 1/2 TBs fresh mint, chopped
1 tsp yuzu juice (yuzu is an Asian citrus fruit; if you can't find fresh, try bottled yuzu juice or use more lemon or lime juice)
1 lemon
1 small red chili, fresh
Pinch of salt
Pinch of pepper
1 cup olive oil
Water
Tahini sauce:
2 1/2 TBs tahini
Juice of 1 lemon
Pinch of salt
Pinch of pepper
1 cup olive oil
1 cup ice water
Garnish:
1 radish
1 yellow zucchini
1 carrot
1 cucumber
1 fennel
1 lemon
Drizzle of yuzu juice
Pinch of salt
Pinch of pepper
1 TB olive oil
1. Soak bulgur wheat in room-temperature water for 30 minutes; strain and move bulgur to a mixing bowl.
2. Grill eggplant over high flame for 5 minutes per side until soft and charcoal forms. Remove both stems. Peel one eggplant; leave the other with the charred skin. Cut both eggplants into cubes and put cubes into blender. Add half cup of olive oil and the juice of one lemon. Add salt and pepper to taste. Mix in blender on high until smooth.
3. Sprinkle diced pumpkin or squash with thyme leaves, salt, pepper and oil. Sauté pumpkin in medium-sized pan for 3 minutes, until golden brown.
4. In a separate bowl, mix 5 teaspoons yuzu, salt, pepper, olive oil, chili. Add to the mix the bulgur wheat, pumpkin or squash, dates, pomegranate seeds, pears, parsley, mint and ginger. Toss to combine.
5. Season Dorade filets with thyme, salt, pepper and olive oil. Spread eggplant paste on one side of each filet. Add one piece of sliced sourdough bread to the same side as the eggplant paste. Cut the bread to align with each filet.
6. Over medium heat, sauté the filets for 2 minutes, bottom side first, then flip.
7. Prepare the tahini sauce: Add tahini, lemon, salt, pepper, olive oil and ice water to a medium-size mixing bowl; stir until smooth.
8. Shred the garnish vegetables into long ribbons, then soak in lemon, olive oil, yuzu, salt and pepper.
9. To plate: Spread tahini in a line of the bottom of a plate. Place bulgur salad directly on top. Add the four pieces of cooked dorade, stacked in a shingle pattern.
10. Roll each vegetable ribbon and place throughout the plate, on top of the fish and in the bulgur salad.