A Time to Remember, then Rejoice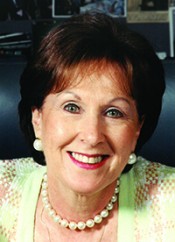 We will soon gather around the Seder table to observe the yearly retelling of our people's Exodus to freedom in the Promised Land—and to remember when we were strangers.
In the 21st century, Jews are no longer the stranger, but we wrestle with the reality of millions of refugees fleeing their homelands in search of better lives, even basic survival. In this issue of Hadassah Magazine, we focus on today's refugees while recalling the perilous journeys that 20th- century Jews made in search of freedom. Important upcoming dates on the calendar challenge us to remember—Holocaust Remembrance Day, Yom Hashoah, on May 5 and Yom Hazikaron, memorial day for Israel's fallen soldiers and victims of terror, on May 11—but also to celebrate, to look to the future. On May 12, Israelis shake off the heavy responsibility of honoring the dead by heading straight into one of the most festive parties of the year—Independence Day, Yom Ha'atzma'ut.
From Passover to the 68th anniversary of Israel's statehood—and in celebration of all Hadassah has done and will do in the future to champion the Jewish state—I wish you all hag sameah. —Marlene Post
Sharon Woodrow Memorial eLibrary
A grieving woman determined to honor her sister's memory has helped spur the first English-language eLibrary in Israel, containing 50,000 titles suitable for all ages. The Sharon Woodrow Memorial eLibrary was developed with global media company Library Ideas and enables members of the Association of Americans and Canadians in Israel (AACI) eBooks Library to read selections on computers and mobile devices, including iPhone, iPad, Kindle Fire and Android.
Woodrow made aliya with her husband, Paul Glaser, and infant daughter in 1990. She was an active member of the Oren chapter of Hadassah in Haifa and, as a triple-negative breast cancer patient, took part in the first-ever Israel Race for the Cure in Jerusalem in 2010. (Triple-negative breast cancer is classified by a lack of three receptors: the estrogen receptor, progesterone receptor and human epidermal growth factor receptor 2). Sadly, Woodrow lost her battle with cancer in 2014.
Diane Romm, a Hadassah member and librarian in New York, recalled her sister's dismay at the lack of English-language books after first moving to Israel, motivating Woodrow to organize several book exchanges. Romm contacted Library Ideas, amassed the information and found a willing partner in AACI.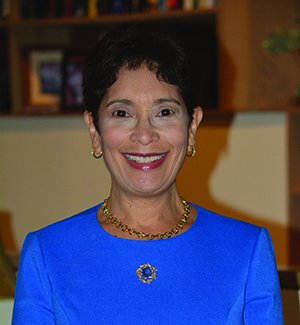 Meet the Veep: Dianne Gottlieb
Dianne Gottlieb's life changed the day she hung a simple Hanukka decoration on her office door. At that time, in 1997, she was working as a certified nurse midwife in a women's health clinic. A colleague saw the decoration, asked her if she was Jewish and quickly invited her to a meeting of Jewish nurses. The meeting was the first of the soon-to-be-chartered Landy Kaplan Nurses Council of Greater Miami Hadassah. Gottlieb volunteered to be the treasurer. In a few years, she became president of the council, a member of the regional board, then president of Greater Miami Hadassah. Today, she is a national vice president and member of the national board.
In 1999, Gottlieb was chosen to be part of a Young Women's Mission to Israel, an experience she calls "transformative." She connected with like-minded women and was introduced to the scope of the organization as well as the impact Hadassah has on Israel. She strongly counsels investing in Hadassah Missions, encouraging anyone who has not taken part in a mission to do so.
As a nurse, Gottlieb says, "I am particularly proud to be part of Hadassah, proud that Hadassah has played such a key role in the health care infrastructure in Israel. Hadassah has given me a forum to promote women's health care, support nursing and at the same time strengthen Israel."
She values the women she has met along the way, pointing out that women speak a "different language" than men and process ideas differently. She feels that Hadassah is a place where women can support and empower each other.
Gottlieb and her husband, Stuart, live in Coral Gables, Florida. They are generous members of the Society of Major Donors. In addition, she is a Chai Keeper of the Gate for Nursing. —Sandra King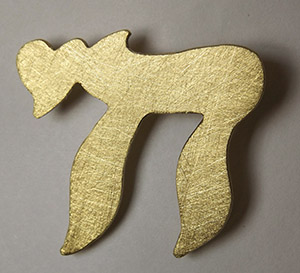 Antique Chai With Modern Feel
Stacy Berman placed an urgent call back in July 2014. A board member of the Suffolk region of Hadassah, she was seeking a chai pin to present to members of her region who donated $180 to join the Chai Society. Someone had brought in a sample pin, one that was too large and, as most board members weighed in, gaudy. Berman, who happens to be my sister, suggested contacting my husband, Mark Weisbeck, and me.
Mark and I are internationally award-winning, large-scale public sculptors and product designers. Our sculptures can be found as far away as China, and our modernist products—including menoras and yads—have been featured in museums and galleries around the country, even at the Museum of Modern Art in New York.
But we had never designed a pin for a client. We began to research chai pins and pendant designs. There are thousands, but we wanted ours to convey more feeling, more intention. I made lots of sketches and ultimately designed my chai pin with a golden heart. We sent a sample to Phyllis Abramson, president of the Suffolk region. She and the board immediately placed an order for 100 pins.
The Love Chai pin is now popular around the country; chapters from New York to Florida to Texas have placed orders. Our design has an antique reference, given the irregular, ancient-looking hand-applied texture, as well as a modern, contemporary feel. It also conveys a true gift from the heart. Each pin comes wrapped in a blue organza gift bag, imprinted with gold hearts. —Diane Weisbeck
Enrich Chapter Meeting with Hadassah Magazine
Interested in spicing up chapter meetings and events with informative, current, thoughtful and fun content to spark discussion? Look no further than this magazine! For each print issue of the magazine, we make available to leaders starting at the chapter level a Guide to Reader Engage-ment (look for a link in your Leaders' Digest e-Newsletter or in your leadership tools at myHadassah). We do the work for you, offering suggestions for how to use articles featured in each issue to excite your members and spur dialogue. Please consider Hadassah Magazine as a springboard for meetings, programs, articles and chapter activities!
Do you know what Hadassah and its 330,000 members and Associates accomplished in 2015?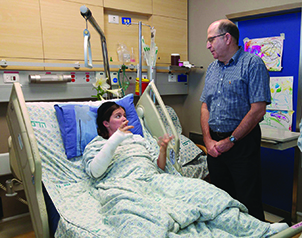 More than 130 recent terror victims in Israel were treated by Hadassah Medical Organization's renowned trauma unit at Hadassah Hospital in Ein Kerem—the first and only Level 1A trauma center in Jerusalem.
Your generosity allowed us to meet our year-end Million$Match. We raised 20 percent more than our goal!
Defining Zionism in the 21st Century, our on­­­­­­line speaker series, received more than 18,000 video views of guest speakers, in­­clud­­ing Susannah Heschel, daughter of Abraham Joshua Heschel; Mehnaz Afridi, a Muslim Professor of Holo­caust Studies; Jerusalem Post Chief Political Cor­re­spondent and analyst Gil Hoffman; and many more.
We connected hundreds of travelers—many of them first-timers—to Israel through our new Missions program.
We welcomed 7,000+ new annual and Life Members.
1,000 walkers learned about heart-healthy living by participating in the first Every Step Counts: Hadas-sah's Walking Program. They traveled 720 million steps—equivalent to
14 times around the Earth.
Hadassah advocates held 21 "Day in the District" meetings with state and federal legislators in their home districts in only three months! After educating congressional representatives on the need for Gender Equity in Medical Research, at least three representatives agreed to cosponsor the bipartisan Research for All Act.
240 need-based scholarships enabled young people to attend Young Judaea camps and Israel programs.