Weighing Body Image and Values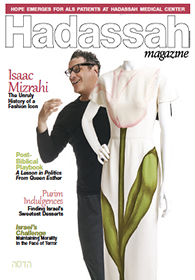 Disturbing Image
I received the February/March issue of Hadassah Magazine today, eager to read about one of my favorite fashion designers. But when I got to the article, "The Arts: Isaac Mizrahi, Man on the Runway," the first thing I saw was a presumably anorexic model. I have never written a letter to the editor before, but I feel compelled to voice my objection to Hadassah Magazine publishing an image of such a thin girl in a women's magazine.
There must have been thousands of images to chose from to represent Mizrahi's vision, brand and style. The image of a girl with no body fat or tone, from neck to feet showing every sinew because she is concentration-camp thin, is truly appalling. This is particularly disturbing because, as a women's organization whose mission is to provide health education and services here and in Israel, this is a gross contradiction in values.
Anorexia is a very serious medical and psychiatric problem, in which about 20 percent of sufferers die. I can only hope that in the future Hadassah Magazine would reject a similar image in favor of a healthy woman.
Fiona Chalom, Ph.D.
Los Angeles, Calif.
Art and Religion
One of my favorite paintings, Aert de Gelder's Esther and Mordecai Writing the Second Letter for Purim, c. 1685, RISD Collection, was used to illustrate Yoram Hazony's essay "Missive From Shushan: In God's Absence" in the February/March issue. However, readers of Hadassah Magazine should know that the painting represents a Christian reading of Esther as a model of civic duty. The painting does not subscribe to Hazony's reading of the text.
Beth S. Gersh-Nesic, Ph.D.
Ardsley, N.Y.
Art and Criticism
I take exception to the Brief Review of the film Rabin, The Last Day in the February/March issue.
While what the movie shows and what the review states may be true, the last sentence of the review, "opportunism by right-wing politicians laid the groundwork for the assassination," is rather indicting of Israel's current prime minister. I don't think that language belongs in a Hadassah publication. After all, the person being referred to is Benjamin Netanyahu, not some past person of history. I always thought Hadassah was apolitical.
Sandy Wasserman
Plainview, N.Y. 
A More Complex Reality?
Gil Troy's essay, "Courage Under Fire" in the February/March issue, lacks the nuance I would expect from such a well-regarded author. He presents the Jewish "moral center" as fully intact, in contrast to "Palestinian culture's insane incitement," thus ignoring moderate Palestinians' efforts toward peace as well as Jewish extremists' price tag attacks; acts of violence against Arabs, including against Israeli citizens; and Jewish celebrations of Arab deaths.
One need not find moral equivalency in the Palestinians' and Jews' situations to recognize that the stark binary Troy offers allows only for smug self-satisfaction rather than meaningful introspection. Troy's idealized narrative of an unconscionable enemy and a reluctant but always ethical self-defense does not reflect the much more complex reality of Israel today.
Gillian Steinberg
Bronx, N.Y.
[Correction] Regarding "The Jewish Traveler: Austin" in the February/March issue: Rabbi Neil Blumofe of Congre­gation Agudas Achim—utilizing his talents as a hazzan, musician and jazz historian—is the producer, curator and sometimes performer of the KUT radio "Views and Brews Jazz Series" on several Tuesday nights each year, but not on the "one Friday each month" as originally reported.