Syrian Jewish Artist Maurice Nseiri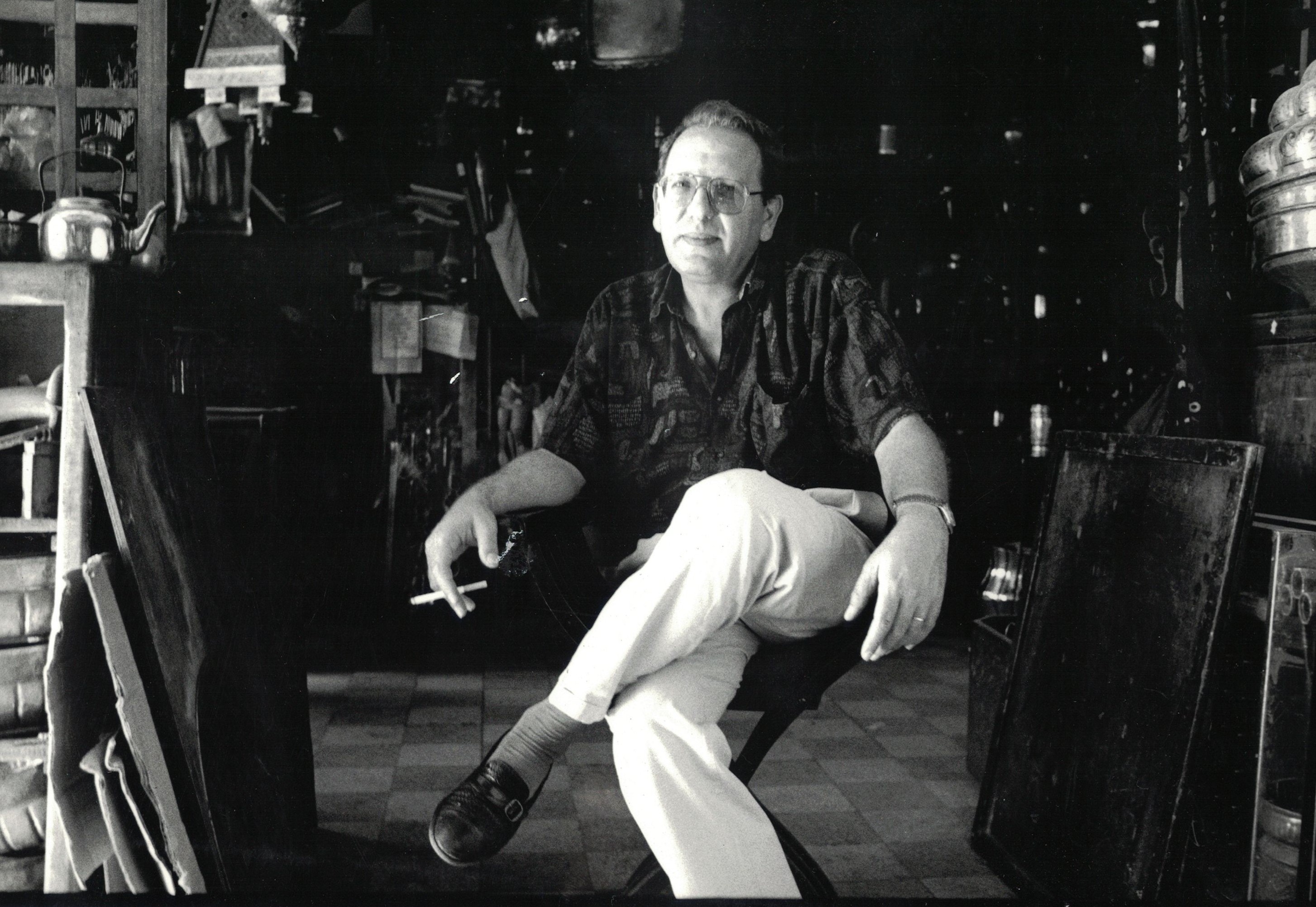 When artist Maurice Nseiri fled his native Syria in 1992, part of the mass exodus of most of the country's remaining Jewish community, he took with him whatever he could of his handcrafted metalwork. That meant that only several dozen of his smaller creations—samovars, ornamental boxes and platters, fanciful birds, vases and bowls—eventually came with him out of the thousands of pieces created in his workshop.
The Damascus-born metal artist, 72, may be the last Jewish practitioner of a centuries-old artistic heritage. Handed down father to son in the 2,500-year-old Syrian Jewish community, the art of inlaying metals into one another—known as damascene—to create ornamental objects was taught to Nseiri by his father, Tzion Nseiri. Maurice Nseiri is considered a master.
For over 30 years, Nseiri's workshop, called the Omayad Bazaar and located in the Jewish Quarter of the Old City in Damascus, produced furniture and ceremonial keepsakes for prominent individuals and landmarks in Syria. Nseiri's pieces have adorned mosques and synagogues, royal palaces and celebrity homes in Saudi Arabia, Qatar and Kuwait. He designed the gates, floor and platform for the Al-Franj Synagogue in the Old City, and the grand gates of the Syrian Presidential Palace, also in Damascus.
Nseiri sits with his wife, Yvette,  in the living room of their home on Ocean Parkway in a Syrian Jewish section of Brooklyn, New York. A soft-spoken gray-haired man with glasses, Nseiri shares personal stories with a thoughtful expression. The couple met as schoolchildren at an aunt's wedding (their sisters were friends). "All Jewish people were like family," says Nseiri. "We grew up together."
They have 4 children, 15 grandchildren and 6 great-grandchildren. Two of their children, daughter Berta and son Joseph, live in Brooklyn. Sons Sony and Abdo live in Canada.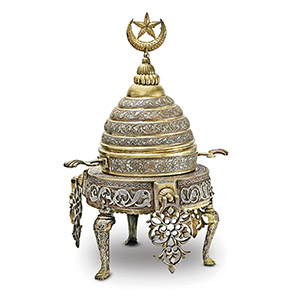 The couple is sitting beside an exquisite round table. It is one of Nseiri's trays, covered in glass and framed in wood. The round tray is typical of his work: brass inlaid with silver and copper with an ornamental bird and grapevine motif and eight-pointed stars.
Last November, Nseiri's plates, small chests, ornamental vases and coffee sets were on display at the Jewish Children's Museum in Brooklyn. The show—"Jewish-Syrian Metal Works: The Lost Art of Damascus"—was the first time he publicly exhibited his artwork in the United States. The museum also sponsored Nseiri as an artist in residence for three years and honored him with an International Arts Award last March.
"The artwork on display was created in Syria at a time when the Jewish people were persecuted and were afraid to call the artwork 'Jewish,'" says Chaya Serebryanski, program director at the JCM. "It is loaded with Jewish symbolism and Tanakhic stories. It is only recently that Nseiri has felt comfortable publicly referring to it as a Syrian Jewish art."
In Syria, "we always called it Islamic art," Nseiri explains. "Perhaps it's right because it has Islamic ornamentation, but it's made by Jews. Now we can say it is Jewish art." Living in Damascus, he feared public reaction to a Jewish label. It was better, he says, "not to put my finger in fire."
Although the Nseiris have left their homeland, it is not far from their thoughts. As Maurice and Yvette talk, an Arabic-language news show is playing on a television in the corner. The anchors are reporting on conflict in Syria and the ongoing humanitarian crisis, which has led to millions of refugees seeking asylum in Europe. 
"What exactly is happening in Syria only God knows," Nseiri says. "It's terrible and, to be honest, Syria doesn't deserve it. Syrians are good people. A lot of people are afraid and don't have food."
Yet he recalls the difficulties of growing up Jewish in the country. "We had to be careful every moment, every step," says Nseiri. "It was not a happy time as a child. I once asked someone in the government why we don't have rights like Muslims and Christians, why they always put conditions on us. He said, 'Jews are a special case.' I didn't dare ask what that meant."
Nseiri took over the helm of his father's workshop in 1965, when he was only in his twenties. Under his guidance, the workshop expanded its focus and its products became iconic even within the elite Syrian metalwork industry. "In his time, my father was number one," says Nseiri. "But times changed. People in Syria had money, and they asked for other things. I wanted to create my own designs and work."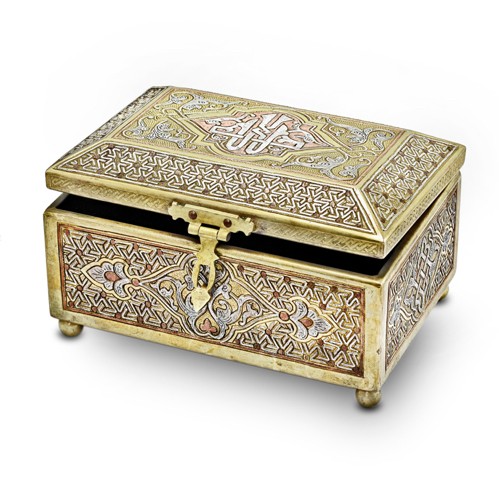 His father sold trays, plates and vases but, under Nseiri, the workshop also created tables, jewelry boxes, chandeliers, lamps, chests, incense burners, offering a large variety of goods for wealthy patrons' homes. Nseiri also exhibited yearly at an international crafts show in Damascus until its director "stopped asking us because we were Jews," Nseiri recalls. 
Nseiri describes the countless hours he spent hammering away in his workshop and instructing his team of 42 Jewish artisans. Their work became prized possessions in Muslim society—culminating in a commission to design the grand entry gates as well as doors, table lamps and light fixtures for the Presidential Palace.
"They knew he was a Jew, but no one else could do it," says Sony Nseiri about his father, adding that it was his work on the chandeliers and elevator doors of the Sheraton Hotel in Damascus that "made him a star."
"Everyone knew him," he says. "All the big dignitaries stayed there; you can't see this anywhere else."
His reputation reached lebanese-Saudi business tycoon Rafik Hariri, the contractor of Hafez al-Assad's palace, who later became prime minister of Lebanon. "They accepted me because they respected my work," Nseiri explains. Using maps and pictures, he began designing all of the gates and doors at his workshop in 1988, including the door of Assad's personal office, completing them over two years later. He only visited once, briefly, to explain how to hang the doors and met Assad, the late leader, "by accident."
Despite heavy business restrictions on Jews, Nseiri developed a thriving export business, selling plain brass planters and frying pots in Germany; he reserved his ornamental art for the Gulf area and Syria. He traveled to Europe alone since, by law, his wife and children had to remain in Syria, under the government's watchful eye.
Despite the discrimination, Nseiri says he openly identified as Jewish. Creating Jewish ritual art or incorporating obvious Jewish themes in his work was punishable by law, but he did so anyway, even if subtly: grapes and vine leaves symbolizing the Land of Israel; fish (a Jewish symbol of good luck) are intertwined with overt Arabic references and inscriptions. "It was very dangerous to do a Star of David because it became a symbol of Israel," Nseiri says. Instead, he used eight-pointed stars as disguised Magen Davids. Considered an Islamic geometrical design prior to 1948, both six- and eight-point stars were on ceilings, trays and bowls in 12th- and 13th-century Islamic art.
The 10-foot-high brass doors for the Al-Franj Synagogue, however, include overtly Jewish images, such as a Torah crown inlaid in silver and copper. Nseiri also engraved his father's name, "Tzion," on a door. Just bearing that name was illegal in Syria.
"The secret police came and asked about the name on the gate and my father explained that it is his father's name and he donated the door in his memory," Sony Nseiri recalls. "This way, they allowed it, despite its association with Zionism."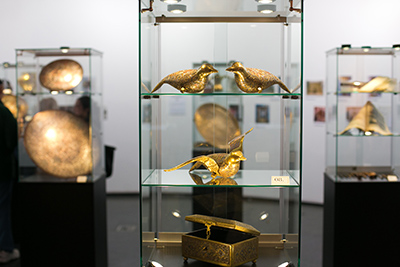 The Syrian government's hostility to the Jewish state made life increasingly difficult for the Jews of Syria. In 1979, Nseiri and his brother were arrested at the Lebanese border for trying to escape with their family and spent almost two months in jail. They had also been arrested earlier after Eli Cohen, an Israeli spy later sentenced to death, visited the workshop, unbeknownst to them.
Nseiri believes things began to improve during the presidency of Hafez al-Assad who, he says, was "more open to the world." Syrian rabbis, including the Jewish community's spiritual leader, Avraham Hamra, met with Assad to petition the release of Jews from prison—which Assad ultimately did. "If he promised something, he did it," Nseiri stresses.
Assad also ultimately allowed Jews to leave. Today, only about 15 elderly Jews remain in Damascus.
A few more of Nseiri's metal creations eventually made their way to Israel and are now in his possession. When asked how many of his works remain in his abandoned workspace—today closed and off limits in a Christian patriarch building—Nseiri sighs and looks away. "A lot," he says. "I don't know. I don't want to know. Maybe 5,000? I don't remember."
Nseiri returned to Syria in 1995 to close up his shop and finish a few commissions. "We were looking for freedom rather than possessions. Now," he adds, "I'm sorry we didn't take everything out."
Nseiri's work has been displayed in museums in Germany and Israel, including at the Eretz Israel Museum in Tel Aviv. "The art itself goes back generations—the practice of making metals ornate," Sony Nseiri says. "Jewish Syrians took it to the next level to add intricate details; my father took it further to make it an art piece worthy of the palace."
After Syrian Jews left their homeland, many put the past behind them—including their culture and art. Without his workshop and artisans, who are scattered throughout Israel and the United States, Nseiri cannot continue his work. However, he says, "It's in my blood. I like the smell of brass. I miss the knock of hammering. I left my heart in my showroom. There's not one day passing by that I don't think about my work in Damascus; my heart is crying."