Lainie Kazan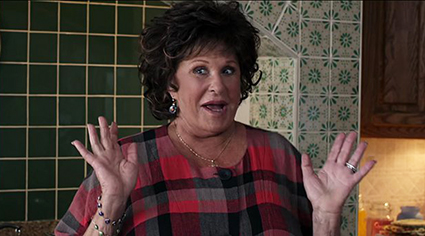 In the recently released "My Big Fat Greek Wedding 2," Lainie Kazan portrays Maria Portokalos, the matriarch of a large Greek family. It is a reprisal of a role introduced nearly 15 years ago, in the 2002 film, "My Big Fat Greek Wedding," a surprise box-office success about a Greek family in America struggling with boundary issues.
During a recent phone interview, Kazan, 75, said she is grateful for the character because there are limited onscreen opportunities for women her age.
"I would say I'm very thrilled about this role," the performer said, "because there aren't a lot of roles for older women."
Kazan began her career more than five decades ago as the understudy to Barbra Streisand in the Broadway version of Funny Girl. She went on to succeed in film, theater and in music. Highlights included a Golden Globe-nominated performance in the film My Favorite Year, multiple album releases and, perhaps representative of a now bygone era in show business, posing nude in Playboy magazine.
Recently, she has focused on sharing wisdom gleaned from her experiences. Kazan is currently a visiting professor at the UCLA School of Theater, Film and Television, where she teaches the course "Acting for the Singer." She also supports of numerous charitable organizations, including the Young Musicians Foundation and the California Jazz Foundation as well as pro-Israel causes such as B'nai B'rith International.
"I think we have to really protect Israel, that's what I think. We have to have a president who goes along with that," she said.
When she isn't working, Kazan, whose husband passed away more than 25 years ago, said she loves being a grandmother to her daughter, Jennifer's, two kids (a 16-year-old and a 3-month-old) and that she enjoys her bicoastal life: She spends time with family when she is in Los Angeles and soaks in the culture when she is at her home in New York.
As to what Jews and Greeks have in common, the Brooklyn-born daughter of a Sephardic mother and Ashkenazic father said both place enormous emphasis on food.
"They're both about food: 'Eat and you will feel better,'" she said. "I think it's from so many years of not having food and finally having food."
Ryan Torok is a staff writer and community reporter at The Jewish Journal of Greater Los Angeles.