Passover Designs: Seder Plates and More
Good food and good company should be Passover meal requirements. And so should a table set with elegant or modern or child-friendly ritual objects—whichever best expresses our personal aesthetic. These new designs from artists in Israel and North America not only add a special touch to the Seder table, they also give tangible, often graceful, expression to the Passover story.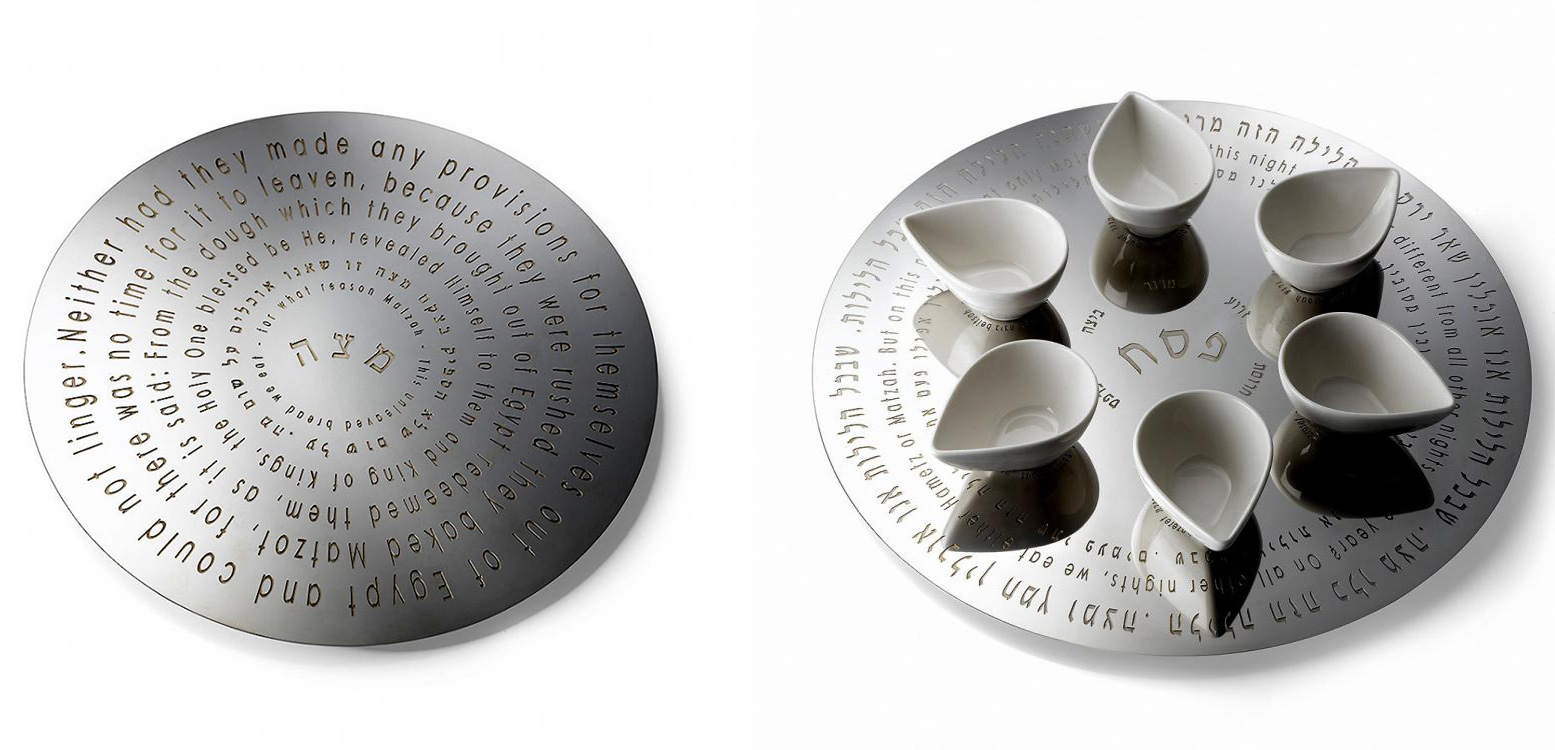 Israeli designer Laura Cowan's mirror-polished stainless steel Ripple Effect Seder Plate (from $360) with six magnetic bowls and the matching Ripple Effect Matza Plate (from $250) were inspired by the affect of a droplet on a body of water. Just as one small drop of water can impact a space much larger than the drop itself, notes Cowan on her website, "so, too, can one person impact and create a ripple effect on the world and people around them."
---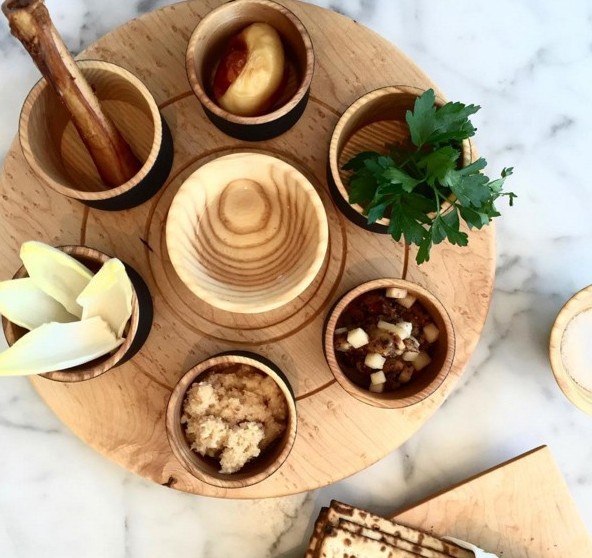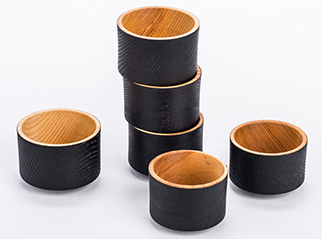 The Modern Rustic Seder Plate from Fig Tree & Vine (from $185), created by Canadian woodworker John Ward, brings a simple rustic flair and a hint of the outdoors—Passover takes place in the Spring, after all—to the table. The bird's-eye maple plate is decorated with concentric circles while the coordinating bowls (right) are crafted from ebonized ash. Photos by Johnny CY Lam.
---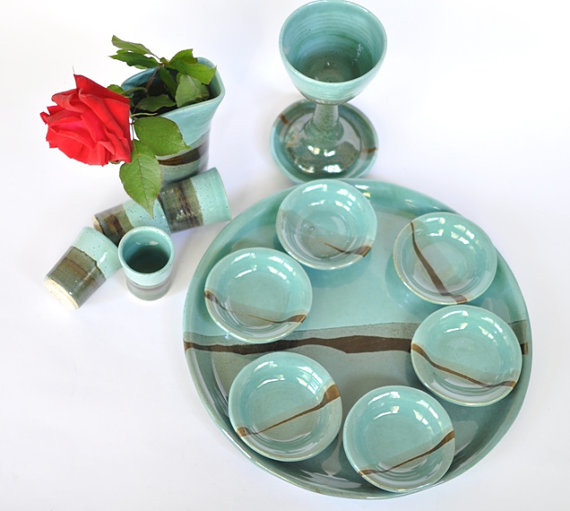 Israeli pottery house ClayismyArt uses the landscape of the Jewish state as inspiration for a collection of lead-free clay tableware. This teal-and-turquoise Seder plate (from $99), part of a series that includes a wine goblet (from $38), recalls the colors of the Dead Sea.
---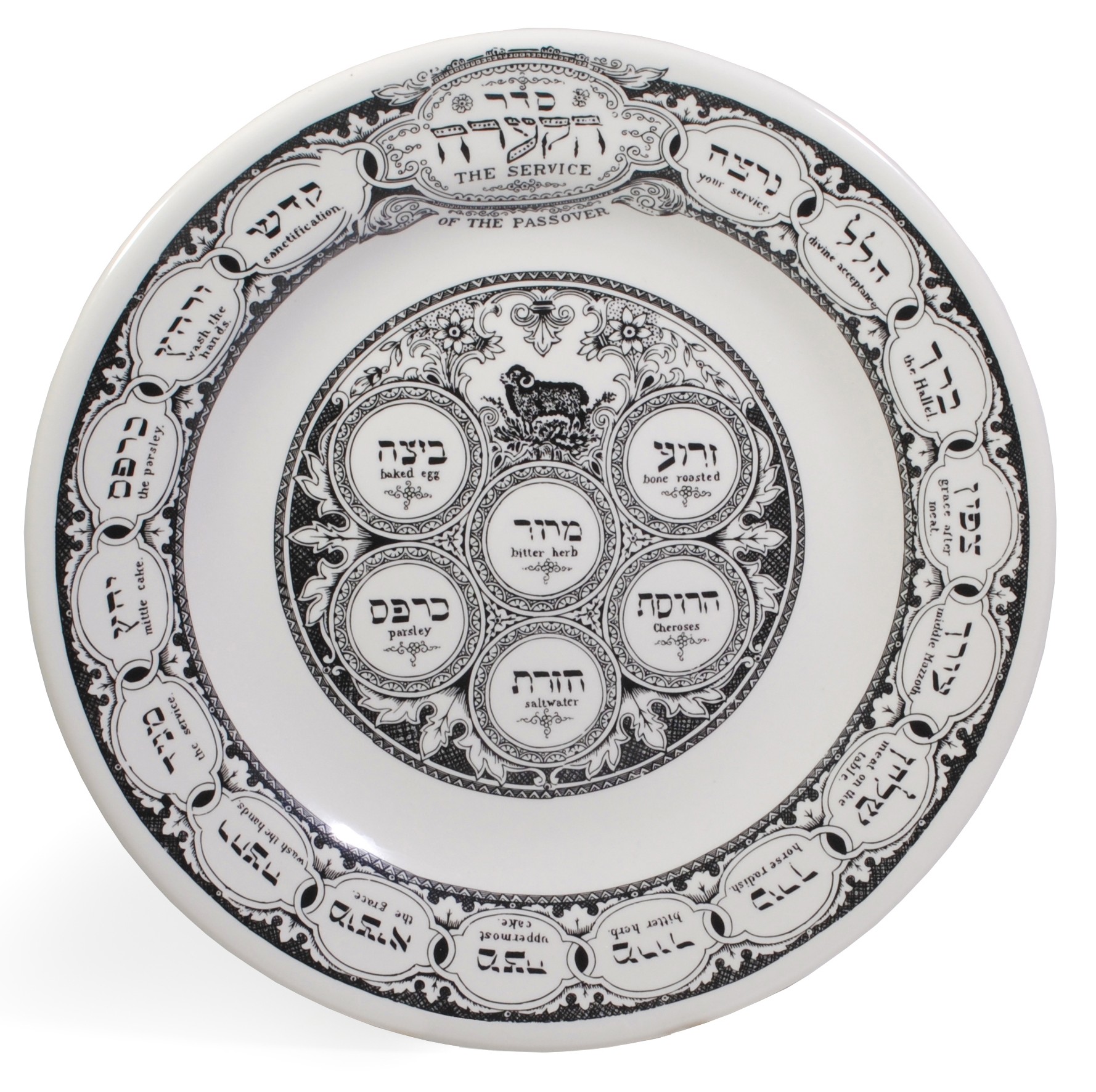 New York's Jewish Museum has the ultimate in classic Seder tableware with the Order of the Seder Passover Plate  (from $88), a sturdy reproduction of a plate from 1923 England commissioned from noted New York home goods purveyor Fishs Eddy.
---
Building with bricks can be fun, despite the experiences of our ancestors in Egypt, particularly when using LEGO bricks. JBrick's 2-in-1 Custom Seder Plate set ($95), which comes with 232 LEGO pieces and instructions for two different plate designs, is perfect for kids—or any LEGO lover. Jbrick specializes in Jewish-themed custom LEGO sets. Those looking for a Zionist addition to their collection should check out their series of 14 Israel Defense Forces minifigures, both men and women (from $20 each).
---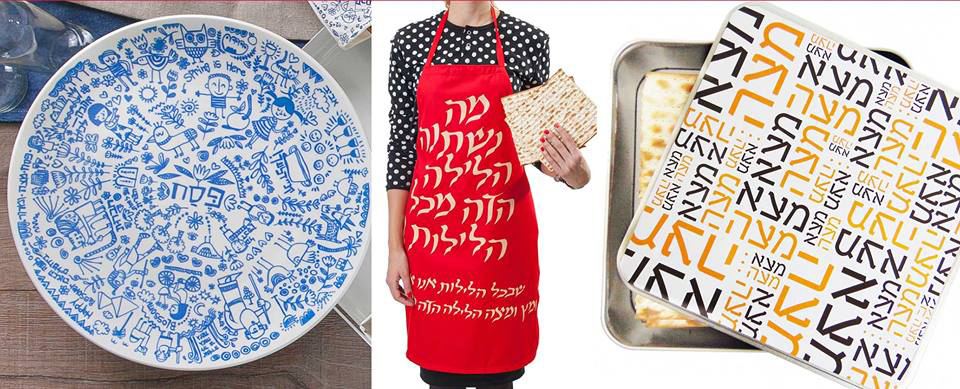 Colorful, playful and graphic are the trademark of Jerusalem-based Barbara Shaw's Judaica and home goods, and her new Seder plate (from $99), Mah Nishtana apron (from $29) and matza storage tin (from $18) add a bright pop of color to any Passover table.
---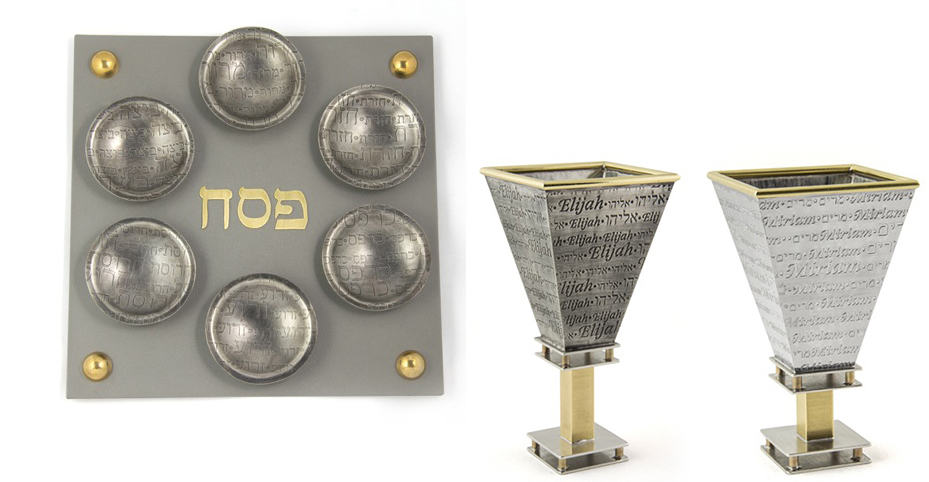 Joy Stember's takes on Passover classics have a hard-edged industrial appeal. Her Seder plate (from $250) and matching Elijah's cup (from $250) and Miriam's cup (from $220) are crafted from powder-coated steel, pewter and brass.