Hadassah Launches Coalition for Women's Health Equity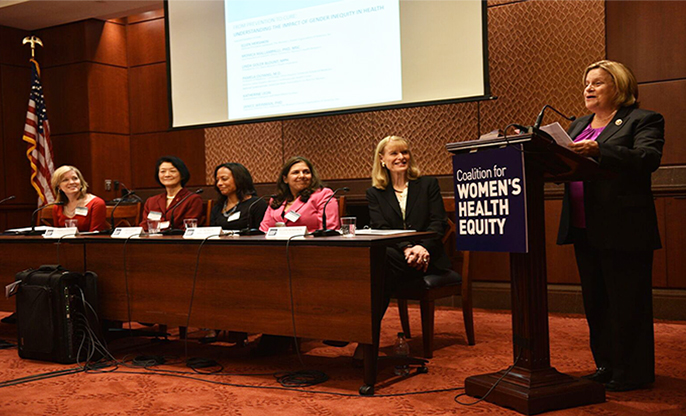 Leading women's health care experts and advocates came together in Washington, D.C., on May 12 for a panel presentation at the inaugural event of a new Coalition for Women's Health Equity, convened by Hadassah, the Women's Zionist Organization of America.
The coalition, which launched last month to address pervasive disparities in women's health care and treatment, currently has 16 members, including the American Heart Association, the Society for Women's Health Research, the Black Women's Health Imperative and the National Organization for Women.
Panel participants noted that women, for example, make up only one third of cardiac research participants, even though heart disease is the number one killer of women. And doctors, they said, are more likely to attribute a woman's pain to stress or psychological conditions, but attribute a man's pain to physical or neurologic causes, often resulting in undertreatment of women.
Officials at Hadassah, which focuses on domestic policy issues as well as supporting Hadassah's two hospitals in Israel, said they convened the coalition in response to pervasive gender disparities throughout the health care system in order to create a well-coordinated and unified force to advocate for women's health equity—from prevention and diagnosis to treatment and cure.
"We are here to address an issue that represents one of the most consequential and—at the same time—one of the most hidden vestiges of gender discrimination today," Ellen Hershkin, national president of Hadassah, said at the event, which took place on Capitol Hill during Women's Health Week.
"The issue of women's health equity extends beyond any one phase of health or any particular disease," added Hershkin. "Most diseases affect men and women, but clinical studies have always focused disproportionately on men—impeding our understanding of how gender affects prevention, diagnosis, treatment and outcome."
Speaking at the event, attended by members of the coalition, congressional staff and members of the media, Congresswoman Ileana Ros-Lehtinen (R-Florida) said, "If we really want to improve health care for women, we need to improve gender equity issues in health education and research."
The panelists noted that women and men often present different symptoms for the same diseases and react differently to certain drugs, medical devices and treatments. Gender disparities in medicine—among research subjects, and in health care access and delivery—put women at risk for misdiagnoses, ineffective treatments and compromised care.
Among the aspects that need changing is the greater use of male mice than female mice in medical research, said Monica Mallampalli, vice president of scientific affairs at the Society for Women's Health Research.
Linda Goler Blount, president and CEO of the Black Women's Health Imperative, pointed to disparities that black women face in particular and noted that "black women are rarely the subject of medical research."
Dr. Pamela Ouyang, director of the Johns Hopkins Cardiovascular Health Center, pointed to the pervasive lack of knowledge that heart disease is the number one killer of women. Among the policy changes Dr. Ouyang says are needed is a requirement that all research conducted at the National Institutes of Health include sex differences.
Addressing the coalition's goals, Hadassah's Hershkin told the audience that the initiative "is designed as a bridge between those who handle policy making, funding and research" and "our grassroots movements working for inclusion and equity."