Digital Makeovers for Hadassah and Other Jewish Women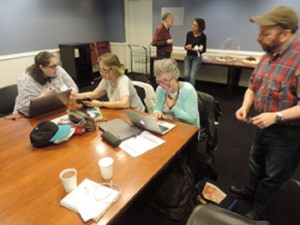 Even in today's highly digital world, the Internet lags behind when it comes to coverage of important Jewish women and some of the organizations they spearheaded. The Women in Jewish History Wikipedia Edit-a-thon held on June 5 at The Center for Jewish History in New York aimed to change that. The event focused on improving or adding pages pertaining to women in Jewish history who had been overlooked—including two from Hadassah as well as the main entry for Hadassah, The Women's Zionist Organization of America.
Some 20 men and women volunteered: archivists, librarians, CJH staff and local Wikipedia editors (known as "wikipedians") assembled in a conference room in the CJH's W. 16th Street headquarters. The event was cosponsored by Lilith magazine and Jewish Women's Archive—a group dedicated to documenting the lives of Jewish women—which is known for its own encyclopedia, a leading resource used by the attendees.
One personality whose Wikipedia page had been targeted for editing was Miriam Freund-Rosenthal, a national president of Hadassah in the 1950's. Attendees added "Personal Life" and "Career" sections to the scant biographical data that had originally appeared. Now, visitors to Freund-Rosenthal's page can learn about her impressive educational achievements for a woman in the 1920's: She earned a bachelor's degree from Hunter College in New York in 1925 before getting a master's degree and then doctorate in history from New York University.
Updates were also made to the page of Irma Lindheim, Hadassah's second national president, who served in the 1920's.
Miriam Haier, director of public programs at the CJH, said she helped organize the event "because we want to make sure Wikipedia is a more robust source for Jewish women's history."
The web-based encyclopedia is open for anyone to edit. According to data on its website, it is the seventh-most visited site in world, available in 292 languages with over 62 million registered users. There's a vast group of volunteer editors (about 3 million) constantly updating the site, paying attention to topics they care about, watching recent changes and editing what other people write.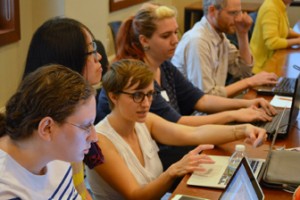 Lea Lange, digital collections coordinator at the CJH who works with archivists from YIVO, opened the event by briefing volunteers (all already had Wikipedia accounts) on the basics of editing and discussing the site's policies and guidelines. Rules included writing in the encyclopedia genre, no advertising or editorializing and editing as part of a community.
Every person in the conference room worked on adding a small piece to what was missing from various pages: making improvements to existing articles, adding citations and references or creating a new article. The event page highlights the outcomes from the evening of digital scholarship.
Lange said archivists kept a running list of Wikipedia pages that needed improvement—or didn't even exist. "We want to tell the world [about the impact of Jewish women] through social media and blog posts," she said, "but also on Wikipedia because it's the main first stop for information gathering."
"Part of our mission is to create access," Haier further explained. "We're zeroing in on Jewish women particularly because they're under represented, historically less privileged in scholarship and institutional projects."
This is the third public edit-a-thon developed by CJH archivists. The first one, in 2014, also focused on women; last year's dealt with Soviet Jewry. The CJH estimates in the last two years to have made 48 new Wikipedia pages, improved over 80 entries, trained 36 new volunteers and added over 300 links to relevant archival and library resources.
Rachel Miller, senior manager for Collection Services at the CJH, created an article on Dutch Jewish suffragist and pacifist Rosa Manus based on research she did years ago. At the previous Women in Jewish History Wikipedia Edit-a-thon, she edited Hungarian suffragist Rosika Schwimmer's page.
"Every collection I worked on when I was first employed at CJH—for the first three and a half years—was either about a man or an organization run by man," Miller noted.
She certainly seemed glad to be reversing that trend.