Ancient Woman's Seal Discovered in Jerusalem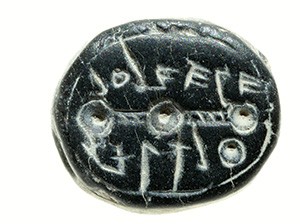 Challenging the typi­cally sub­­servi­­ent status of biblical-era women, one mystery woman may have held a spe­cial legal standing that made her unique among her First Temple peers.
Excavators in Je­­rusalem's City of David recently uncovered a 2,500-year-old seal bearing the name Eli­hana—a wom­­an whom they assume could conduct business and own property. Such objects were often used for signing documents, ac­­cor­d­ing to project directors Doron Ben-Ami, Ph.D., Yana Tchekhanovets and Salome Cohen. Made of semiprecious stone, the woman's seal includes the in­­scrip­­tion "to Elihana bat Gael" in ancient Hebrew lettering, the Israel Anti­­quities Au­­thority reported.
While such discoveries are rare, Haggai Misgav, Ph.D., of the He­­brew University of Jerusalem's Institute of Archaeology, stressed, "Some­times there is a woman who can break the glass ceiling." He noted that Elihana's seal could be indica­tive of her father's social em­­inence.
Scholars have found many similar women's seals from later periods, such as the Second Temple era.