A Graffiti Street Tour that Teaches Hebrew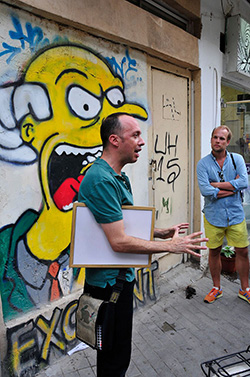 Attention ulpan flunkies, language lovers and anyone who wants to see a totally off-the-beaten-track side of Tel Aviv. On your next trip to Israel, you might want to sign up for a Florentin Urban Culture & Graffiti Tour, led by Guy Sharett. The 44-year-old multilingual Israeli described the foray into one of Tel Aviv's most colorful and trendy neighborhoods—where he happens to live—as not so much a tour as an "innovative method of Hebrew-language instruction combining the sights, sounds, smells and tastes of Tel Aviv."
By helping tourists understand graffiti, analyze street art and even examine the writing on manhole covers, Sharett tries to make Hebrew come alive and shed new light on Israeli culture.
"We might read the poems a resident scrawled on the walls as well as the not-always-complimentary responses to her poetry," said Sharett, who began the tours as an outgrowth of the unconventional Hebrew lessons he offers on streets and in cafés in his other tours. "Instead of making people feel like learning a new language is a punishment, we try to celebrate it."
While you won't learn Hebrew in a single tour—they last 90 minutes—Sharett says his goal is to sharpen the linguistic antennae of participants, all while roaming through a funky neighborhood with a local.