New Exhibit at Ben-Gurion Airport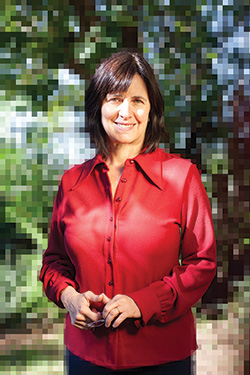 Tomatoes rich in lycopene that remain firm for weeks; the flash drive used for data backup and for transferring data between computers; a drug that can improve cognitive function and slow the progression of dementia—these are among the many discoveries by Israeli scientists that have had a global impact.
Now visitors departing Israel from Ben-Gurion International Airport near Tel Aviv can view posters depicting these and other innovations in a yearlong exhibition titled "Israeli Discoveries and Developments That Influenced the World."
The exhibition encompasses historical figures, agriculture and environmental sciences, technology and engineering, natural sciences, humanities and social sciences, biomedical and life sciences and international awards—including a section on Israel's eight Nobel science laureates.
One poster is for Shafrira Goldwasser, Ph.D. (Weizmann Institute), and Silvio Micali, Ph.D. (M.I.T.), who earned the Turing Award, the most prestigious award in computer science, for pioneering a field known as "provable security." Their work enables ATM users to keep their passwords secret.
Yosef Garfinkel, Ph.D., Saar Ganor and Haggai Misgav, Ph.D., of the Hebrew University of Jerusalem discovered and deciphered the oldest Hebrew inscription ever found, containing the words "Do not do," "slave," "judge" and "king." The inscription dates to the 10th century B.C.E., the era in which King David would have lived.