The Wedding Doll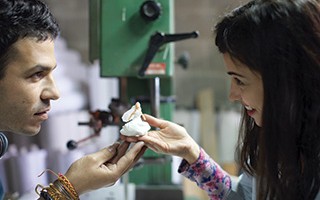 The title Wedding Doll may lead the unwary filmgoer to anticipate a risqué comedy, but the Israeli movie is much deeper. Set in a small, forlorn town in Israel's Negev Desert, the film revolves around Hagit, a young woman left with a mild mental handicap by a childhood brain injury.
At 24, Hagit is lovely, with a smile that lights up not just a room but the brooding desert. She works contentedly in a toilet paper factory at the unglamorous job of cutting and packaging the rolls. After work, she uses the leftover paper to fashion little dolls outfitted in wedding gowns. It doesn't take a psychologist to deduce that the dolls express Hagit's yearning to marry the factory owner's handsome son, Omri. He is a decent sort and genuinely fond of Hagit, but afraid to let his family and others know of a possible liaison with the "retard."
Wedding Doll is director, producer and screenwriter Nitzan Gilady's first feature film, after four documentaries, which have won a total of 13 international awards. In a phone call from Paris, Gilady, 46, the son of Yemenite immigrants, said he interviewed more than 40 aspirants for the role of Hagit before settling on Moran Rosenblatt.
Rosenblatt recalled in a phone interview how "we worked on my voice, my stride and my smile for four months." She walked off with a Best Actress Ophir, Israel's equivalent of the Oscar, for the role. Outsider Pictures.