Ruth Bader Ginsburg's Next Act, in Venice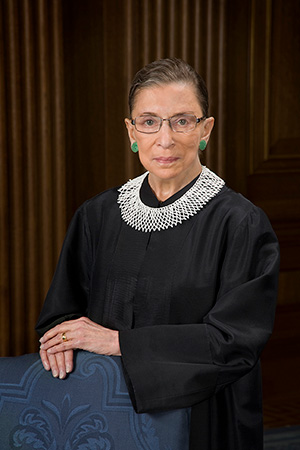 Supreme Court Justice Ruth Bader Ginsburg is putting the drama of Ginsburg vs. Trump behind her as she heads to Venice, Italy, to take part in a new role: the presiding judge in Shylock's Appeal, a mock trial that is part of the 500th anniversary commemoration of the Venice Ghetto and the 400th anniversary of Shakespeare's death.
Six historic performances of The Merchant of Venice will be presented in the ghetto from July 26 to 31 to mark the coinciding anniversaries. In a side event, Ginsburg, an avid opera and theater fan popularly known as Notorious RBG, will chair the bench of five jurists who will reconsider the judgment against the notorious Jewish moneylender infamous for demanding his pound of flesh. Shylock, Antonio and Portia will be represented by famous international lawyers as the legal implications of the controversial play unfold (tickets to the event are available for patrons of The Merchant of Venice show). Whether or not the court's decision on July 27th will rehabilitate or reverse the anti-Semitic stereotype now embedded in Shylock's very name remains to be seen, but a personal factor has "added delight" to Ginsburg's participation: Her grandson, actor Paul Spera, will play Lorenzo, who eventually elopes with Shylock's daughter Jessica.
In an interview in her chambers on July 15, at the end of a grueling week, Ginsburg seemed relaxed and at ease. A day after her public expression of regret over what she called the "ill-advised comments" she had made about likely Republican presidential nominee Donald Trump, she offered no further remarks. "I gave the statement I gave and that's it," she said flatly.
During the interview with Hadassah Magazine, Ginsburg noted that Jewish values inform her identity: "How could they not?" she said. "How fortunate I am that Jews are the People of the Book with a tremendous love of learning and reading."
The concept of tzedek, justice, she said, "is part of what I am, just as being a woman is part of what I am." She also mentioned the two pieces of advice her mother, Celia Bader, repeated many times. "One was, 'Be a lady.' The other was, 'Be independent.' To her, being a lady meant, 'Don't be distracted by useless emotions like anger and envy.' Those, she taught me, were unproductive and would not do me any good."
Celia Bader died in June 1950, the day before her daughter was to graduate from Brooklyn's James Madison High School.
Ginsburg is likely to remain in the public eye over the next few months as her new book, My Own Words
, is released this fall by Simon & Schuster. The selection of writings and speeches on wide-ranging topics from gender equality and Jewish identity to law and opera will be her first book since she became a Supreme Court justice in 1993 after being nominated by President Bill Clinton. And Natalie Portman is reportedly starring in On the Basis of Sex, an upcoming biographical film about Ginsburg's life.
Rahel Musleah is an award-winning journalist who leads tours of Jewish India and speaks about the community.