On Yom Kippur, Beginning Again, Imperfectly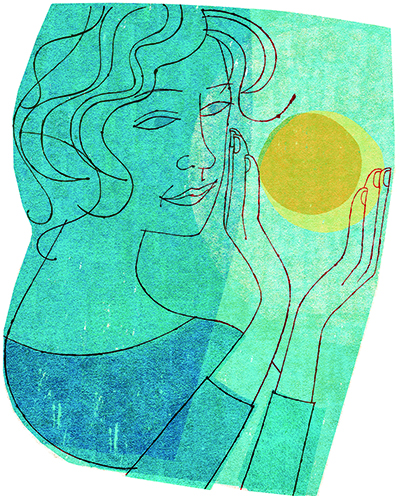 When I was a child and recited on the High Holy Days the long, repeating list of alphabetical transgressions, I did not even know what most of them meant.
Ah, the smugness of youth—the righteous conviction that I, at least, had not committed the vast majority of sins that beset only other people.
Those days are over. Today, my humility derives not from my having mastered the entirety of possible wrongdoing, but from a different certainty: That the murky slate I believed as a child had been wiped clean by the white fast of Yom Kippur will begin to tarnish almost as soon as I take my first post-sundown bite.
Not only that. Even if I live up to my many (repeated) resolves made during the solemn exaltation of Rosh Hashanah or the afflicted body-and-soul of Yom Kippur, I already know that the coming year will have surprising joy but also, inevitably, sorrow.
Perhaps it was my membership in the baby boom generation and the mantra of "never trust anyone over 30" (I am far past). Or the good fortune of my having come of age after antibiotics but before AIDS. Or my black-and-white temperament that allowed me to think that if life seemed bleak now, some day in a near-tangible future it would be utterly sublime.
Perfect, in fact.
I was dispositionally incapable of understanding that all of life—start to finish—is a tangle of gratitude and grieving, intrinsically, unavoidably. What kind of immunity did I think would be conferred? Like many of us, I was cutting a deal—artistic misery for a couple of decades, and then a graph of unalloyed happiness whose trajectory went in only one direction: Up.
And yet there was some truth to the illusion. Today, the helplessness of being a child, not an agent of one's destiny, of waiting endlessly for life to begin, has been resolved. And the crying over ridiculous trifles is so long ago I can scarcely recall it. We are wiser. But still we churn over all we cannot control, which we see with increasing clarity. We live in tranquillity interrupted by turmoil, not only in our immediate lives but on behalf of the Jewish people, the Jewish homeland and our native lands, with their unexpected and often incomprehensible politics.
And that's without rank suffering. Or blows of misfortune. Because they come as well—to oneself, or to those one loves as oneself. Or to strangers who are our neighbors, made in the same image as the Creator who made us.
Seasoned, we already know, before we say aloud the first syllables of communal prayer, that we are about to shuttle once more between renewal and relinquishment. Even if we are statistically happier than we were when we were younger, our lives will at times be overcast in a way that the exceptionalism promised by the era of our youth could not anticipate.
What, then, does it mean to start anew? Perhaps we can remind ourselves that the unknown may be not only dire but unexpectedly abundant. Perhaps we can be even more receptive to ordinary thanksgiving, to daily praise. Or turn our sense of vulnerability into service that helps others become less vulnerable. Or pray that those we have lost keep us closer company this year, fortifying us with their love.
Yes, then, to all we cannot predict that may turn out to bless us. As for the rest: Only what we can bear, and not too much, please.
Dappled but not tragic—that is the height of my spiritual aspiration this year. I'll take it.
Nessa Rapoport is the author of the memoir House on the River: A Summer Journey (Harmony). She is currently completing a novel.