Lesley Stahl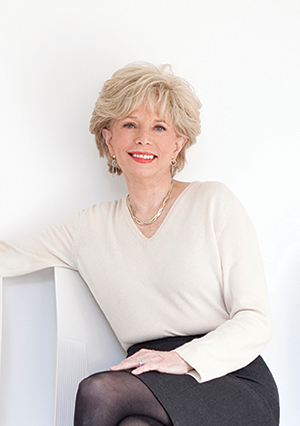 The giant stopwatch mounted on the wall, a replica of the original 60 Minutes trademark, greets visitors to the television program's New York headquarters. Down the hall, correspondent Lesley Stahl's office is studded with large photographs—not of the dignitaries, politicians and superstars whom she has interviewed but with a portrait gallery starring her grandchildren, Jordan, 5, and Chloe, 2. "There they are, the loves of my life," she says.
Stahl, 75, has been with 60 Minutes for 25 years, covering stories from Guantanamo Bay and Google to gospel for teens, earning 11 Emmys in the process. She helped break the Watergate story and spent 10 years as chief White House correspondent during the Jimmy Carter, Ronald Reagan and part of the George H.W. Bush years, which she chronicled in her 1999 book, Reporting Live. Stahl has also moderated Face the Nation, hosted 48 Hours Investigates, cohosted America Tonight with Charles Kuralt and anchored several CBS documentaries. In 2015, she won broadcast journalism's highest honor, the Radio Television Digital News Association's Paul White Award for lifetime achievement.
Yet it is her role as a grandparent that she has chosen to address in her new book, Becoming Grandma: The Joys and Science of the New Grandparenting (Blue Rider). "Throughout my career, I worked at suppressing both my opinions and my emotions," she writes. "I thought I had become the epitome of self-control. Then, wham! My first grandchild was born…. I was jolted, blindsided by a wallop of loving more intense than anything I could remember or had ever imagined." She describes "swooning like a lover" when she saw Jordan for the first time: "I was so pumped my heart was on a trampoline," she writes in her lively, down-to-earth style. She goes on to quote Louann Brizendine, author of The Female Brain (Harmony), who discovered that "the brain pathway for baby love is the same as the pathway for romantic and carnal love."
In her book, Stahl interlaces personal stories with the research and interviews she dug hard to find. "We're living so long that we're going to live a third of our lives as grandparents. This is a serious public policy issue," she says, noting that the median age of grandparents today is 50 for women and 54 for men. According to studies, three-quarters of grandparents say that being a grandparent is the most important and satisfying thing in their life.
Another tidbit: Anthropologist Kristen Hawkes developed the grandmother theory to explain why grandmothers even exist when they no longer reproduce. In the Stone Age, older females foraged for food while they babysat: "Having grandmothers feed and watch over their just-weaned grandchildren allowed their fertile daughters to reproduce sooner, and more often," Stahl writes.
Stahl remembers her own grandparents fondly. Esther and Harry Stahl emigrated from Poland to Boston in 1913, and Harry founded Stahl Finish, a company that produced dyes for leather. "He was a big part of my life," recalls Stahl, who grew up in Swampscott, Mass. (Her grandmother died when Stahl was 14.)
Stahl has honed her narrative gift and established an unmistakable voice and style, both on the air and in her books. "Lesley's voice stands out as focused, sharp and credible," says 60 Minutes Executive Producer Jeff Fager, who met her in 1986 when they were covering the Reykjavik Summit between Reagan and then-Soviet leader Mikhail Gorbachev. "She has established herself as a serious reporter with an extraordinary body of work that is hard to measure up to. She's covered almost everything but she still gets excited every time she goes out, almost like a kid in a candy store." He praises her intensity, her work ethic and her loyalty: "Lesley doesn't do anything she loves without her full attention. She has more friends than you can imagine but she also has an edge to her."
At any given time, Stahl is working on four or five stories with her team of three producers and three associate producers, creating between 16 and 20 segments a year. While giving a tour, she points out the editing room, where hourlong interviews are condensed into 60 seconds, and the screening room, where preliminary drafts of stories are reviewed, "the scene of a lot of nervousness."
She runs around the office in flats, a change from the high, open-toe slingbacks she used to wear. She doesn't mind talking about her obsession with earrings—"they are all clip-ons"—or her famously blond, sometimes brittle hairstyle. She used to stiffen her hair with a product called Cement but today relies on better, more subtle  brands. Meticulously dressed in a coral jacket and black pants, she wears green-framed glasses to work at the computer.
She didn't discover her passion for journalism until she was 30. A history major at Wheaton College in Norton, Mass., with pre-med intentions, she abandoned those plans soon after graduation. She married a doctor, divorced and went to work as a researcher for the speechwriting staff of New York City Mayor John Lindsay. When she wandered into the pressroom one day, her life changed. She quit her job and was hired as part of the NBC News election team for the 1968 presidential campaign. After a stint in the news department at Boston's Channel 5, Stahl left for CBS—an affirmative action hire, she says, along with Connie Chung and Bernard Shaw—and relocated to Washington.
The early days for women in broadcast journalism were not easy. "I had to maintain my looks and overcome my looks at the same time," Stahl says. "A certain, shall we say, rambunctiousness was becoming my trademark. So was my persistence," she writes in Reporting Live. "If I wanted to be treated as one of the boys…I had to learn to ram and butt and poke and shove my way up to the front."
Stahl admits that she has "more than a twinge of guilt" about the women's movement, which she did not ask to cover for fear of being typecast. Nor was she assigned to do so. "It did so much for me while I, a reporter, sat on the sidelines neither marching nor protesting," she says.
Her mother, Dorothy (Dolly) Stahl, was a strong force in her life, pressing her to pursue a career as "the real route to happiness," she says. While she was tenaciously pursuing stories, Stahl was simultaneously calling her mother three times a day and allowing her to buy her clothes. "She did not work but she should have," Stahl says. "She was bored and she didn't want me to have that life."
Her mother, who passed away in 2011, even advised that children would ruin her daughter's life—until a sudden about-face in 1977, when she urged Stahl to have a baby right away even though she wasn't married. Stahl eloped with her best friend, journalist Aaron Latham, whom she had met when they were both covering Watergate. (He is also a novelist, playwright and screenwriter whose best-known work is Urban Cowboy.) Their daughter, Taylor, was born in September 1977.
"Having a child has made my life—so my mother was right. I love my career but when I look at my life I think of my daughter as the center of everything," says Stahl. Taylor is a television producer in Los Angeles; Stahl and Latham live in New York.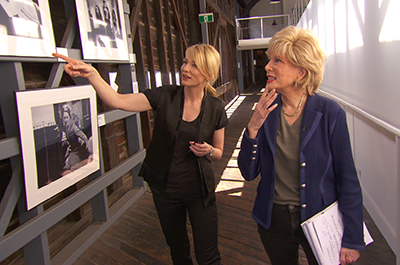 Stahl returned to CBS after Taylor's birth, juggling work and parenting. Just when she thought her life was in balance, Mike Wallace asked her to join 60 Minutes. Her first year she traveled to 18 cities in nine countries.
She calls her father, Louis Stahl, her hero. She was not raised in a religious home, but her father's philanthropy and community involvement influenced her deeply. He founded and supported Jewish organizations, including North Shore Jewish Community Center and the Jewish Rehabilitation Center for Aged, both in Swampscott, as well as secular institutions. When Lesley's brother, Jeffrey, a real estate developer in Boston, lost his voice due to laryngeal cancer, her father, who had retired, went to work for him as his voice. Her father passed away in 1994. Jeffrey died in 1999.
The human-interest stories she covers are a change from her early political reporting, when she says she was not allowed to smile because it might give away her feelings. She is persistent in a mellower way and has not changed her commitment to remaining as fair and balanced as possible—even when she has an opinion. (Among her concerns are climate change and the staggering cost of medication.) Stahl is as unruffled on the air as she was when she raced to a Tel Aviv café minutes after it was leveled by a suicide bomber. Still, she says, "I never think of myself as courageous, ever, ever, ever! Being in the moment in the pursuit of a story, that's where my attention is."
For a 2015 Sunday Morning segment about a successful boxing therapy to treat Parkinson's disease, she coolly interviewed her husband, a Parkinson's sufferer who has improved vastly. "You did great. I always wanted to shake your hand," she told him at the end of the segment, doing just that.
"I thought it was hilarious," Stahl says now, her quirky humor emerging, "because shaking hands is something you do to someone you don't know."
She releases her own frustrations by playing the piano ("I basically bang"). She asked for a banjo for her last birthday and sits on the board of the New York City Ballet. She keeps a daily diary, is a compulsive list maker, reads three newspapers and listens to National Public Radio every morning. A ladies' lunch group she created 24 years ago still meets regularly.
And, of course, she and Latham spend as much time as possible in their grandparenting roles as "Lolly" and "Pop," visiting their grandchildren every six weeks or so. She urges grandparents to pass on their zikna—a biblical term for wisdom acquired with age—to the next generation. "Our grandchildren need us…. My wisdom is, find a way to help them, not just for them, but for you, too."
Rahel Musleah leads tours of Jewish India and speaks about that community.