Odessa: Babel, Ladyzhensky, and the Soul of a City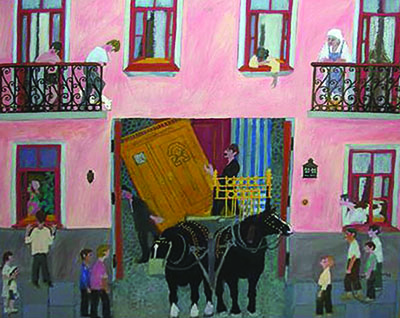 ODESSA: Babel, Ladyzhensky, and the Soul of a City
The juxtaposition of text from Isaac Babel's writings with more than 50 paintings and drawings by artist Yefim Ladyzhen­sky—darkly comedic subtexts against colorful vignettes—is a good fit, mainly because both men were native to Odessa.
Ladyzhensky's large tempera paintings of daily urban life inspired by his childhood play on Babel's characterization of the Jewish ghetto of Moldavanka in The Odessa Tales, a short-story collection. Pen-and-ink drawings are based on Red Cavalry, Babel's disturbing account of the Soviet-Polish War of 1920. Video and sound installations, using period films and music, re-create the Black Sea metropolis of the 1920s after the Bolshevik Revolution. Also on exhibit are two of Ladyzhensky's "nonconformist" paintings that were rescued from the Soviet Union—Restaurant on Feldman Boulevard and Scarce Goods Appear in the Shop.
Though both men died tragic deaths—Babel was shot in 1940 by the Stalinist regime and Lady­zhensky committed suicide in 1982 in Israel—their combined and complementary artistry reveal Odessa's Jewish past. Through November 13 at Yeshiva University Museum in New York.