The Poems of H. Leivick and Others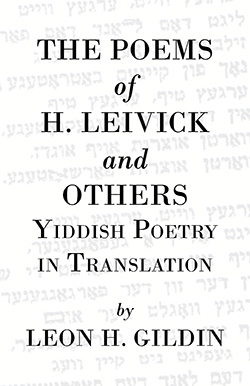 The Poems of H. Leivick and Others: Yiddish Poetry in Translation by Leon H. Gildin. (Finishing Line Press,
37 pp. $12.49)
When I read the title of this little book of poems by H. Leivick and other noted poets, an image came immediately to mind: seeing Leivick, years ago, a slight figure with a beautiful, etched face and a halo of white hair, sitting alone on a ledge in front of the Hebrew University of Jerusalem library, seemingly lost in thought.
The poems of Leivick (1886-1962), who was also a noted playwright, range here in subject matter: a poem about a very small poem "no longer than an epitaph"; a recollection of a birch rod beating given by his father; a prisoner in a cell at night "swallowing as if it were wine the moon's bright light."
The other famous American Yiddish poets (all born in Eastern Europe) sing songs of longing and love; there are modernist surprises, but all have rhymes. About half the poems are by Leivick: the rest are by luminaries like Yakov Glatstein, Avraham Reisen, Itzik Manger, A. Leyeles, Mani Leib and Avraham Sutzkever.
My favorites are those with a Jewish core. Hence, Chaim Grade's "The Sabbath," recalling his 1940's wanderings in Russia and Europe, resonates as does Ephraim Auerbach's prayer-poem "God of Abraham," which begins with the opening lines of the havdala prayer and takes wing from there.
For those who know Yiddish poetry, this book of beautifully rendered poems in English revisits old friends; for newcomers, it is a cogent introduction.