Associates, Foundation News and Every Step Counts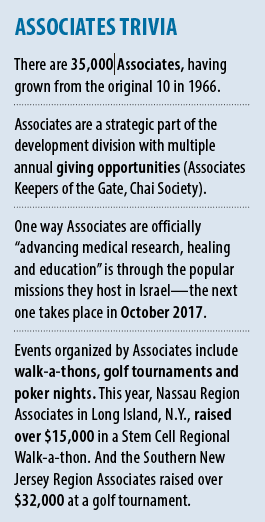 THE GOLDEN BOYS
This year, some of our favorite men are celebrating a milestone anniversary—and don't worry, we won't let them forget it. Hadassah Associates is 50 years old, having been founded as an affiliate group in 1966 before becoming the National Committee of Associates in 1994.
Associates have made a significant impact on the lifesaving work performed every day at our hospitals in Jerusalem. As fundraisers for the Hadassah Medical Organization, the group has raised millions of dollars for cardiac surgical suites, the Goldyne Savad Institute for Gene Therapy and the Center for Emergency Medicine at Hadassah Hospital at Ein Kerem. For research into stem cell therapy alone, Associates—today led by President Fred Safer and Chair Sherryl Kaufman—raised $100,000.
Currently in the final year of its three-year Men's Health Initiative, Associates annually have been contributing over $100,000 to cardiology, prostate cancer and, this year, lung cancer, the leading cause of cancer deaths in men and women in the United States.
SEWING SEEDS OF SELF-WORTH
The desperation and disassociation experienced by women caught up in sex trafficking and prostitution is the stuff of nightmares. The bar of re-entry into mainstream society no doubt seems unbelievably high for the estimated 20,000 women in Israel who suffer this vicious cycle. But today, thanks to the pioneering work of Lilach Tzur Ben-Moshe, some of these vulnerable women have hope for the first time.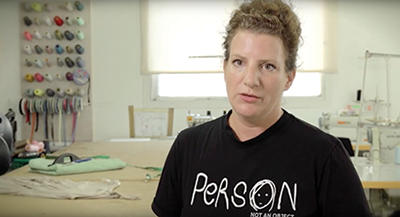 Tzur Ben-Moshe is the executive director and founder of Turning the Tables, a Tel Aviv-based group and Hadassah Foundation grantee offering economic support and professional career help for women trying to exit prostitution. Helping these women is about more than placing them in a job, the group's leaders stress; it is also about using vocational training as a first step in rebuilding self-worth.
"Tens and thousands of women and girls in Israel are trapped in the cycle of prostitution and addiction," Tzur Ben-Moshe says. "Turning the Tables is sending the message to them and to women in general that we see them and reach out to them."
Since 2011, Turning the Tables has placed dozens of women in the fashion industry, teaching them how to sew, make patterns and design clothes, even how to market the products. The group's success has earned them media coverage from The New York Times to the major dailies in Israel. And now it has brought Tzur Ben-Moshe the 2016 Bernice S. Tannenbaum Prize, awarded annually by the Hadassah Foundation.
The prize was created to acknowledge emerging professionals making groundbreaking contributions to the advancement of women in America or Israel, and was endowed in honor of the late Bernice S. Tannenbaum, a past national president of Hadassah.
Get further details about the foundation's grantees and history of supporting change-makers both here and in Israel—and hear from Tzur Ben-Moshe herself—by watching the video commissioned in celebration of this year's prize.
WOMEN WHO WALK
This year's Every Step Counts program, held from April 11 to July 21, was a huge success.
• 1,000 women (and some men!) walked over 440 million steps. That's a total of 226,686 miles, or nine times around the earth.
• Hadassah has become a partner of America Walks, a coalition of national, state and local advocacy groups promoting a more walkable America.
• Hadassah encourages everyone to keep on walking over the winter through walk-a-thons, groups and collaborations, or by yourself outside in the park or in your local mall to promote good health.