Honoring Alfred Dreyfus in His Hometown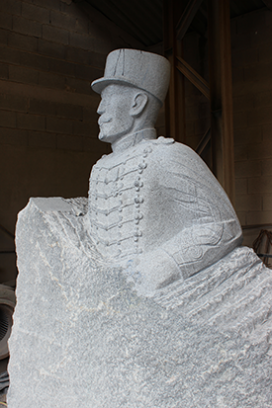 In October, the town of Mulhouse in the Alsace region of eastern France celebrated the inauguration of a monument to one of its best-known sons—Alfred Dreyfus. Commemorating the 110th anniversary of his exoneration on charges of treason, an eight and a half-foot-tall granite statue was unveiled in Jardin Steinbach, a public garden near his family's former home.
The sculpture, weighing over 12 tons, depicts Dreyfus's likeness emerging from a split block of stone. "At night, a bright ray of light [from] between the two parts of the block will symbolize the truth that finally burst about the conspiracy against Alfred Dreyfus," explains Sylvie Koechlin, the sculptor who created the work.
The Mulhouse project to commemorate Dreyfus was launched in 2006, at the centenary of the artillery officer's formal exoneration. According to the French-language website of the French Association Monument Dreyfus (monument-dreyfus.org), which oversaw the creation of the memorial, this sculpture "will provide a testimony for future generations of the victory of truth over falsehood, of justice over the dark forces of the arbitrary, of the honor of a man unjustly accused of infamy."