More on J Street, Chagall and Vilnius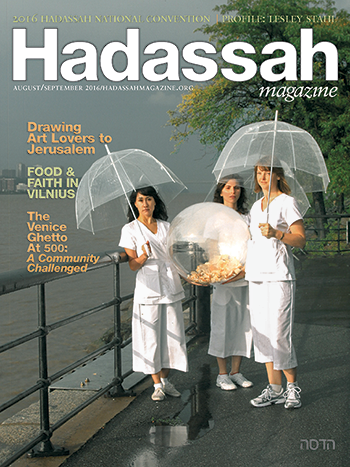 Street Fight
I strongly protest the characterization of J Street by Elinor Weiss—in her letter to the editor regarding Arthur Frommer in the August/September issue—as an organization that undermines the security of Israel. I am a member of both Hadassah and J Street and know that J Street is a proudly pro-Israel, Zionist organization. We work actively for a two-state solution, which we believe is the only way Israel can remain Jewish and democratic. It does the Jewish community no good to throw accusations at people who may differ on the path but do not differ on the goal—a Jewish homeland with safe and secure borders.
Carol Gendel, San Marcos, Calif.
Chagall's Kaddish
I would like to comment on the article "The Unknown Chagall" (August/September issue). I was present at Marc Chagall's funeral on April 1, 1985, where Kaddish was recited for him not by a stranger but by friends.
In my book Sharing Chagall: A Memoir, I write about how, at the funeral, an elderly gentleman approached me. Speaking in Yiddish he introduced himself as Leon Leneman—the president of the Jewish writers and journalists association in France and an old friend of Chagall. He asked me if I knew if there were other Jews present as he wanted to recite Kaddish. I replied that the only Jews who I knew were members of Chagall's family, Ovadia Soffer, the Israeli ambassador to France, and Professor Bernstein of the mathematics department of the University of Nice.
As the casket was being lowered, Leneman approached the family, holding up his hands to halt the ceremony. Chagall's grandson Piet gave permission for Kaddish be recited. It was done slowly and softly by friends and associates.
Vivian R. Jacobson, Pinehurst, N.C. 
Degas 2.0
Renee Ghert-Zand's "State of the Art" in the August/September issue was a very interesting composite of the Jerusalem arts scene. As curator of "Women's Work," I should mention that Avigail Fried's Herzl Says is influenced by Edgar Degas's famous painting of the Bellelli Family from 1867, in the Musée d'Orsay in Paris, a time of conservative dress.
Heddy Abramowitz, Jerusalem (via website)
Vibrant Vilnius
We just returned from a fabulous trip to Vilnius. We did many of the things mentioned in Ellen Cassedy's articles in the August/September issue—"Keeping the Faith" and "A Yiddish Kitchen Reborn"—with a wonderful tour guide, but I would have loved to have seen these stories before we left. We were also in Mariampole, the birthplace of my late father-in-law. Yasher koach on these wonderful stories.
Ellen Epstein, Chevy Chase, Md. (via website)
The Choral Synagogue is not the only place in Vilnius for Jewish prayer. Chabad, led by Boston-born Rabbi Sholom Ber Krinsky and his wife, offers Shabbat davening and meals and provides other programs.
Eric Mack, Jerusalem (via website)
Down the Shore
I can remember as a child in the 1940s and 1950s going "down the shore" to Asbury Park, N.J., and watching a game similar to matkot ("A League of Its Own," June/July issue) being played on the beach. All the boardwalk shops sold paddle-and-ball sets. It would appear that this is a widespread game on beaches all over the world with local variations in equipment and "rules." Thanks for the memories.
Art Levenstein, Reynoldsburg, Ohio
All Too Real
"The Postman" (June/July issue) was well-written, fun and unfortunately all too real. In my work as a geriatric social worker I met mother-son couples not unlike this one. I loved the authentic Jerusalem touches like the discarding of books on the streets in the hopes that passersby might want them.
Cheryl Newman, Jerusalem (via website)