Army News, Population Stats and New Laws from Israel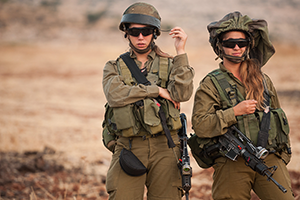 WOMEN ON PATROL
There are now 2,047 women serving in combat roles in the Israel Defense Forces. That figure represents a 400-percent increase in the 16 years since the founding of the first mixed-gender battalion, Caracal. There are now two additional battalions open to women soldiers, the Lions of the Jordan and Bardelas. The IDF plans to add a fourth group soon.
These light infantry battalions patrol Israel's borders. Though they are classified as combat forces, they rarely engage in direct conflict and are considered combat-support troops. The IDF continues to receive criticism for barring women from serving in the most intense combat positions, most notably in battle tanks.
NEW YEAR, NEW POPULATION STATS
Israel's population stood at a record 8.5 million people by mid-2016, according to a recent report by the Central Bureau of Statistics in Israel
Additional demographic data shows: There are 6.3 million Jews in Israel, 1.7 million Arabs, and 374,000 "others" (for example, non-Arab Christians, Bahai)
Of the 14.3 million Jews worldwide, 43% live in Israel
From mid-2015 to mid-2016, Israel admitted 36,000 olim, with Jews from France topping the list at 25% of all new immigrants, followed closely by Ukraine and Russia
By the standards of the Organisation for Economic Co-operation and Development, Israel is a young country, with 28% of its population aged 0 to 14; the OECD average in that age group is 18.5%
195,000 babies were born in Israel from mid-2015 to mid-2016
DAYS OFF FOR DADS
Five days work leave after the birth of a child is now law in Israel. The bill, introduced by Knesset members Tamar Zandberg (Meretz), David Bitan and Yoav Kisch (both Likud), was unanimously passed on June 27, allowing fathers to take three vacation days and two sick days at half pay as paternity leave.
"Maternity leave, parenting, motherhood is considered the exclusive lot of women," said Zandberg in a Knesset news release. "We have an interest as a state and a society to include the fathers more and more as an integral partner in family life."
Before the law passed, employers weren't required to give men days off after the birth of their child. One day was customarily allowed for the birth, and one additional for the bris if the baby was a boy.