Israel's Diaspora Museum Gets a Makeover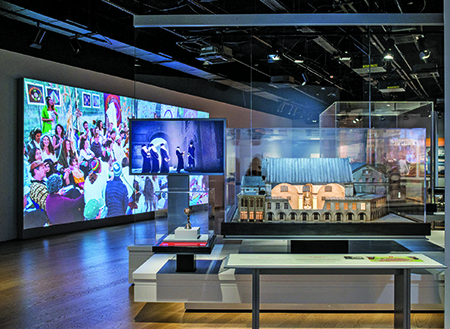 As the clash over who is a Jew intensifies, playing out in the Knesset and Israeli courtrooms, there is an oasis where haredi and Reform Jews, sabras and first-time visitors, gay rabbis and Ethiopian kesim (religious leaders) are found side by side. That is inside the new wing of Beit Hatfutsot: The Museum of the Jewish People in Tel Aviv.
Call it a sight for sore pluralistic eyes—a rare public space in which just about every Jew can find a reflection of him—or herself.
Enter the museum's revamped Alfred H. Moses and Family Synagogue Hall, the new wing's main exhibition area, and watch scenes of women donning tefilin alternate with those of kippah-clad men praying on the Tel Aviv shore, all projected onto an enormous screen. In the background, the velvety chant of a cantor gives way to the raspy voice of Bob Dylan in the next hall. The infusion of multimedia and focus on diversity are evident throughout the wing.
Inaugurated in May—the first stage of a complete overhaul of the 38-year-old institution, also known as the Diaspora Museum—the new wing consists of two permanent exhibits: one showcasing its model synagogues and the other devoted to notable Jews. Add to that two temporary exhibits: a celebration of Dylan and an homage to the Ethiopian Jews who came to Israel on Operation Moses.
By the time the $100-million face-lift is complete in 2019, most of the old Beit Hatfutsot—save a few noteworthy artifacts—will be gone. In its place, planners strive to present nothing less than a new approach to what it means to be Jewish, with the new wing providing a preview.
"In the old exhibit spaces, being Jewish meant being a white, Orthodox, Ashkenazic man," says Orit Shaham Gover, the museum's chief curator, who spearheaded the makeover with the museum's board and in consultation with academics. "We wanted a museum that would be pluralistic and all inclusive."
To that end, the museum sent videographers to document scenes of Jewish life worldwide—the results of which, like the women in tefilin, are now shown on giant screens in Synagogue Hall. There, 21 exquisite miniatures of synagogues from around the world have been enhanced with displays of ritual objects culled from each synagogue or community. Also new are animated shorts, films of stand-up comedians (who explain the difference between Sephardic and Ashkenazic rituals, with a cameo appearance by a schmaltz herring) and a "design your own synagogue" station—all to engage a more media-savvy generation.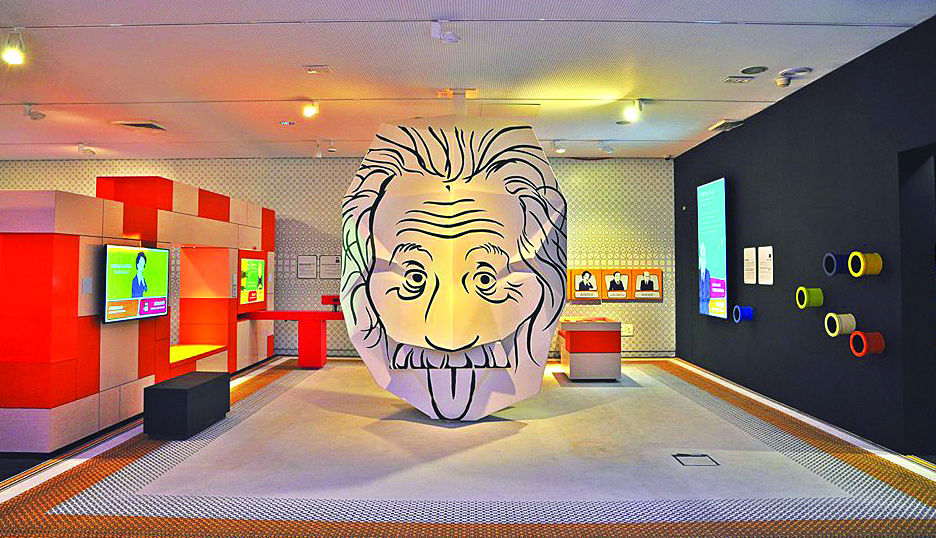 In retelling the Jewish story, the planners dramatically shifted the museum's perspective from recapping tragedy and persecution to celebrating resilience and creativity. "You could call it a switch from gevalt to halleluya,"says Shaham Gover.
The museum's mournful "Scrolls of Fire: 52 Chapters of Jewish Martyrology," a display on 2,600 years of suffering corresponding to each week of the year, is on its way out. What's in is "Heroes: Trailblazers of the Jewish People," a multimedia exhibit geared to children showcasing 143 Jewish heroes and heroines. An assortment of interactive displays enables visitors to design a protest poster in the spirit of antiwar activist Rosa Luxemburg; catch a ribosome as they learn about Israeli Nobel Prize-winning scientist Ada Yonath; or jot down philosophical questions, inspired by a recording of an actor playing Maimonides.
The point is not to focus on the efforts to destroy us, says Assia Reuben, the museum's public relations director, "but to show all that we managed to do and create despite the efforts to destroy us."
For Shaham Gover—also behind the creation or redesign of Israel's Palmach, Herzl, Begin, Masada and Akko museums, all of which employ her trademark innovative and interactive storytelling—the Beit Hatfutsot project is a dream come true. "Years ago," she says, "I told someone that I would pay to be given the chance to tell the most fascinating story of all—that of the Jewish people. Incredibly, now I have that chance."
Leora Eren Frucht is an award-winning journalist who lives in Israel.